Cardiology Care in Ghana |

Overview

LOCATION: Africa (Ghana)
TOPIC: Non-Communicable Diseases, Surgery, Education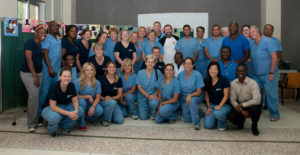 Dr. Francis Fynn Thompson (Cardiology) and Beverley Small (2015 Global Nursing Fellow) have led a tremendous effort to create a self-sustaining pediatric cardiac surgery program in Ghana (Dr. Thompson is from Ghana originally and believes in giving back to his home country).  When their initiative, "Hearts and Minds of Ghana" was launched in 2008, clinicians in Ghana had never seen open-heart surgery in children.  In fact, the Boston Children's Hospital team was the first team to successfully conduct a pediatric open-heart surgery in all of West Africa.  By 2016, the Hearts and Minds of Ghana team, now made up of 23 Boston Children's employee volunteers who are on their 9th trip, had performed surgery on their 112th child.  The team has also evaluated over 1,000 children, giving diagnoses and answers to families who otherwise would not know what was wrong with their children.  In addition to performing surgeries, the team has also equipped the local hospital so the local care team can continue with surgery and running a Pediatric Intensive Care Unit (PICU).  A computer was also donated to the PICU so the Ghanaian nurses could access OPENPediatrics and other medical education resources.  The most impressive fete of the Hearts and Minds of Ghana Program, however, is the emphasis on sustainability and empowering the local caregivers to be part of the solution.  In this effort the Boston Children's team has trained a surgeon, perfusion, 2 OR nurses, an anesthesiologist, a pharmacist, a biomedical engineer, an ICU Doctor, and 25 ICU nurses to care for and continue this work.