Essential Pain Management for Children
Challenge
Annually, more than 61 million people worldwide experience about 6 billion days of serious health-related suffering that could be alleviated with access to palliative care and pain relief. However, palliative care is limited or nonexistent in most parts of the world. A cost-efficient, multi-disciplinary program to educate healthcare workers in Kumasi, Ghana, to improve pain knowledge, implement simple and resource-efficient ways to manage pain, and address pain management barriers was needed.
Where We Started
At Komfo Anokye Teaching Hospital, a 1,000-bed, district hospital in central Ghana, a class on pediatric pain management was taught to nurses from different parts of the hospital to engage them on the topic. Feedback from nurses informed and supported the development of a standardized pain assessment and an education program. The context-appropriate program on essential pain management was developed inclusive of interactive lectures and group discussion workshops, and was taught to local nurses.
Our Impact
Together, Boston Children' s Hospital and Komfo Anokye Teaching Hospital staff successfully trained 140 nurses in pain assessment and management techniques. A daily "Pain Assessment and Management Sheet" was developed by the KATH nurses. A pain assessment and management policy was developed to implement hospital-wide. Program goals include relieving suffering in the local community by training healthcare workers to recognize, assess, and treat pain.
Moving Forward
Over the next year the Boston Children's Hospital team will be working with Komfo Anokye Teaching Hospital to implement a pain assessment and management policy hospital-wide. The Boston Children's Hospital team will build local partnerships and replicate the Essential Pain Management Lite course in other resource-limited settings.
Citation
Contact
Sonia Nettey, Global Nursing Fellow
Building a Foundation Program in Pediatric Oncology Nursing
Challenge
Childhood cancer survival rates in Africa are dismal; for those who survive, more than half experience chronic health conditions. In Ghana, 1,300 new cases of childhood cancer are expected per year, yet only two hospitals in the country offer pediatric oncology care. Nurses across Ghana care for children with cancer with no opportunity for specialized education and clinical training.
Where We Started
With support from World Child Cancer (WCC), a partnership between Boston Children's nurses and leaders from the pediatric cancer programs at Korle Bu Teaching Hospital (KBTH) and Komfo Anokye Teaching Hospital (KATH) was forged, with a goal of creating opportunities for Ghanaian nurses to receive specialized pediatric oncology nursing education. The first educational session was held in Kumasi in 2017, followed by a regional pediatric oncology-focused conference in 2018, attended by over 60 nurses from 12 regional hospitals across Ghana. In 2019, Boston Children's nursing fellows co-led the first Pediatric Oncology Foundations program, designed to provide a comprehensive pediatric oncology nursing orientation for nurses from the cancer wards at KATH and KBTH.
Our Impact
The conferences provided educational and networking opportunities for nurses across Ghana. Conference evaluations and post-test scores indicated improvement in knowledge and engagement in pediatric oncology nursing care. Nurses who attended the Foundations program showed marked improvement in their knowledge base, critical thinking and physical assessment skills, and communication.
Moving Forward
A Pediatric Oncology Center for Excellence was launched in Accra in 2018 as a regional training model to improve the diagnosis and treatment of childhood cancer in subsaharan Africa.  Boston Children's nurses are collaborating with local and international partners and the Ghana College of Nursing to develop an accredited nurse specialist program for Pediatric Oncology Nursing as part of this initiative.
Contact
Project team: Lisa Morrissey, Global Nursing Fellowship Director; Colleen Nixon, Global Nursing Fellow; Kim Shepherd, Global Nursing Fellow
Addressing Our Most Vulnerable: Implementation of Pediatric to Adult Transition* Process
* — Pediatric to Adult Transition (or Health Care Transition) is the coordinated process of moving from a pediatric model of care to the adult model of care. 
Challenge
Despite a call from the United Nations for increased attention to adolescent populations globally, very little has been done to address the Non-Communicable Diseases (NCD) of low- and middle-income countries, especially their transition to adult care. Leadership at Komfo Anoyke Teaching Hospital (KATH) has recognized increased morbidity and mortality as patients transition from pediatric to adult subspecialty care.
Where We Started
In 2017 a group of physician leaders at KATH, in collaboration with Boston Children's Hospital, formed a committee to implement a quality improvement initiative. The aim was to establish a safe, coordinated, adolescent-responsive transition process for youth with special health care needs in the KATH catchment area.
Our Impact
From our Ghanaian tracking and monitoring team, Jonathon and Gustav:
"This transition project has helped to decrease the workload for our pediatric providers and has improved team work tremendously, which has resulted in enhanced quality of care provided for our patients."
"Patients are now receiving quicker, more efficient, age appropriate care."
"[This project] allows patients to view themselves as 'young adults' rather than 'pediatrics,' which improves their thinking and teaches them self-efficacy in caring for their own disease."
Moving Forward
Ghanaian transition stakeholders have become champions of improving pediatric transition care through quality improvement. This work is currently piloting within the Pediatric and Internal Medicine Directorates, and transition leadership plans to scale-up the process hospital wide within the next several years. With full implementation of this program, the hope is to induce a wave of broader systems-level change to reduce inequity and disparity in provision of care to adolescents within KATH and beyond.
Contact
Leah Ratner, MD, MPH, Global Pediatrics Service Delivery Fellow & BRIDGES Young Adult Program Attending
Building Social Capital to Address Peri-Transitional Mental Health Vulnerabilities for Young Adults with Chronic Disease
Challenge
Psychosocial comorbidities for young adults with chronic disease have been well described, however at Komfo Anoyke Teaching Hospital (KATH), preventive mental health resources are scarce. With the ever-increasing pharmaceutical formulary and medical technology available in Ghana, this is the first generation of many chronic disease streams to live into adulthood. However, the health system has not yet matured to fully support their complex needs.
Where We Started
During a collaborative KATH and BCH led resident journal club, several pediatric residents identified the importance of context-specific, solution-driven pediatric research, especially on the African continent. Motivated by its dearth, and their own passion to solve problems at KATH, the group recognized adolescent mental health as an important area to intervene. Patient support groups were devised with the hypothesis that improved social capital would improve mental health, coping, and self-management for those with chronic disease during the peri-transitional period.
Our Impact
After just one support group, participants reported "they felt alone because of their chronic illness, but after [attending group] they now feel more connected to others and less isolated." Using the Frierien concept of Dialogic Praxis, group education is built to enhance bi-directional learning; to further empower collective advocacy around their disease, in solidarity with providers, as a means of healing.
Moving Forward
With continued scale, this project hopes to be the solution for sustainable people-powered preventive mental health care within a system that is not otherwise able to support such resources. The hope is to continue to leverage meaningful social capital for a patient-centered, equity-based approach to address this integral gap in care.
Contact
Leah Ratner MD, MPH Global Pediatrics Service Delivery Fellow & BRIDGES Young Adult Program Attending
Utilizing Nursing Care to Supporting Patients & Families Through Hospitalization
Challenge
Nurse training for performing critical clinical skills and providing all the support children and families in crisis need is limited.
Where We Started
A team of nurses and child life specialists from Boston Children's Hospital collaborated with the staff at Asokwa Children's Hospital to launch a 10-week pediatric nurse training curriculum. Through a combination of classroom, skills, and simulation-based learning, the partnership-trained nurses at Asokwa in general pediatrics and emergency care, with a special focus on supporting patients' families to cope with their hospital stay.
Our Impact
Over the course of the training, nurses demonstrated knowledge growth and the ability to apply critical skills through pre/post exams. Trainees also expressed increased feelings of autonomy and recognition of their crucial roles within patient care teams. The nurse matron at Asokwa, who co-taught the initial course with the Boston Children's team, has taken over the role of maintaining an independent nurse training program at the hospital using the curriculum that was developed.
Next Steps
The nurse training model developed through this partnership has enabled Asokwa Children's Hospital to establish an empowering and effective training program for its nurses. Next steps include expanding this nurse model to train more nurses around the world in pediatric care.
Contact
Alexis Schmid, Maggie Ryan Endowed Global Health Fellow and Pediatric Emergency Department Nurse
Delivering Critical Nursing Physician and Child Life Training
Challenge
While providing health care for underserved families in the local community, Asokwa Children's Hospital (ACH) in Kumasi, Ghana, is striving to develop specialized pediatric services and deliver high quality, child-friendly, evidence-based care. 
Where We Started
To support ACH's vision, Boston Children's Hospital collaborated with on-the-ground local leaders to identify their prioritized educational needs and to develop a customized hands-on program in response.
Our Impact
A multidisciplinary team from Boston Children's has provided a wide range of training, from point-of-care ultrasound and multidisciplinary resuscitation instruction to in-depth specialized pediatric nursing curriculum. Child life training focused on methods to help ill or injured children cope with hospitalization, illness and disability is also offered practical education to nurses and physicians at ACH to incorporate this into their patients. Tapping in to Boston Children's expertise, the team is also developing evidence-based locally relevant treatment guidelines and clinical care protocols to improve pediatric services to the Kumasi region in central Ghana. 
You Can Make a Difference
With your support, we can train more nurses and doctors and expand access to quality pediatric care worldwide.
Cardiology Care in Ghana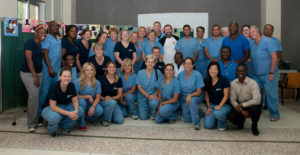 Dr. Francis Fynn Thompson (Cardiology) and Beverley Small (2015 Global Nursing Fellow) led a tremendous effort to create a self-sustaining pediatric cardiac surgery program in Ghana. (Dr. Thompson is from Ghana originally and believes in giving back to his home country.) When "Hearts and Minds of Ghana" was launched in 2008, clinicians in Ghana had never seen open-heart surgery in children. In fact, the Boston Children's Hospital team was the first team to successfully conduct a pediatric open-heart surgery in all of West Africa. By 2016, the Hearts and Minds of Ghana team, now made up of 23 Boston Children's employee volunteers who are on their ninth trip, had performed surgery on 112 children. The team has also evaluated more than 1,000 children, giving diagnoses and answers to families who otherwise would not know what was wrong with their child. In addition to performing surgeries, the team has equipped the local hospital so the local care team can continue with surgery and running a Pediatric Intensive Care Unit (PICU). A computer was also donated to the PICU so the Ghanaian nurses could access OPENPediatrics and other medical education resources. The most impressive feat of the Hearts and Minds of Ghana Program is the emphasis on sustainability and empowering local caregivers to be part of the solution. In this effort the Boston Children's team has trained a surgeon, perfusion, two OR nurses, an anesthesiologist, a pharmacist, a biomedical engineer, an ICU doctor, and 25 ICU nurses to continue this work.