Milestone Donor (and Guinness Book Record Holder): Bob Watson (Boston, MA)
Originally posted 7/31/2019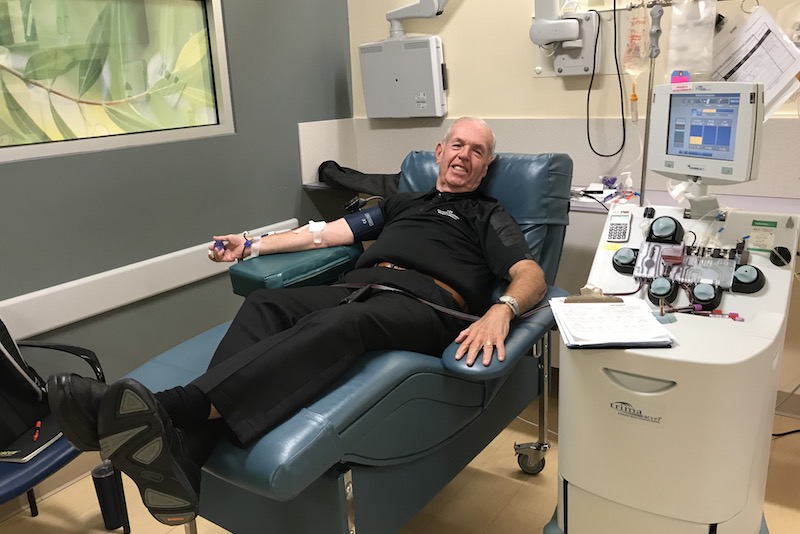 When 68-year-old Bob Watson first donated platelets in 1985 at the Boston Children's Hospital Blood Donor Center, he sat in one of only two platelet donation beds with needles in both arms — one to take out the blood, the other to return red blood cells and plasma. At the time, Boston Children's was a much smaller campus with a tiny blood donation center located in the basement of the Hunnewell Building.
Donating blood at Boston Children's: Then and now
Today, donating blood products is much different than it was for Bob in the 1980s. Now located in a large space on the first floor of 333 Longwood Ave., the Blood Donor Center offers 10 donor beds and a bloodmobile with five more.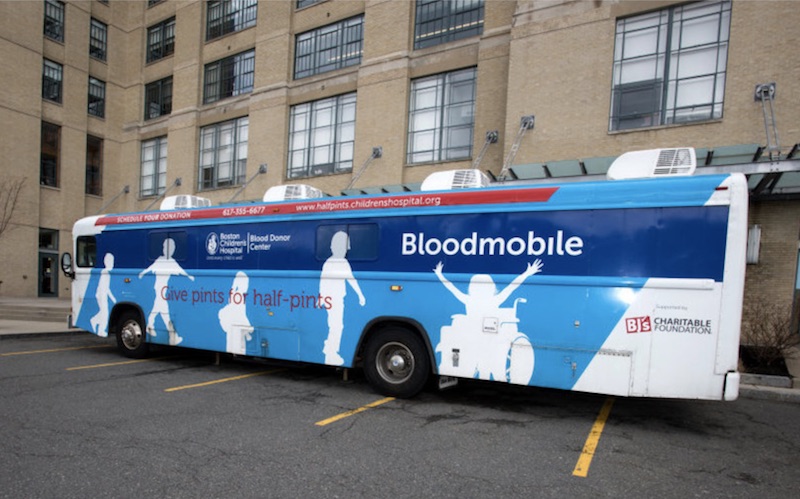 In 2000, after donating platelets 500 times, Bob landed himself a spot in the Guinness Book of World Records. But he didn't stop there. Now on track to celebrate his 850th platelet donation, he's never experienced an ill effect from donating and was deferred only once because of a low iron count.
Why platelets?
Bob donates platelets because they go far. In fact, one platelet donation can benefit at least four patients at Boston Children's. Given the amount of children having surgeries, transplants, and cancer treatments that require platelets, and the fact that these cell fragments survive only five days outside the human body, there's always a need.
At one point, donating platelets was part of Bob's weekly routine, but when the FDA ruled that individuals could only donate platelets twice a month, he had no choice but to cut down to biweekly donations.
I don't consider myself anything special. I'm a low-key guy.
Bob says he doesn't do much to keep himself in proper health to donate. He naturally eats well and keeps in good physical condition. He often takes a "work from phone day" — calling into meetings and managing his businesses while walking up to 20 miles through the city of Boston. Even on days when he's donating platelets, he walks from his home in Jamaica Plain instead of driving.
The process of donating doesn't require much from Bob; "What am I doing? I'm just sitting here!" he says. In the past, he'd watch movies while he donated; nowadays, he likes to snooze in the chair.
'It just makes sense to me'
Bob gets emotional when he thinks about the kids who use his platelets. "I have one rule: I don't ever want to meet the people I donate to," says Bob, pausing to collect his thoughts. "I don't consider myself anything special," he says. "I'm a low-key guy."
Bob doesn't ask for anything in return for donating. Occasionally, he'll reward himself with a bag of chips, other than that he's quietly charitable.
Despite his humility, there's no doubt that Bob makes a big impact for patients and families at Boston Children's. Teary eyed, Bob describes donating as a "big deal" — "It just makes sense to me."
Inspiring the next generation of blood donors
Bob hopes that sharing his story will inspire more people to donate platelets. When he started donating blood, he was 21 and was rewarded with four hours off from his job for each successful donation. He now practices a similar policy at his own companies. If he could, Bob would reincarnate himself as Ellen DeGeneres and use her show to spread awareness.
When asked how long he plans to donate, Bob says, through chuckles, that he'll reevaluate his donation habits after reaching 1,000 donations. Otherwise, he plans to continue donating until he's told to stop.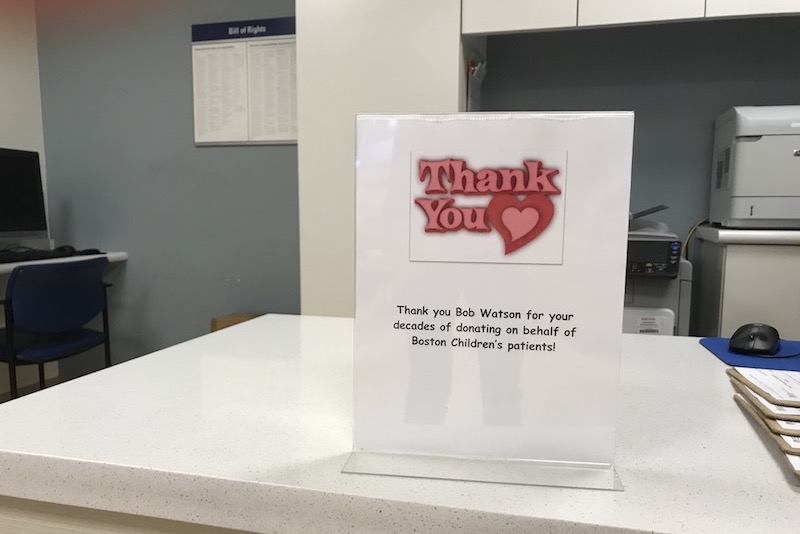 Boston Children's Hospital extends its deepest gratitude to Bob Watson and his dedication to the well-being of our patients. We thank you, Bob, and all those who donate blood products to our patients.
2020 milestone recognition donors
Donors selected for this annual recognition have donated Platelets 10+ times, Whole Blood 5+ times, or Double Red Cells 3+ times in the previous year.
Platelet Donors
Jonathan Perkins
Emily Pratt
Robert Watson
Patricia Sharp
John Theriault
Stephen Wilk
John Donahue
William O'Toole
Thomas Leslie
Paul Kelly
Marco Rocha
Russell Pratt
Robert Gadsby
Lorinda McMorran
James Cooney
Thomas Mulligan
Nicole Johnson
James Macpherson
Dennis Moran
Gregory Halloran
Carol Parrella
Evan Westlake
Gretchen Wilson
Colleen Collins
James Moran
Mark DeNicola
John Chin
Eric Eisenberg
Daniel Kennedy
Eric Lovejoy
Mary Cusack
Barbara Cleary
Robert Lash
John Kelley
Philip Graeter
Michael Burke
Richard Goldstein
Corey Chamberlain
Ian Underwood
Hannah McQuillan
Patrick Murphy
Kevin Kennedy
Billie Lee
Anthony Cunningham
Teresa Nickerson
Hannah Beller
Christopher Zaro
James Hopkins
Michael Maune
Harvey Minkin
Jonathan McCormick
William Howe
John Sweeney
Jeffrey Jasie
Amy Fein
John Corey
Roy Noepel
Grace Mcgathey
James Ruff
Marie Boyle
Robert Nolan
Sean Ferry
John Doyle
Robert Robichaud
Douglas Hurst
Mickey Benson
William Turosz
Douglas Kennedy
Jessica Moran
Daniel Kenslea
Duane Nelson
Adam Nussenbaum
Lorraine Dee
Jim Harrison
Laura Soper
Michael Carleton
Paul Olson
Mehmet Dincer
Laurie Kuck
Brian Donahue
Jacob Cormier
Greg Rucker
Bethany Ford
Justin Crisafulli
Eli Sprecher
Leanna Shea
Shane Ferrick
Barbara Payne
Brian Gill
Melissa Jones
James Payne
Mary Wells
Tess Ruderman
John Russell
Liam O'Connell
Daniel Coughlin
Anne-Marie Nolan
Erin Bourque
Susan Butterfield
Kevin Furtado
Double Red Donors
David Wilson
John Joffrion
Timothy King
Paul Natola
Paul Cohen
Edward Flanagan
Liam Sullivan
Bradley Whyte
Michael Kangas
Roger Matthews
Brandon Gibbs
Nathaniel Cabral-Curtis
John Robertson
Brian Kelly
Amir Rozenberg
William Cleary
Daniel Caron
Peter Nunziata
Andre Rosenberg
Mark Colbert
William Churchill
Jeffrey Howard
Benjamin Wilson
Whole Blood Donors
Robert Mccarthy
Alan Spillert
Steven Pedro
Stephen Williams
Nahur Fonseca
Susan Riley
Debra Ricottelli
Serge Shulga
Christopher Hopkinson
Christine Kohlsaat
David Trifone
Sally Orme
Heather Saczynski
Monica Wheeler
Kathleen Mallet
Catherine Holman
Robert Gale
Charles Langlais
Christopher Burke
Daniel Mercer
Courtney Ek
Kevin Welch
Aaron Curtis
Peter Photopoulos
Jacob Zimble
Patricia Bertucci
Catherine Putnamv
Douglas Meiklejohn
Alyssa Horn
Janet Spillert
Devon Stork
Joseph Mayer
Crandall Peeler
Jairo Suarez
Natalie Turkington
Evan Solomonides
Susan Daley
Thomas Atherton
Francis Morrisv
George Gilman
Larry Russell
Norma Reardon
Lori Ann Detrolio
Leonard Morse-Fortier
John Howe
Bruce Conant
Daniel Bresnahan
Lillian Wolfson
Richard Orlando
James Riley
Robert Ryan
Leah Abecassis
Kevin Wolfe
Joseph Ringv
Robert Obarv
Craig Cubell
David Lebet
Christina Cornish
Timothy Lawton
Kurt Gent
Scott Lambalot
Lizabeth Glynn
Joseph Sheehan
Charles Reid
Peter Shapiro
Brandon Sit
Sarah Coates
Charla Whitley
Michael Fogarty
Frank Tkacik
Daniel Sorensen
Jeffrey Loyd
Maureen Schnur
Francis Geary
Ross Chapman