Donating blood is one of the easiest ways to help save a child's life
Donate blood or platelets at our Blood Donor Center at 333 Longwood Ave. in Boston or at one of our Bloodmobile drives in your community. Donating whole blood can take less than an hour out of your day.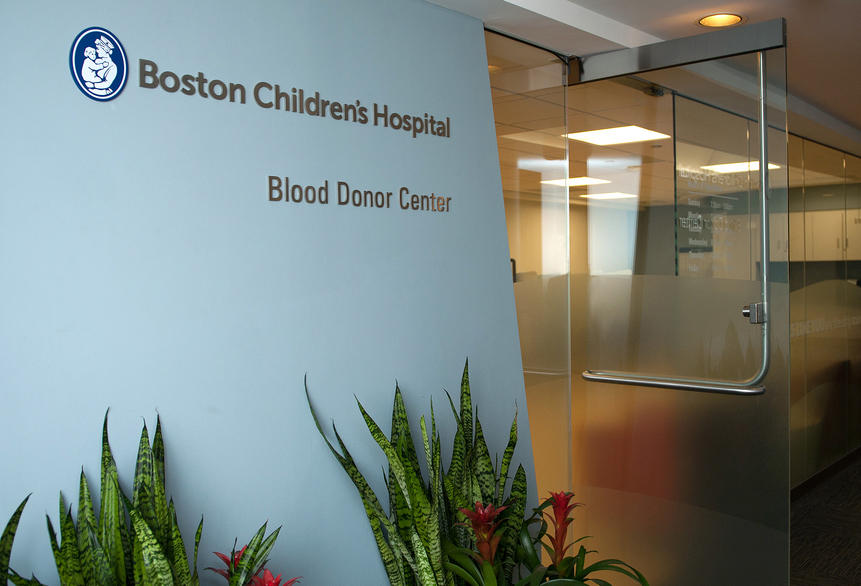 Blood Donor Center
hours of operation
Sunday: 7:30 a.m. to 3 p.m.
Monday: CLOSED
Tuesday: 9 a.m. to 6:30 p.m.
Wednesday: 9 a.m. to 6:30 p.m.
Thursday: 9 a.m. to 6:30 p.m.
Friday: 7 a.m. to 4:30 p.m.
Saturday: 7:30 a.m. to 3 p.m.
Appointments are preferred, but walk-ins are welcome (subject to staffing and availability).
The Boston Children's Blood Donor Center is an independent collection facility serving the needs of the pediatric patients in the Longwood Medical Area. Established in 1958 primarily to provide fresh blood for the new field of open heart surgery, we now supply virtually all of the blood and blood products used at Boston Children's. If you are eligible, please help us meet the needs of our young patients by donating.
Remember to bring a photo ID with you when you come to donate. Thank you for your continued support!
Make your blood donation appointment online
Go to www.bostonchildrens.org/halfpints. There you can:
make an appointment to donate whole blood, double red cells, or platelets
search for a Bloodmobile visit in your area
view recent health history information, blood pressure, pulse, and iron level
keep track of your lifetime donations
To schedule your blood donation appointment via phone, call 617-355-6677.
Generously supported by the Ford Motor Company Fund & New England Ford Dealers.