The Center for Cardiovascular Genetics at Boston Children's Hospital provides comprehensive evaluation and clinical care to patients and families with all forms of cardiovascular genetic conditions.
What are cardiovascular genetic conditions?
Cardiovascular genetic conditions are defined either by an identifiable change in an individual's genetic sequence, or a cardiac condition in their family. As our understanding of genetics and our ability to perform genetic testing continues to increase, it is now thought that 1 in 200 individuals are at risk for a cardiovascular genetic condition.
We offer complete long-term clinical care for a wide spectrum of cardiovascular genetic conditions:
congenital heart disease (isolated and syndromic forms)
aortopathies and connective tissue disorders
familial hypercholesterolemia and other lipid disorders
Our approach to care
Our multidisciplinary team conducts comprehensive genetic testing, examinations, and monitoring of children and adults to diagnose cardiovascular genetic conditions. We also offer counseling and long-term clinical care that encompasses all aspects of living with a cardiovascular genetic condition.
At your first visit, we will establish a genetic diagnosis; understand specific cardiac, other medical, and neurodevelopmental risks and prognoses; and determine how a diagnosis may impact your daily life and activities. Our team's clinical psychologist can help your family navigate the implications of a diagnosis and adjust to a new normal.
Our center is part of the Department of Cardiology at Boston Children's Benderson Family Heart Center, giving you and your family immediate access to state-of-the-art resources, inpatient care, and procedures. Because many cardiovascular genetic conditions have potential medical complications outside the heart, we work closely with many Boston Children's departments and programs, including:
Many of our team members are trained and experienced in adult cardiology, and we work closely with the cardiovascular genetics programs at Mass General Brigham and Beth Israel Lahey Health.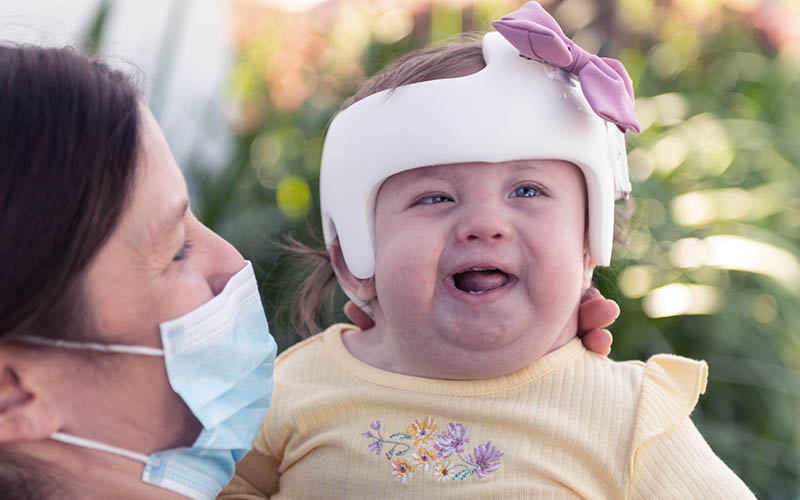 Finding support for trisomy 18
With support for genetic condition trisomy 18, Brooklyn "tells her own story."
Working together
Understanding your condition is key to successful management, and a cornerstone of the relationship between our team and your family. We provide detailed information about the clinical and genetic aspects of your diagnosis, and how this is specifically relevant to your family. You will be able to discuss your diagnosis with different members of our team. This will allow you to understand why we might want to conduct specific inquiries into your or your family's health or why we recommend certain treatment strategies, which might include safe participation in sports and activities.