Mikeys Whirlwind Week | Overview
(as told by Stephen and Elizabeth Collins on June 16, 2021)
Sometimes in life you need to react dramatically and instantly — as if you had suddenly found yourself at a starting line, needing to do whatever it takes to go from zero to 100 m.p.h.
When Mikey Collins was about 15 months old his parents, Stephen and Elizabeth, noticed that he had become more irritable and less well coordinated. He had started pointing to overhead lights and motioning that he wanted to be brought to them. While he had been an enthusiastic crawler, he became clingy and didn't want to walk, even missing a windowsill while cruising and splitting his lip.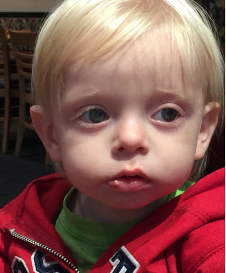 As his parents studied him, they noticed his right eye was wandering and that the right pupil had some whiteness in it. The family went for dinner in Lexington, Ky., on Saturday, May 9, and sat Mikey in one of the restaurant's highchairs. While they ate they discussed Mikey's eye, and to test a theory they moved the meal he'd been eating to a previously unused part of the tray. Mikey couldn't find his food. 
Fortunately, the Collinses were both self-employed and had the flexibility to respond with the immediacy needed. On Sunday morning (Mother's Day), Steve and Liz took Mikey to his pediatrician, insisted on a hospital referral, and drove to the Emergency Room at the University of Kentucky's Children's Hospital in Lexington.
There, the ophthalmologist-on-call (not a pediatric ophthalmologist) confirmed that Mikey had lost vision in his right eye. His right lens was opaque, and his left was in the process of becoming so. Possible diagnoses the doctor mentioned included cataracts or retinoblastoma (a fast-moving cancer of the eye). Galvanized, Steve searched the internet for "best pediatric ophthalmology in the US" and came up with Boston Children's Hospital (first choice) and Cincinnati Children's Hospital Medical Center, the latter only 90 minutes from where they lived.
On Monday morning, they drove to Cincinnati Children's and were given on an immediate appointment. This doctor told them that the opacity was not in the posterior (back) part of the eye, meaning that he was leaning toward a diagnosis of cataracts but couldn't rule out retinoblastoma. He wanted to do surgery immediately. But Liz and Steve wanted their second opinion from Boston Children's Hospital. They spoke with Dr. Deborah VanderVeen, Director of the Pediatric Cataract Service at Boston Children's, on Monday, flew to Boston on Tuesday, and by Wednesday they were sitting in her office. Dr. VanderVeen's diagnosis was that Mikey had a very aggressive form of pediatric cataracts. By Wednesday night they had a surgery date in six days, a hotel room in Boston (this during the notoriously hectic college graduation season!), and a plan.
Surgeries were scheduled for 5/19/2015 (for the right eye) and 5/26/2015 (for the left). Mikey has asthma and the anesthesiologist had concerns at first, but Dr. VanderVeen advocated for immediate surgery. In between Mikey's surgeries the three stayed with family in Albany, N.Y.
As Mikey was only 15 months old when he had cataract surgery, Dr. VanderVeen placed intraocular ("artificial") lenses in his eyes that provide most of the focusing power. He also requires glasses for his best vision. As Mikey grows, his glasses prescription will slowly decrease over time, so he may be less dependent on the glasses for his best vision later. At the time of surgery, Dr. VanderVeen advised Mikey's parents that his vision would return at approximately the same rate it had disappeared.
On May 27 he was released for followup. Dr. VanderVeen told them that it would look like Mikey had lazy eye after surgery and prescribed a regimen of patching, which completely corrected the issue. Eyes still swollen, Mikey went home with zero-correction glasses — for protection and to get him used to wearing them. Neither parent will forget the day when his prescription glasses arrived. Now able to focus, Mikey didn't recognize Steve and Liz's faces at first, but once he heard their voices he was utterly delighted. Still less than 2 years old, Mikey would request his glasses when he woke up every day was 100 percent compliant about wearing them, and has never failed to appreciate them.
When the whirlwind had passed and the Collinses had the luxury of time, they painstakingly pieced together their son's recent medical experience. He had passed his 12-month pediatrician's "well visit" with flying colors. He had taken his first steps on April 24 but then stopped trying to walk. Cross-checking their memories and home photos of Mikey, they calculated that the cataracts had begun to grow around April 30. By May 9 his right eye was completely obstructed. He had almost lost his vision within a mere 10 days!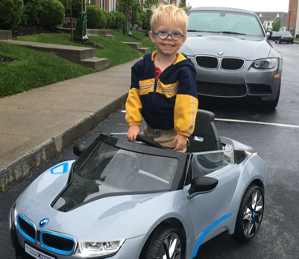 He walked more confidently after his operation. He was and is a very active boy. When Mikey was 2, Steve brought him an electric BMW so he could focus, steer, and work a gas pedal. As he got used to navigation (and acquired the need for speed), Mikey graduated to a push go-cart.
Mikey was a real natural behind the wheel. At his first "formal" gas go-cart lesson, it took him only two hours to get the hang of it before hitting the racetrack.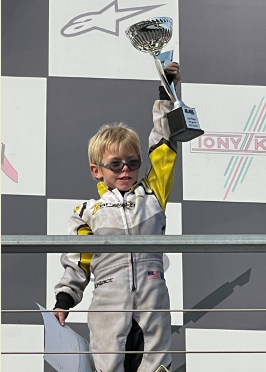 He is currently the reigning 2020 Orlando Cup World Champion. He has since raced at the national level and recently acquired a racing coach. Steve gets his son to the track two or three times per week.
Rapidly making up for lost time, Mikey developed the ability to speak clearly at a very young age (~20 months). Liz read him a lot of books. His vision is now normal (20/20 with glasses, needing no accommodations). He uses bifocals for reading and distance glasses for racing. A third grader, he also studies karate, swims, and plays violin.
Mikey is also passionate about BeyBlades, a kind of rocket spinning top. When Mikey proposed a BeyBlade tournament for his friends, his entrepreneurial parents suggested he put together a "business plan" for the competition, which he did.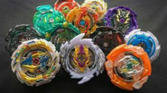 The Collinses describe Dr. VanderVeen as an extraordinary doctor, really going above and beyond. She was always personally involved, asking that they send her pictures and videos every day between surgeries; Mikey had custom-made telehealth before telehealth was even a thing. They still see Dr. VanderVeen once per year, down from quarterly right after surgery. The Collinses tell people how Boston Children's Hospital is exceptionally attentive — every detail is tailored to the kid and family — and totally worth traveling to. For example, other hospitals don't allow parents to walk or carry their child into the OR. While this detail may seem insignificant, from the child's as well as the parents' perspectives anything that reduces trauma is meaningful. Such instances of compassion add up to a collaborative hospital culture and should be modeled globally.
The rapidity with which Mikey's eyesight deteriorated was frightening, all the more so in retrospect. Liz and Steve are deeply grateful for the care Mikey received at Boston Children's, which has led to so many exciting — and rapid — developments in their son's life.
(Family photos courtesy of Liz and Steve Collins.)