The Center for Airway Disorders (CAD) at Boston Children's Hospital is one of the largest and most experienced centers treating infants, children, and young adults with airway problems. Established in 2000 as a collaboration between specialists in otolaryngology, pulmonology, and gastroenterology, today the CAD draws from the expertise of 12 departments. As a result, we provide the most comprehensive treatment for children with complex airway, pulmonary, and digestive disorders.
Airway disorders interfere with a child's ability to breathe, eat, or swallow normally. Any child with these symptoms requires timely care. Our team works quickly to perform a comprehensive evaluation for every new patient. We then work closely with the patient's family and our colleagues to create a personalized care plan for that child.
Expertise in every aspect of airway disorders
We know from experience that airway disorders are often complex and can affect many systems throughout the body. The Center for Airway Disorders therefore offers the most comprehensive services, with the most disciplines of any center of this kind. Our size and scope enable us to tailor services to each patient's needs so that every child we treat receives the comprehensive care they need.
Our team is made up of one of the largest pediatric otolaryngology (ear, nose, and throat) teams and the largest cardiovascular surgery team in the U.S. We are also one of the few airway centers in the world with a pediatric cardiothoracic surgeon on its leadership team.
Another important part of our team are the licensed speech-language pathologists in the Feeding and Swallowing Program. We also work closely with lactation specialists in the Lactation Support Program. These specialists are instrumental in treating many eating and drinking difficulties without surgery.
To get the most accurate diagnosis and related treatment plan, our patients benefit from the breadth and depth of Boston Children's expertise. We work closely with our colleagues in gastroenterology, pulmonology, cardiology, neurology, genetics, endocrinology, and several other departments to provide care based on each patient's needs. Our center coordinates these appointments and follow-up planning and treatment.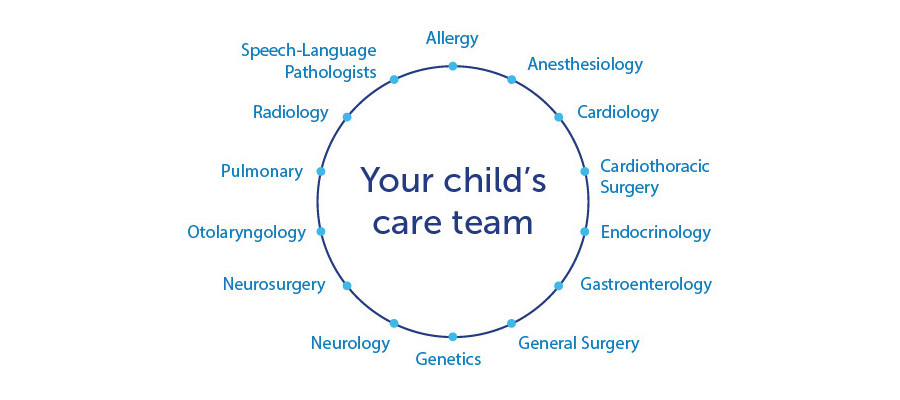 Why choose the Center for Airway Disorders?
We provide expert care for every type of airway disorder — from common conditions to the most rare and complex disorders, such as:
In addition to our extensive team, our patients benefit from the vast resources of Boston Children's Hospital — ranked one of the top pedziatric hospitals in the country by U.S. News & World Report.
We work closely with departments throughout the hospital to provide the most effective treatment possible. This includes weekly meetings with specialists from across Boston Children's to discuss individual patients and their diagnoses and establish a better understanding of each child's needs and treatment options.
Commitment to non-invasive care
Many airway disorders can be managed without surgery. Depending on your child's specific condition, we may recommend starting with noninvasive approaches, such as feeding therapy.
Living with laryngeal cleft
Learn about Sami's journey with a laryngeal cleft and his tracheostomy tube with the Center for Airway Disorders.
If your child does need surgery, our experienced physicians have performed thousands of minimally invasive (endoscopic) procedures that result in less pain and scarring, and faster recovery. Our deep experience in procedures involving lasers, balloon dilation, and other minimally invasive procedures turns into greater safety and better outcomes for children with complex airway conditions.
Where the world comes for answers
Physicians from around the world refer their patients to the Center for Airway Disorders for specialty care. No matter where you come from or what treatment we recommend, our program coordinator will communicate with your child's doctors and specialists back home to ensure seamless care at every step of your journey.