Conference |

Overview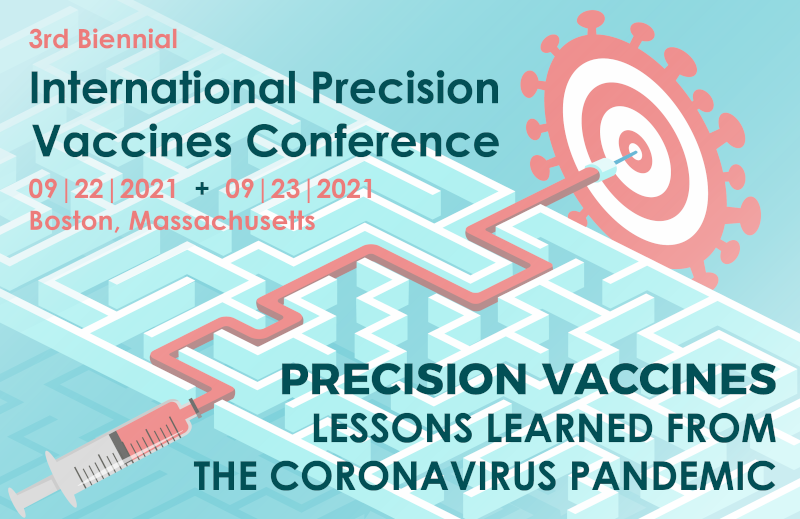 The third biennial International Precision Vaccines Conference (IPVC), hosted by the Precision Vaccines Program of Boston Children's Hospital, will be held September 22-23, 2021. The conference goal is to foster collaboration in developing vaccines tailored to distinct and vulnerable populations such as the young and elderly.
This year's theme, Precision Vaccines: Lessons Learned from the Coronavirus Pandemic, will be presented through a hybrid model of virtual (live streaming) and a limited in-person space at The Inn at Longwood Medical in Boston, Massachusetts. Expert speakers in vaccinology and immunology from various industry, government, and academia groups will provide insight into the following session topics:
precision vaccinology during a pandemic
emerging technology platforms for SARS-CoV-2 vaccines
clinical considerations for CoV vaccine trials
vaccine safety and surveillance
vaccine bioethics
vaccine attitudes and communication
opioid vaccines
vulnerable populations and Covid-19 vaccines
We invite you to join this special event to learn, share, and connect.
Abstract submission and details: deadline extended
We are accepting abstract submissions for IPVC posters and/or oral presentations. Abstracts will be included in the conference brochure. Posters and presentations will be broadcast via the virtual platform. Presenters will have the option to present virtually live or in person.
Late breaking call for abstracts!
Submission deadline:
Friday, September 10, 2021
6 p.m. (EDT)
Submission guidelines:
in PDF or Microsoft Word format, Arial 11-point font, 0.5-inch margins.
not to exceed 500 words, excluding title, authors, and affiliations (please provide these)
extra page for tables, figures, and references is permitted
additional questions, please email precisionvaccinesprogram@childrens.harvard.edu
Interested in sponsoring or exhibiting at this event? Please email Nicole "Coco" Lewis at nicole.lewis@childrens.harvard.edu.
Article reviews of past conferences
Check out these article reviews from the past International Precision Vaccines Conferences