The Kleefstra Syndrome Clinic at Boston Children's Hospital is at the forefront of research and treatment for children and adolescents with Kleefstra syndrome.
Children with Kleefstra syndrome present with a wide range of symptoms but commonly display:
distinct facial features
low muscle tone (hypotonia)
Kleefstra syndrome may also cause:
gastrointestinal problems
heart defects
kidney problems
psychiatric conditions
sleep disturbances
respiratory infections
In some cases, adolescents with Kleefstra syndrome may lose developmental skills (regression) or face neuropsychiatric challenges.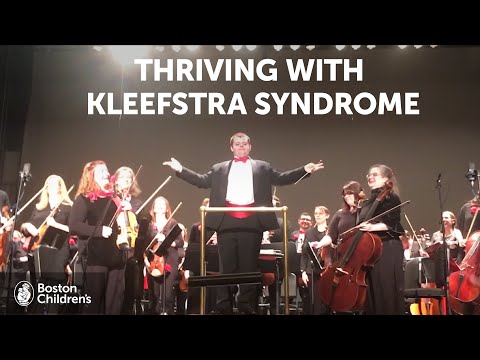 Kleefstra syndrome: Cracking the code
Diagnosed with Kleefstra syndrome, Paul is in a study that's helping to define it, while scientists study its effects on sleep.
Kleefstra syndrome is caused by a variant in a gene called EHMT1 or a larger deletion of chromosome 9, which includes EHMT1. Often, children with Kleefstra syndrome are the first in their family to have this genetic change (de novo), but in rare cases the condition can be inherited.
During visits to the Kleefstra Syndrome Clinic, patients can meet with specialists to develop a personalized treatment plan. These treatment plans can be shared with local medical and therapeutic teams to provide patients with the best continuous care. We also assess genetic test results and diagnosis when appropriate.
Our depth of experience in diagnosing and treating Kleefstra syndrome
The Kleefstra Syndrome Clinic and Neurogenetics Program at Boston Children's provides a comprehensive approach to caring for Kleefstra syndrome and other genetic disorders. Our team of nationally recognized experts are also leaders in basic and clinical research, and partner with leading organizations and providers to enhance clinical research and care for individuals with Kleefstra syndrome.