For Medical Professionals | Overview
We know that you want to provide your patients with the best possible care, and our Benderson Family Heart Center team shares that goal with you. We are committed to a collaborative approach to achieving superior outcomes and returning your patients to your care. We welcome the opportunity to become your partner of choice by consulting with you, formally and informally, about your patients at any stage in their management.
Download our fact sheet
Refer a patient
Explore our fellowship programs
Learn about our observership opportunities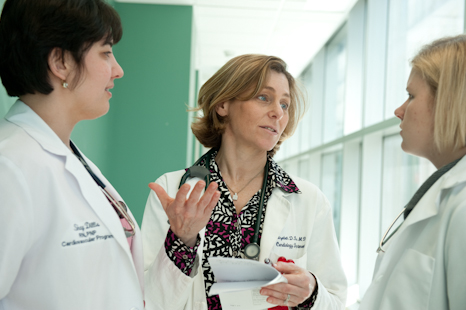 Heart Murmurs
Heart Murmurs is a publication for physicians, nurses and interdisciplinary colleagues, offering news and updates from the Boston Children's Benderson Family Heart Center.
Editors: Patricia Hickey, PhD, MBA, RN, FANN, and Roger Breitbart, MD
Speakers Bureau
Boston Children's Hospital's specialists are available to meet the continuing medical education interests and needs of community physicians throughout New England. 
Our cardiologists and cardiac surgeons are available to speak on a variety of topics, including cardiac evaluation of athletes, caring for adults with congenital heart disease and minimally invasive surgery techniques.
Learn more about our Cardiac Surgery Speakers Bureau.
Multimedia library
Boston Children's Hospital's Multimedia Library of Cardiovascular Disease, created and edited by Robert Geggel, MD, is an excellent resource for medical professionals.
The library includes still-frames (diagrams, electrocardiograms, chest radiographs, pathology images), phonocardiograms, and video images (echocardiography, angiocardiography, magnetic resonance imaging, cardiac surgery) of 27 different congenital cardiac lesions.