Researcher |

Research Overview

Amblyopia ("lazy eye") is a neurodevelopmental disorder accounting for visual impairment among a significant number of children and adults. Current standards in therapy target occlusion (patching) or penalization (cycloplegia) of the better-seeing eye, but these therapies carry major limitations in efficacy and adherence. Dr. Gaier is a physician-scientist who conducts basic science research related to amblyopia using a mouse model. By elucidating and leveraging the mechanisms that underlie visual, experience-dependent synaptic changes in the brain, Dr. Gaier's research efforts are aimed at advancing our understanding of and developing new strategies to treat amblyopia.

As a National Eye Institute K08 Mentored Clinician-Scientist Career Development Awardee, Dr. Gaier conducts research in the laboratory of Dr. Mark Bear, PhD, at the Picower Institute for Learning and Memory in the Department of Brain and Cognitive Science at the Massachusetts Institute of Technology. In addition to basic science, Dr. Gaier conducts multiple clinical research projects in ophthalmology, which include multiple published reports and primary articles using advance ocular imaging technologies to study the optic nerve in a number of neuro-ophthalmic conditions.
Researcher |

Research Background

Dr. Gaier received his BA from Ithaca College in Psychology/Neuroscience and his PhD (in Neuroscience) and MD from the University of Connecticut before completing two fellowships at Harvard Medical School affiliates—in Neuro-Ophthalmology at Mass Eye and Ear and in Pediatric Ophthalmology and Adult Strabismus at Boston Children's Hospital. His clinical interests and expertise concern diseases involving any aspect of the afferent and efferent visual pathways, including but not limited to optic nerve disorders, intracranial disease, and ocular motility disturbances. As a pediatric neuro-ophthalmologist, he is a member of a small but increasingly important subset of consultants across the continent with subspecialty training in both pediatric ophthalmology (including surgical training in strabismus [to correct eye misalignment]) and neuro-ophthalmology. Dr. Gaier is actively involved in teaching clinical trainees—including medical students, residents, and fellows in the clinic and operating room. He serves as the Ophthalmology Residency Site Director at Boston Children's Hospital, overseeing residents from Harvard Medical School and Boston University Medical School.
Researcher |

Media

Caregiver Profile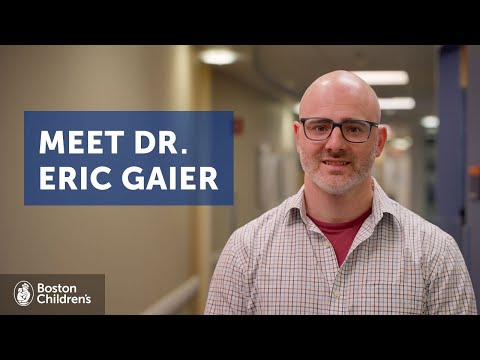 Meet Dr. Eric Gaier
Researcher |

Publications