The Liver Tumor Center at Dana-Farber/Boston Children's Cancer and Blood Disorders Center cares for patients with all types of liver tumors, both benign and malignant (cancerous). The two most common types of liver cancer are hepatoblastoma and hepatocellular carcinoma. Our care team, comprised of some of the most experienced liver tumor doctors in the world, treats children with these two tumor types in addition to other rare tumors arising within the liver. These rare tumors include embryonal sarcoma, rhabdomyosarcoma, rhabdoid tumors, and angiosarcoma. We also provide care to patients with benign liver tumors, such as vascular or lymphatic malformations, mesenchymal hamartomas, and choledochal cysts. We welcome patients with both newly diagnosed liver tumors and recurrent disease.
Experts in treating liver cancer in children
Because the diagnosis of liver cancer in children is rare, every child's treatment is individualized and complex. Treatment requires thoughtful decision-making by a team of providers with a high level of expertise in oncologic, surgical, and interventional care at a center with vast experience treating these tumors and the capacity to provided unparalleled supportive care. We offer leading-edge treatments delivered by a team of collaborative experts with deep experience in their fields. These clinicians include: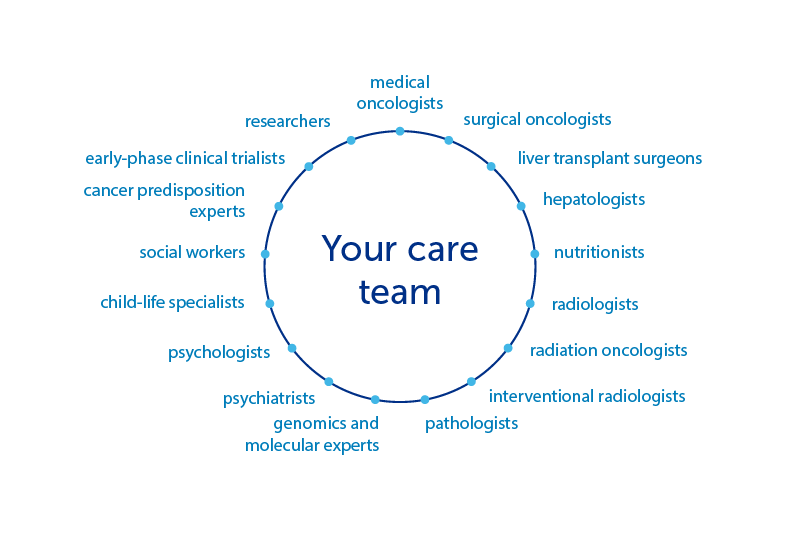 Our approach to liver cancer in children
Patients require both systemic therapy (chemotherapy) and local control, or surgery, to achieve cure. Our oncology program provides the most up-to-date available therapies for patients with newly diagnosed disease and innovative care for patients with difficult-to-treat recurrent disease. The comprehensive and supportive care necessary to treat children with these diagnoses is unique and is not available at all treatment centers.
Surgery involving the liver is extraordinarily complex and requires a surgeon well-versed in this specialized skill. Because liver tumors in children are rare, it is crucial that liver surgeries be performed by surgeons with unique and deep expertise in liver tumor resections. Our experts specialize in pediatric liver surgery and have successfully performed some of the most complicated liver operations in children. These include upfront resections, resections following chemotherapy, liver, or multivisceral (multiple organ) transplants, and surgical repairs.
Within the past 20 years, our surgeons have performed more than 120 liver resections and more than 35 liver transplants, as well as three multivisceral transplants for patients with liver tumors.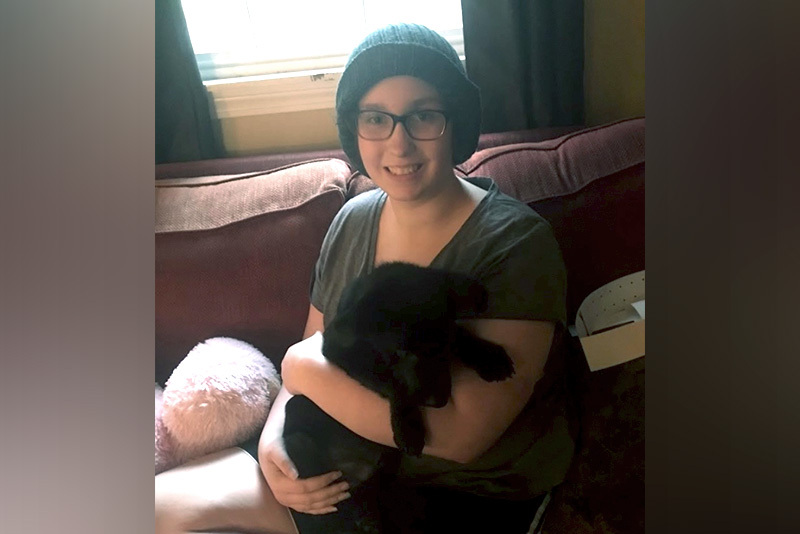 Learn about our patients and providers
Meghan had a large tumor in her liver, but wouldn't know whether it was cancerous until she underwent surgery.
We offer the most advanced and aggressive surgical techniques available including:
transjugular and conventional interventionally guided liver biopsies
ex vivo resection with autotransplantation — removing the liver to allow dissection of an advanced tumor from the organ, while replacing the remaining liver following removal of the cancer
blood vessel or bile duct reconstruction
heart-lung bypass to remove a tumor that has grown into the heart
use of indocyanine green to illuminate tumors and guide resection
advanced imaging techniques (MRI with eovist, MRCP, PET/CT)
interventional radiology procedures (TACE, Y-90) as a bridge to surgical resection.
Very few sites in the U.S. can offer these procedures.
Our team meets regularly to discuss each case, ensuring the benefit of a dual institution's resources coupled with seamless, multidisciplinary care.
For children with recurrent hepatoblastoma or hepatocellular carcinoma that doesn't respond to upfront therapy, we also have expertise in the use of:
targeted agents that interrupt genetic pathways important for tumor growth
novel experimental therapeutics available in our robust early-phase clinical trial portfolio
immunotherapies that capitalize on the patient's own immune system
interventional radiology techniques that can be utilized to treat sites not amenable to surgical resection.
How we care for liver cancer in children
We also work in concert with a comprehensive radiation oncology program paired with Brigham and Women's Hospital and have the benefit of collaborative relationships with our adult oncology colleagues at Dana-Farber Cancer Institute. We offer remote consultations through our online second opinion platform to provide written opinions to reach patients and families at every corner of the globe.