Patients & Families | Overview
Our team of stem cell transplant specialists is dedicated to providing you with excellent and compassionate care. Before, during, and after your child's treatment, our team is here to guide you in your decision-making process and answer any questions you may have about what to expect during the stem cell transplant process and beyond.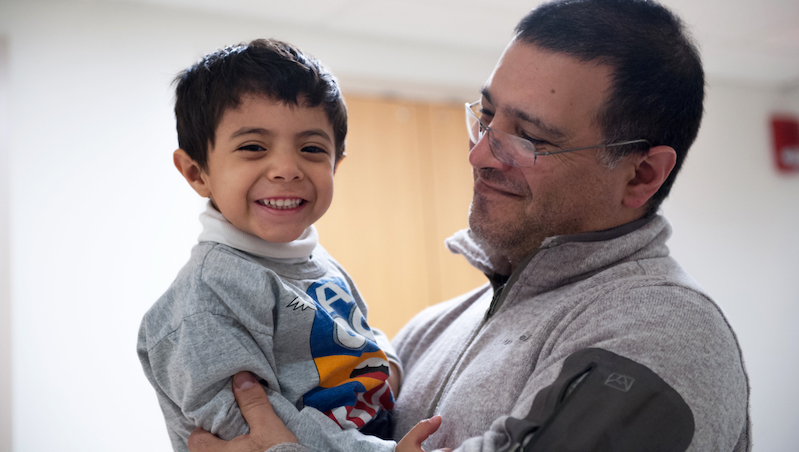 State-of-the-art facilities
Highlights of our Hematopoietic Cell Transplant Program include:
a 14-bed transplant unit specifically designed for the needs of children undergoing a stem cell transplant
an active, world-renown research program with scientists who partner with our clinical team to improve outcomes for hematopoietic stem cell transplants
a graft-versus-host disease (GVHD) clinic that offers specialized care for children and teenagers affected with this condition
the only pediatric center in New England to receive the Cigna LifeSOURCE Transplant Network Center of Excellence status for Bone Marrow Transplant
named a Center of Medical Excellence by the Bone Marrow Transplant Quality Review Committee at UniCare, based on our Foundation for the Accreditation of Cellular Therapy (FACT) accreditation, our quality of care, high patient volume, and high number of outcomes over an extended period of time.
Your stem cell transplant team
At Dana-Farber/Boston Children's, your child will be cared for by a multidisciplinary group of professionals, known as your care team, who specialize in stem cell transplantation. Your team will provide complete and well-managed care before, during, and after your stem cell transplant.
Each stem cell transplant patient is assigned a financial counselor who will help explain your health insurance coverage as it relates to your child's transplant. As part of your child's care team, your financial counselor will be the link between you and your insurance company. He or she will verify your insurance benefits, identify any patient financial responsibilities (such as co-pay amounts, deductibles, co-insurance, and coverage "caps"), and provide the appropriate clinical information that your health insurance provider will require for prior authorization.
Collaborating with your primary doctor on pre- and post-transplant care
Our transplant physicians are committed to working closely with your referring physician throughout your transplant experience. At each step, we will communicate and collaborate with your local care team — including providing weekly emails — to ensure a seamless continuum of care.
Education materials, classes, and programs
To help families understand the stem cell transplant procedure, and to help you feel as comfortable as possible through every step of care, Dana-Farber/Boston Children's created a Stem Cell Transplant Patient and Family Guidebook. You'll receive and review your guidebook during an education session with a program nurse. Families also can find special programs and resources at the Betty Ann Blum and Marjorie Blum Pediatric Resource Room, where professional staff and volunteers provide guidance and answer questions.
Support services
At Dana-Farber/Boston Children's, you'll have access to many support services to help the entire family through each stage of the transplant process. These include:
counseling and emotional support through our Pediatric Psychosocial Oncology team
consultation with a psychiatrist who specializes in working with stem cell transplant patients and families
information and access to community resources from clinical social workers and from resource specialists in our Pediatric Resource Program
chaplains and spiritual care
cancer survivorship programs that support patients over the long term, with an emphasis of living well beyond treatment
a sibling program that offers personalized psychosocial support and a variety of activities for school-aged and teenaged siblings of our pediatric patients
a full range of other patient and family support services
If you wish to speak with someone who has been through the stem-cell transplant experience and understands the complex issues of transplant and survivorship, we can put you in touch with other families who have been through the process and are willing to lend an ear, and provide support and guidance.