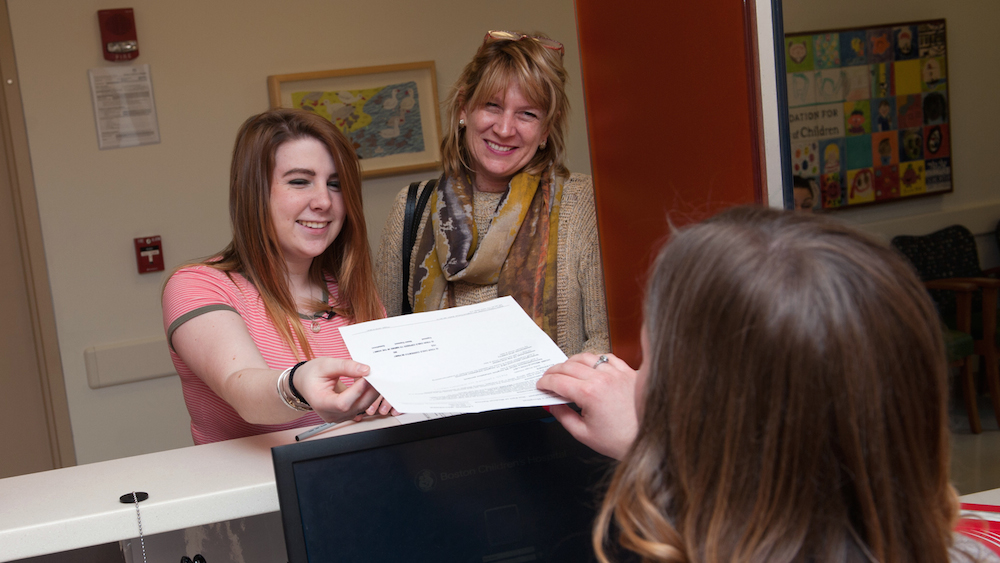 If you've been living with a breast condition as a young adult, you know that this problem affects numerous aspects of your life. Guided by research, we take the concerns of you or your child seriously and work with you to find the best solutions. We know breast health issues can be sensitive, and our staff makes it easy for you to get answers to the questions that have been troubling you.
We use a collaborative approach to evaluate and treat adolescent breast problems. Our specialists can help you with a wide range of breast conditions — including breast pain, breast masses, or breasts that appear uneven, too large, or too small for your frame. We're happy to discuss your problem with you and reassure you that you're not alone.
Patient resources
Frequently asked questions
When it comes to adolescent breast conditions, we know that starting the conversation is often the hardest and most important first step. If you or your child is concerned about breast health or breast development and you're considering seeking treatment, you probably have a lot of questions. Here are some of the questions most frequently asked by patients and parents who visit our center.
Understanding your body
Why are my breasts growing abnormally?
Many common breast conditions do not have one particular identifiable cause. Hormones are thought to play a role sometimes, while in other situations certain families of genes might predispose you to abnormal growth. In rare cases, breast abnormalities may be a sign of an underlying medical condition. Breast conditions are almost always benign, but they can nonetheless have a profound impact on quality of life.
Our doctors perform a thorough examination to rule out any underlying medical problems. During this process, you'll benefit from access to top specialists from across Boston Children's.
Will my breast problems resolve on their own as my body develops?
Some breast conditions do go away on their own as adolescents grow. Extra breast tissue in boys (gynecomastia) typically resolves within one to three years, for instance. The benign rubbery "lumps" known as fibroadenomas may also disappear without treatment. For some diagnoses, the pattern may be less clear. Some young people do not "grow out of" or "grow into" their breast size and/or shape. Our evaluation process helps distinguish temporary problems from long-lasting conditions.
I feel a lump in my breast. Should I be worried?
Thankfully, breast cancer in teens and young adults is relatively rare, compared to older populations. But it's always a good idea to have lumps checked out, and our experts can help determine what to do about the problem.
For some girls, breast changes are related to their normal monthly cycles. In other cases, lumps can be caused by cysts, abscesses, or fibroadenomas. If the mass is large, causing pain, or disrupting the breast's development, surgery might eventually be recommended.
I think my breasts are too big. Will they get smaller if I lose weight?
Weight control is an important part of adolescent health, and we strongly support engaging in healthy lifestyles and weight management when necessary. However, research does show that weight loss alone doesn't consistently resolve the symptoms associated with oversized breasts. As part of our evaluation, we'll address the role that obesity or future weight loss might play in your specific situation and potential treatment.
Treatment at the center
What can I expect from my first visit to the center?
We recognize the sensitivity surrounding breast health and in some instances can keep the initial evaluation to an informational conversation if the patient does request this. We'll provide you with a diagnosis and as much information as possible. In some instances, we'll also discuss treatment options. We are always willing to meet with our patients to further answer questions.
Am I old enough to be considered for surgery, such as a breast reduction?
Adolescents develop at different times and at different rates. Children as young as 11 or 12 can be affected by breasts that are growing out of proportion to their frame, for instance. That's why we do not use age as the only factor in our evaluations and treatment recommendations. We're happy to meet patients at any age to begin a discussion of the condition and potential treatment options, and tailor our conversation to the appropriate intervention, keeping age in mind.
Am I too old to be seen at the center?
Depending on the diagnosis, we see new patients into their 20s. However, patients who have already been treated at the center can continue coming here for follow-up care at any age. If you have questions regarding a referral to another physician outside Boston Children's, please feel free to call our center. Our doctors have a network of colleagues at adult hospitals in the area and can make recommendations based on your diagnosis.
Surgery and insurance
What is breast surgery like, and how long does it take to recover?
Many patients are surprised to learn that most breast surgeries can be handled on an outpatient basis, or with an overnight stay in the hospital. Depending on the type of surgery, patients may need to refrain from contact sports anywhere from two to six weeks. (Some athletes or dancers we've treated have timed their surgeries around major competitions or school vacations.)
If I decide to undergo breast surgery, what happens next?
Our staff will send your insurance company what's known as a prior authorization letter requesting coverage for your procedure. Within 30 days of receiving the request, the company will send you a letter with a decision and will also contact us with the decision. If your insurance company approves your procedure, we'll work with you to schedule a procedure date and go over next steps.
Each insurance provider has different guidelines that a patient must meet in order to be eligible for coverage. You have the right to request information on these guidelines from your insurance company. We'll work with you to make sure you have all the information they need.
Will my insurance cover surgery?
Just because your doctor recommends a procedure and feels it is medically necessary does not mean your insurance company will provide coverage. Whether or not your insurance company will cover surgery depends on your condition and your insurance company's guidelines. Each patient's situation is unique, and our experts will work with you to help you understand your insurance and the different options.
What happens if my insurance company denies my procedure?
If you receive a denial from your insurance company, if applicable, our staff will first perform a peer-to-peer review with a physician at your insurance company. If the decision is upheld, you have the right to file an appeal with the company. That appeal is the patient's responsibility, but our office staff is very knowledgeable and will guide you and your family through the process.
We offer discounted self-pay rates for patients who don't meet their insurance company's criteria but still wish to move forward with surgery. We generally determine pricing after a treatment plan is in place and the physician has made an evaluation.