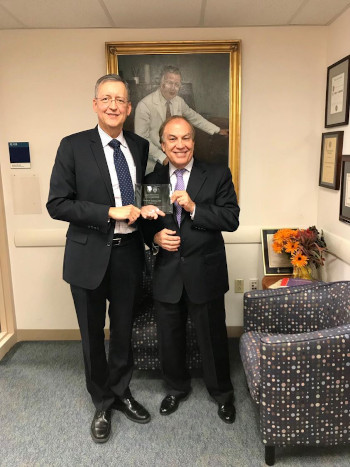 Every academic year, the Children's Hospital Ophthalmology Foundation sponsors a Visiting Professor Series that brings in the best of the best in terms of basic research in ophthalmology. Funding includes a faculty dinner, all travel expenses, and an honorarium. Visiting professors give a lecture or two and, where appropriate, participate in a patient conference, then meet with faculty, followed by lunch with trainees. The activity not only gives our faculty and trainees access to these experts, it also allows the leaders in our field to experience firsthand the quality of training and research in the Boston Children's Department of Ophthalmology.
The series has been held exclusively on Zoom since 2020, but one expects that to change in future. Please contact Eric Aho at Eric.Aho@childrens.harvard.edu if you would like more information about an upcoming lecture.
Academic year 2022-23
Andreas Stahl (Sept. 21, 2022)
Padmaja Sankaridurg (date not decided)
Academic year 2021-22
Academic year 2020-21
Academic year 2019-20
Because of COVID-19 concerns, our April 2020 and June 2020 Visiting Professorships were canceled.
Academic year 2018-19
Academic year 2017-18
Academic year 2016-17
Academic year 2015-16
Academic year 2014-15
Academic year 2013-14
Academic year 2012-13
Academic year 2011-12
Academic year 2010-11
Academic year 2009-10
Academic year 2008-09
Academic year 2007-08
Academic year 2006-07