Boston Children's Hospital's Department of Medicine Patient Services is committed to increasing education in pediatric issues to community providers who care for them.
The following programs provide a comprehensive update of current trends and nursing/medical management of the pediatric population by Boston Children's Hospital specialists.
These programs are intended for:
school nurses
educators
community healthcare providers
families
students
Free Zoom seminar: Celiac Disease and Updates on the Management of Students with Celiac Disease and Co-existing Type 1 Diabetes
4:30 to 6:30 p.m. Eastern time Wednesday, March 8
presented by Community Education Initiative in collaboration with the Boston Children's Hospital Celiac Disease Program
2.0 nursing contact hours/PDPs offered
latest guidance on the management of celiac disease in schools
nurse partnerships with food service providers to ensure access to healthy, safe food
medical and nutrition concerns for patients with a dual diagnoses of celiac disease and type 1 diabetes
cafeteria management and school administrators may find this session helpful
To register for the seminar, visit https://form.jotform.com/230244525081144.
This training is being offered free of charge through generous donations from the Celiac Disease Foundation and the Osterman Family Foundation.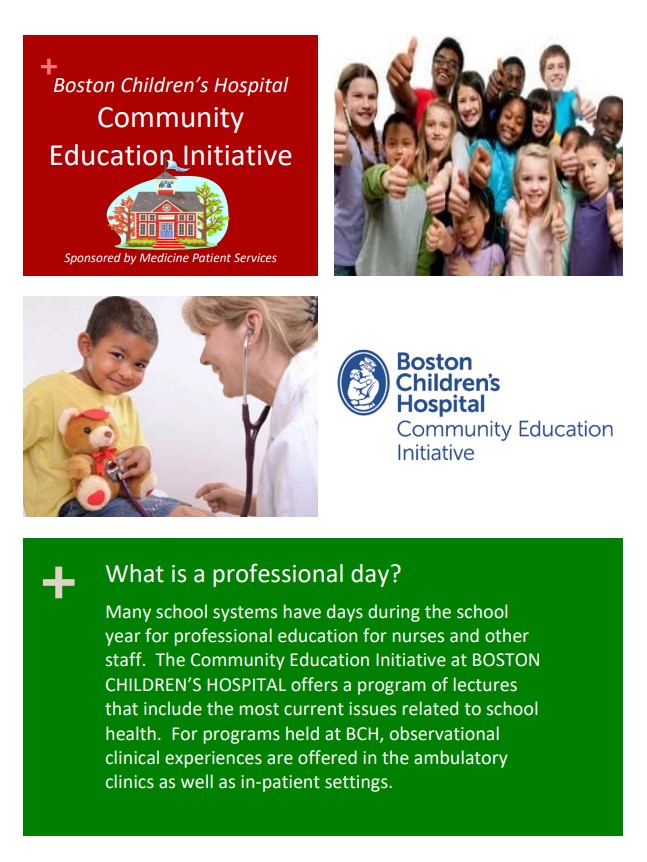 Please take a moment to look over our Professional Development Program information. If you are looking to hold a program with us we would love to start the planning process. Program Information can be found here.
Please note: If you want the months of September/October, ideally requests need to be into us by mid June.
CEI Lecture Series 2022-2023
Each session held

LIVE

via Zoom, $40 per session, 2.0 nursing contact hours/2.0 PDPs each session awarded upon completion of evaluation
Time: 4:30 p.m. to 6:30 p.m. (EST)
Purchase orders are accepted and must be emailed to judi.naar@childrens.harvard.edu along with nurse's name and email address
All Zoom access and handouts will be emailed out to all registered attendees the day before each program.
Jan. 10, 2023: Substance Abuse
Feb. 14, 2023: Caring for Children with Cancer in School
March 2023 (date TBA): Palliative Care
April 2023 (date TBA): Health Literacy
May 11, 2023: Techno bullying and Sexting in Children and Adolescents
AVAILABLE NOW! Please click HERE to go to website.
PEDIATRIC HEALTH ASSESSMENT SERIES
All of the health assessments listed below were recorded and are available online.  
Please visit us HERE to register.
Bundle pricing is still available (10 for $200) please reach out to 
Judi Naar for information on how to enroll with the special pricing.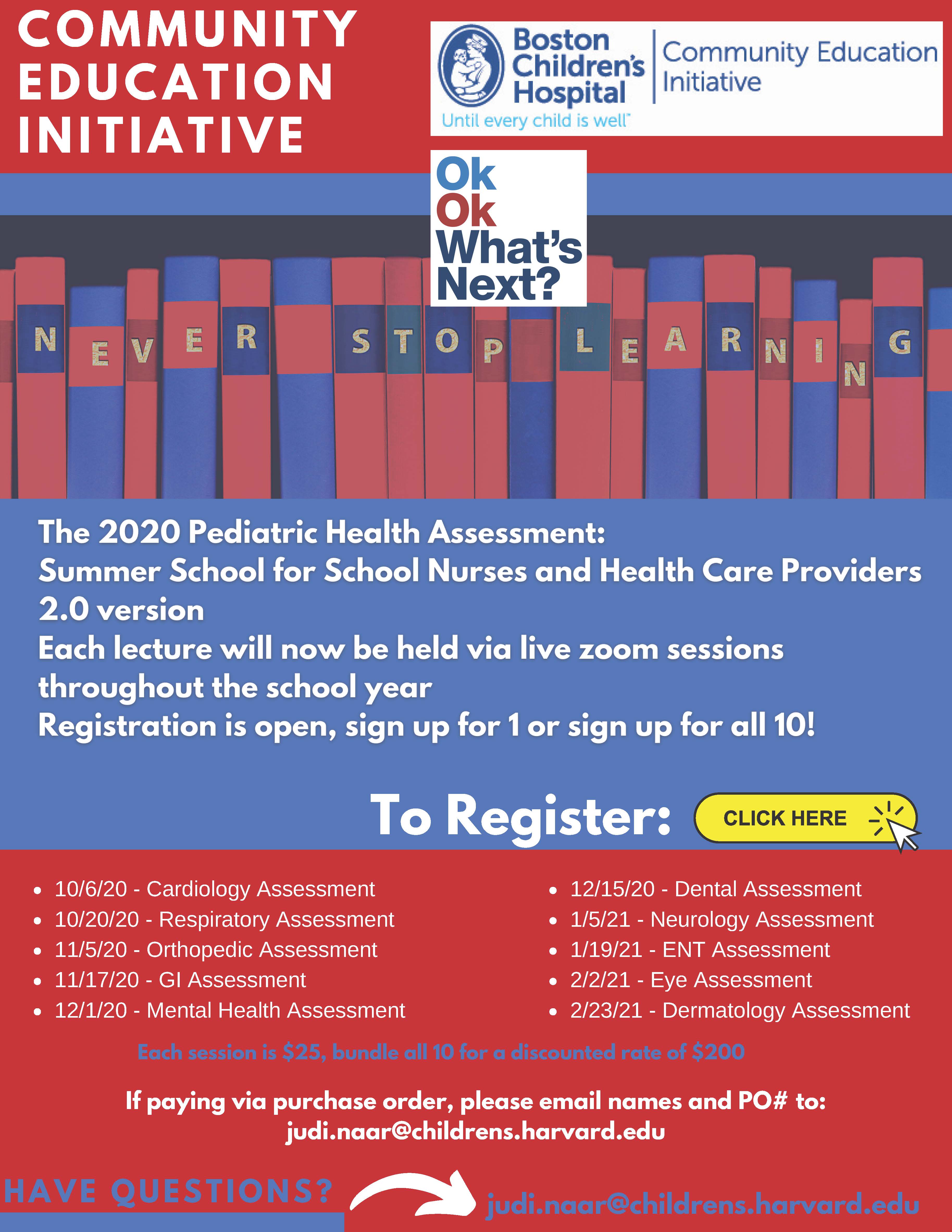 RETELL FOR SCHOOL NURSES – 2 courses available!
Helping Families at the Crossroads of

Limited

 English Proficiency and Low Health Literacy

Refugee Trauma & Resilience
WELLNESS FOR SCHOOL NURSES AND HEALTHCARE PROVIDERS
The Community Education Initiative is always looking to offer wellness programming for school nurses and community healthcare providers. This is an opportunity for renewal and to refresh your energies as a school nurse-for yourself and your students, colleagues and family!
We will provide an opportunity for you to learn new ways of incorporating balance in your life and the lives of others. Refresh your energy, renew your spirit, gain a new awareness and leave with a sense of relaxation. Come with an open heart and the intention to learn something new!
Stay tuned for more wellness opportunities during the 2021-2022 school year!
OTHER EDUCATIONAL OPPORTUNITES:
Check back later...

GENERAL RESOURCES
Boston Children's Hospital "Think First Boston" National Injury prevention program info HERE and teen info HERE
Click HERE for more info!
CONTACT INFORMATION:
For questions about programs, contact:
Stephanie Porter, MSN, RN
Phone: 857-218-4333
Email: stephanie.porter@childrens.harvard.edu
Heather Engholm, RN, BSN, MPH
Phone: 857-218-4331
Email: heather.engholm@childrens.harvard.edu
For questions about payment and registration, contact:
Judi Naar
Phone: 617-355-8431
Fax: 617-730-0591
Email: judi.naar@childrens.harvard.edu