Resources for Providers & Communities |

Overview
Refugee and Immigrant Core Stressors Toolkit
The Refugee and Immigrant Core Stressors Toolkit is a web-based tool designed to help service system providers understand the experiences of refugee children and families, identify the needs associated with their mental health, and ensure that they are connected with the most appropriate available interventions and resources. The Refugee and Immigrant Core Stressors Toolkit is guided by our model of the four core stressors that contribute to refugee risk and resilience.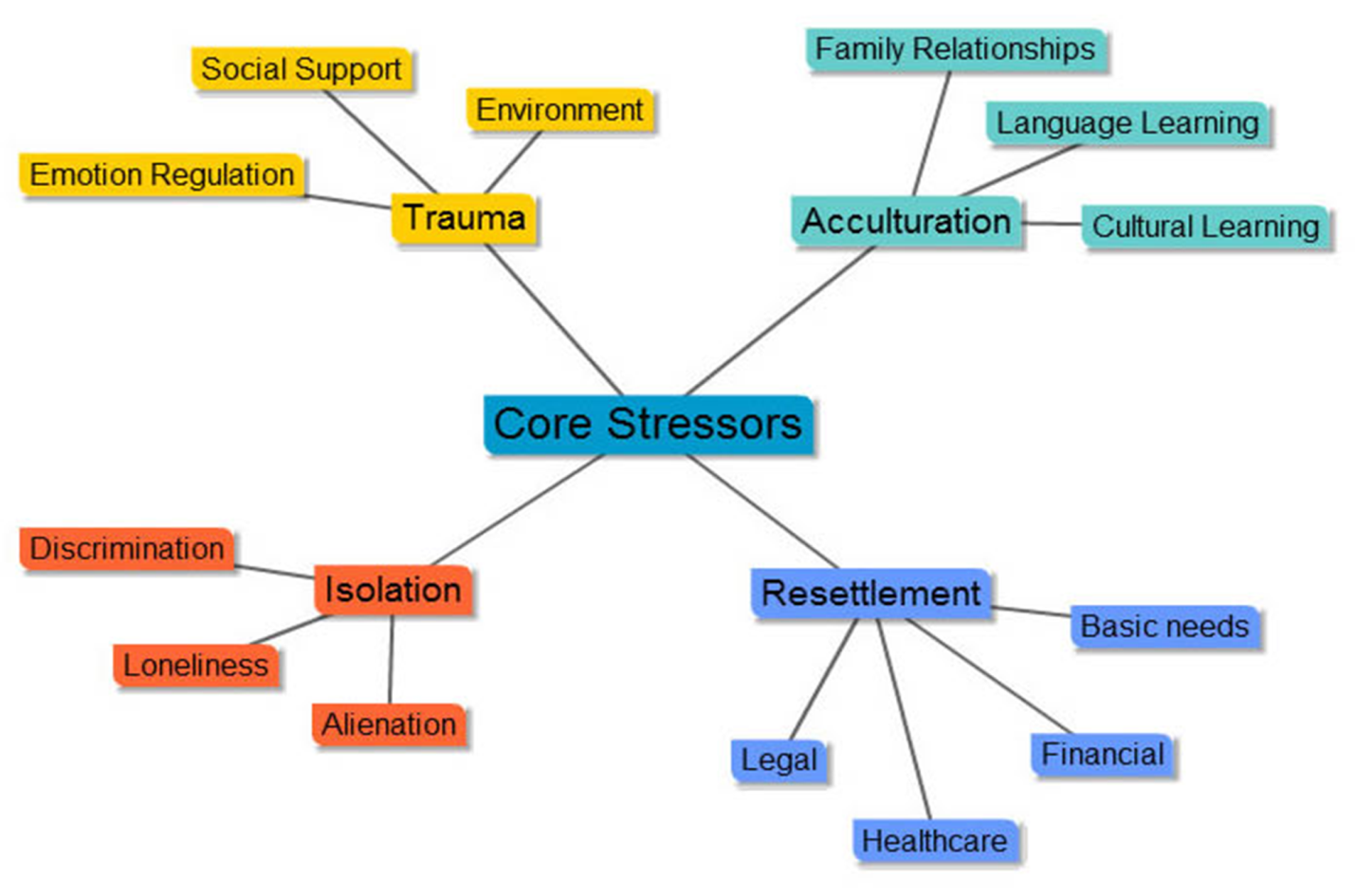 Additional resources for providers and communities:
Rights and benefits
Refugees have the right to safety, food, housing, and medical care. Agencies such as the International Rescue Committee contract with the Department of State to provide food, housing, employment, medical care, counseling and other services to help refugees transition to economic self-sufficiency. For more information:
Legal resources
For immediate legal concerns, contact the International Refugee Assistance Project (IRAP) at info@refugeerights.org.
Reporting a hate crime
There has been a recent increase in number of hate crimes around the country. Minority groups, including refugees, are at risk of being victims of these crimes. If you or someone you know has been the victim of a hate crime, you can report a hate crime to:
Refugee and immigrant mental health
Many refugees were victims of human rights abuses and some have symptoms of post-traumatic stress disorder, depression, anxiety, and other mental health disorders. Their trauma history makes them particularly vulnerable during times of stress and uncertainty. Refugee children and youth can experience significant distress. Some signs of distress may include:
withdrawal
substance abuse
flashbacks
nightmares
excessive worry
depression
aggressive behavior
Mental health resources
Our book in the APA Concise Guides on Trauma Care Series, called Mental Health Practice with Immigrant and Refugee Youth: A Socioecological Framework, by Drs. Heidi Ellis, Saida Abdi, and Jeffrey Winer.

Group support: Refugees benefit from talking with other people who have had similar experiences. It is important to encourage connection with others to reduce isolation and depression. Refugees may benefit from having a common meeting place for communities to come together to talk about their worries and fears.
Supporting refugees
Consider supporting refugees by donating to organizations that serve refugees:
To learn more about refugees: