Trauma Systems Therapy (TST)
Trauma Systems Therapy (TST; Saxe, Ellis, & Brown, 2016; Saxe, Ellis, & Kaplow, 2007) is an evidence-based model of care for youth who have experienced trauma. TST addresses the needs of the (1) individual youth and (2) the social environment (i.e., family, school, and neighborhood) in which the youth lives.
TST is both a clinical model for the efficient and effective treatment of traumatized youth AND an organizational model for the integration of services for agencies and programs that provide treatment to traumatized youth and families. TST is a framework for organizing interventions that addresses the real-world needs of youth facing considerable adversity. TST is designed to help youth and families where there is ongoing stress in the social environment by addressing the trauma system. The trauma system is: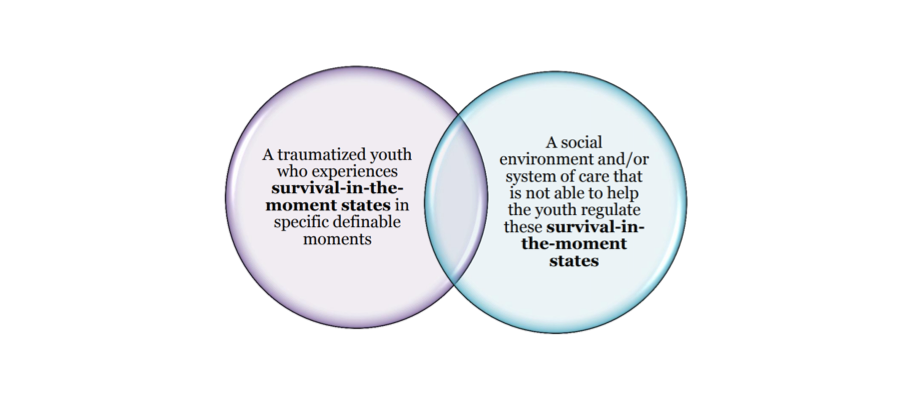 Therefore, the primary goal of TST treatment is to give youth, families, and service systems effective ways to:
regulate survival-in-the moment states
decrease actual and/or perceived threats in the youth's social environment
The following 10 guiding principles are central to TST:
fix a broken system
safety first
plans are clear, focused, and based on facts
don't "go" before you are "ready"
put scarce resources where they will work
insist on accountability, particularly your own
align with reality
take care of yourself and your team
build from strength
leave a better system
Trauma Systems Therapy for Refugees (TST-R) is an adaptation of TST that includes adding service components to enhance engagement of refugee and immigrant youth and their families, to reduce barriers to treatment, and to ensure that culturally responsive, linguistically appropriate care is provided. In this regard, TST-R seeks not only to increase mental health capacity within refugee and immigrant communities, but also to increase the cultural knowledge of practitioners serving refugee and immigrant youth and families in resettlement. For more information on the development of TST-R and outcomes from the initial pilot program, see Ellis and colleagues' articles from 2011 ("New Directions in Refugee Youth Mental Health Services: Overcoming Barriers to Engagement") and 2012 ("Multi-Tier Mental Health Program for Refugee Youth").
Some of the key adaptations that has occurred within TST-R to ensure culturally responsive, linguistically appropriate care includes the addition of:
cultural brokers from the identified refugee and immigrant community who conduct outreach, co-lead groups, and support the provision of clinical services by partnering with clinicians
caregiver/community outreach focused on stigma reduction and mental health psychoeducation
education of service systems on the refugee and immigrant experience
skills-based groups, typically conducted in a school settings, that provide preventive skill building around managing acculturative stress, building a sense of social belongingness, dealing with interpersonal conflict, and effectively regulating emotions
TST-R is currently being adapted for, and implemented with, various refugee and immigrant communities in North America. To learn about TST-R in Boston — called Project SHIFA — watch the video below created by the Robert Wood Johnson Foundation.
In these adaptations and implementations of TST-R around North America, we partner with academic institutions, public schools, community mental health agencies, social service focused non-profit agencies, and other organizations. We provide technical assistance and consultation to these sites regarding the development, implementation, and evaluation of TST-R. Our past and current partners can be found on the map below.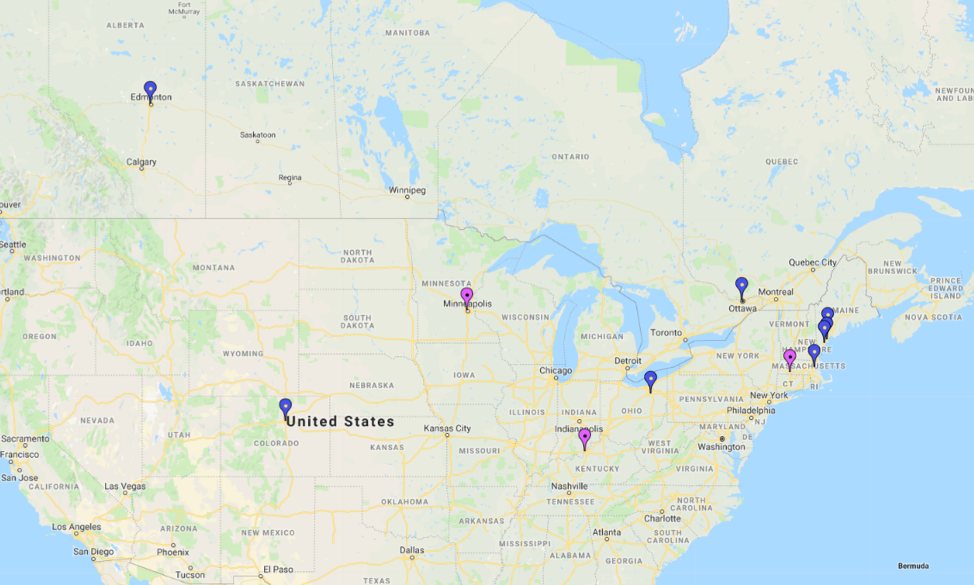 blue = current; purple = past