About the Spina Bifida and Spinal Cord Conditions Center
At Boston Children's Hospital, we recognize the diagnosis of spina bifida requires life-long management. No matter the complexity of your child's spina bifida, we offer the most comprehensive care at each stage of your child's life, from infancy through early adulthood. We even offer prenatal counseling in our Maternal Fetal Care Center. Specialists in our Spina Bifida and Spinal Cord Conditions Center typically see newborn patients within the first few months of life for their first visit.
Spina bifida is a whole-body condition that requires a whole-person approach. Managing the multiple specialists needed to care for your child can be overwhelming. That's why our team of experts from over a dozen specialties works together to develop one personalized and coordinated care plan for you and your family. At Boston Children's, every visit — from clinic visits to testing to surgery — is coordinated by our nurse practitioners and administrators, allowing you to focus on what's most important: your child. Our team is here to be your partner, helping you make decisions about advanced surgical treatments, ongoing therapies, daily challenges, and the transition to adulthood. We'll also partner with your child's primary care provider to collaborate on your child's care every step of the way.
Comprehensive care for spina bifida
Spina bifida isn't just a disorder that affects the spinal cord. Because a spina bifida diagnosis can result in a range of physical and neurological challenges, the Spina Bifida and Spinal Cord Conditions Center offers total coordinated care for all related conditions. This includes:
meningocele
lipomyelomeningocele
myelomeningocele
other bone deformities
You'll also have access to many of the other specialized programs we offer at Boston Children's and at partnering locations. These include an onsite orthotics shop and a state-of-the-art gait laboratory to assess your child's ability to walk. Our renowned Urodynamics Program uses advanced technology to provide a comprehensive evaluation of bladder function with a detailed assessment of the lower spinal cord nerves.
From advanced imaging tests that shed light on your child's individual condition, to pioneering surgical treatments, to educational resources and emotional support, our staff is here to help ensure that your child has the best chance for a healthy, fulfilling life.
In addition, our Spina Bifida Center is the only center in New England and one of only a few in the country that treats children with spina bifida into early adulthood. We have partnered with team members at Brigham and Women's Hospital who can continue care of our older patients when the time comes.
A dedicated spina bifida research team
Our team's dedication to research and innovation is another huge asset to our program. Every year, we receive funding from the National Institutes of Health and generous philanthropic donors to pursue a wide range of important research to help improve the lives of those with spina bifida. We are also part of the National Spina Bifida Patient Registry funded through the Centers for Disease Control and Prevention.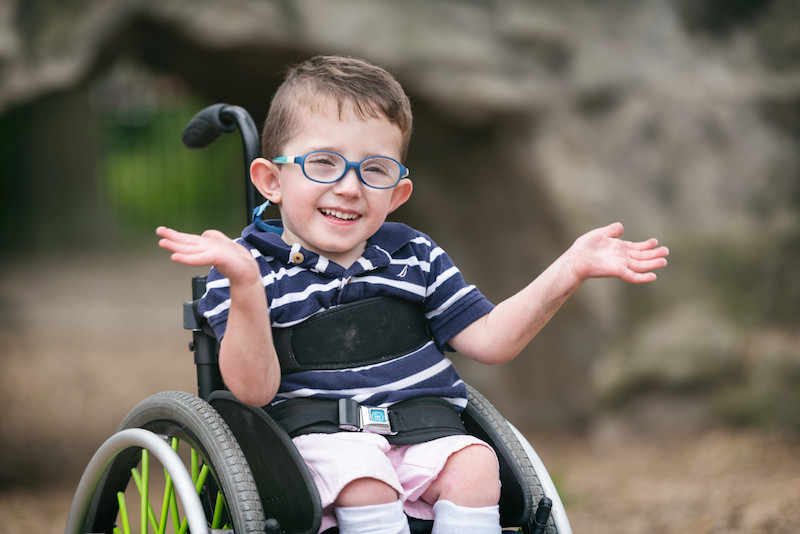 Another level of gratitude
Liam's mom already worked at Boston Children's, but her perspective changed when her son was born with spina bifida and she became a Boston Children's parent.