Specialists in the Sickle Cell Disease Program at Dana-Farber/Boston Children's Cancer and Blood Disorders Center provide diagnosis, treatment, and long-term health management for children and young adults with all types of sickle cell disease. Dana-Farber/Boston Children's is an integrated pediatric hematology and oncology partnership between Dana-Farber Cancer Institute and Boston Children's Hospital. We offer, in one specialized program, the full spectrum of services for rare and hard-to-treat conditions.
Located in Boston, we are an international leader in improving treatment and quality of life for children affected by sickle cell diseases, including:
sickle cell anemia (HbSS)
sickle cell with hemoglobin C disease (HbSC)
hemoglobin S-beta-thalassemia
other less common compound forms, including HbSD, HbSO, and HbSE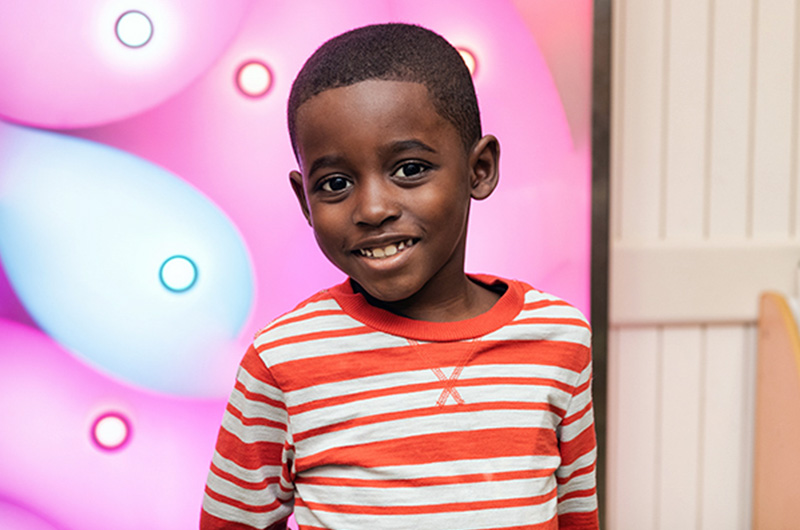 Meet Lamarcus
Can we help make fetal hemoglobin again to halt his sickle cell disease? A recent study shows promise.
Sickle cell research
We are one of 10 sickle cell centers in the U.S. funded by the National Institutes of Health, and we are a site for the Sickle Cell Disease Clinical Research Network. In our laboratories and clinic, physicians and scientists conduct research to increase knowledge about sickle cell disorders and to enhance the treatment of children affected by these conditions. Currently, they are developing new methods to diagnose and treat sickle cell disease, including stem cell transplantation and gene therapy.
Our sickle cell treatment team
Dana-Farber/Boston Children's patients have access to the broadest set of pediatric and hematologic expertise available. The breadth of our expertise allows us to assemble a team of specialists to meet the specific needs of each patient.
Our staff includes hematologists with extensive expertise in treating sickle cell disease. We also have mid-level providers — nurse practitioners and physician assistants — who specialize in sickle cell disease. Many of our physicians are also active clinical and basic science researchers, so our patients have access to the very best and up-to-date treatments available.
Because sickle cell disease can affect nearly every major organ in the body, patients may receive evaluation and care from other specialty physicians at Dana-Farber/Boston Children's, including radiologists, pulmonologists, nephrologists, ophthalmologists, and surgeons. All of our patients are assigned a social worker, who helps them manage the challenges of ongoing treatment, providing emotional, psychological, and logistical support.
Meet Dr. Heeney
Matthew Heeney, MD, clinical leader of the Sickle Cell Program, shares his care philosophy for patients managing sickle cell disease.
Supportive care
From your first visit, you'll work with our team of professionals who are committed to supporting all of your family's medical and psychosocial needs. As a team, we'll focus on health maintenance strategies, including:
teaching preventive therapies that may help your child avoid symptoms
understanding how to recognize the early signs of complications
screening for the risk of stroke and other acute complications
We'll work with you to create a care plan that's best for your child. This treatment plan will be based on several factors, including:
your child's age, overall health, and medical history
the type of sickle cell disease
any complications your child has experienced
your child's tolerance for specific medications, procedures, or therapies
how your child's doctors expect the disease to progress