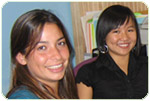 When you come to the Reproductive Endocrinology clinic at Boston Children's Hospital (or one of our satellite clinics) for your first appointment, we will ask you (your parents may join you) to provide us with a comprehensive history of your health and the issues you have been experiencing with your body. We will look at any tests or studies your primary care provider has already done and review them to see if we can better understand your condition. We may give you a physical examination.
We ask for any adult attending a visit at Boston Children's please have a photo ID on them. Adults may be asked to show photo ID prior to entering the hospital.
What happens during my physical exam?
The type of exam you have will be tailored to your problem and your age. Sometimes, we will recommend a pelvic exam, which isn't painful, usually takes about five minutes and allows us to examine your internal female organs and check for gynecological problems.
Will I have any procedures or tests?
For many menstrual problems, a pelvic ultrasound will be performed. Pelvic ultrasounds are usually scheduled in advance so you will know beforehand when you will be having the procedure.
You may have to undergo a series of tests, depending on your condition. Common laboratory tests include hormone or glucose testing.
What happens after my initial appointment?
After we have examined you, reviewed your tests and lab reports, and gone over your health history, we will develop a management plan just for you. We will also spend time with you educating you about your condition. You will be treated individually and in a caring and sensitive manner to address your health concerns.
Where else can I find answers to my gynecology and reproductive health questions?
You can read information on many topics on the Center for Young Women's Health website. The site also hosts an Internet chat each month for girls with PCOS.