The Boston Children's Hospital Orthodontics Program is committed to providing comprehensive and compassionate care to each child we see — and helping them create the smile they want.
Our mission is to use the most effective and efficient techniques to provide the highest quality orthodontic care in a caring environment. Our clinical team has extensive experience treating children and adolescents in all stages of health, including those with complex medical conditions such as intellectual or physical disabilities.
We're accepting new patients!
Whether your child is in need of complex or routine orthodontic treatment, our team of specialists is here to provide comprehensive, compassionate care. If you're interested in learning more, contact our team.
What is orthodontics?
Orthodontics is a specialized branch of dentistry concerned with variations in dentofacial traits that may affect an individual's overall well-being. A dentofacial trait is a hard (teeth and jaws) or soft (gums and face) tissue characteristic, or a combination of characteristics, that distinguishes an individual's facial appearance and determines their level of oral and social function. We take great care in delivering a unique smile for each of our patients.
What is an orthodontist?
An orthodontist is a dentist who specializes in treating misalignments of teeth and the jaw. Orthodontists first study dentistry and then go on to specialized training, applying that knowledge and clinical experience to diagnose and treat people who want to improve the traits that define their smile and facial characteristics. An orthodontist understands that every patient has their own unique characteristics and creates an individualized treatment plan that the patient and their family endorse.
Our orthodontists treat each child, from infancy to age 18, as an individual — and involve their family in the entire treatment process. We treat children who are well and also provide care to children with special medical needs such as autism spectrum disorders, bipolar disorder, Down syndrome, and cerebral palsy. Years of experience have given us unique insight into the physical and emotional needs of these patients.
We are part of the Dental Care for the Medically Compromised Program at Boston Children's, an initiative that provides dental care for children with complex medical conditions. We work with endodontists, periodontists, pediatric dentists, prosthodontists, and oral surgeons to provide the most comprehensive care for your child.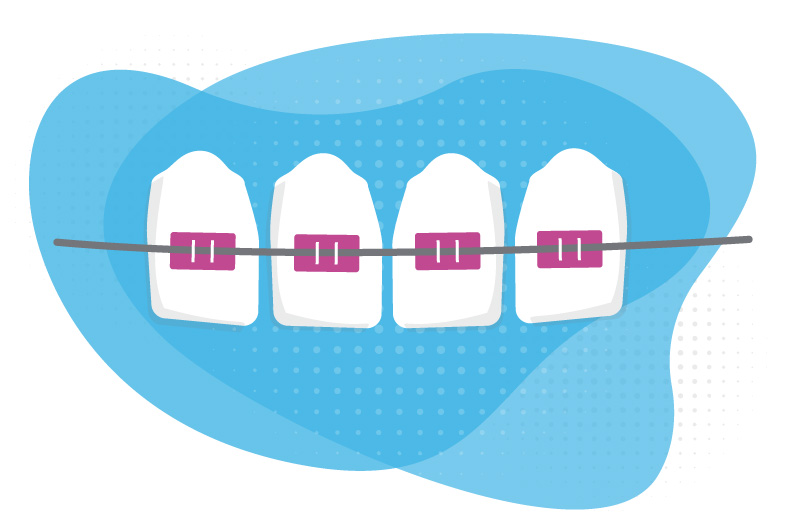 What your family should know about orthodontic care
An orthodontist will work with your family to treat any dental and facial traits that might affect your child's well-being and smile.
Types of orthodontic treatments
Orthodontic treatments include therapies that enhance a dentofacial trait and improve a person's health and wellness. We offer traditional braces and clear aligners (Invisalign™), when appropriate, for certain orthodontic conditions. You can consult with an orthodontist after receiving a referral from your child's pediatric or general dentist.
The following problems may be helped or minimized with proper orthodontic treatment:
misaligned, crooked, or crowded teeth
missing teeth
extra teeth
an overbite
an underbite
misaligned or incorrect jaw position
a gummy smile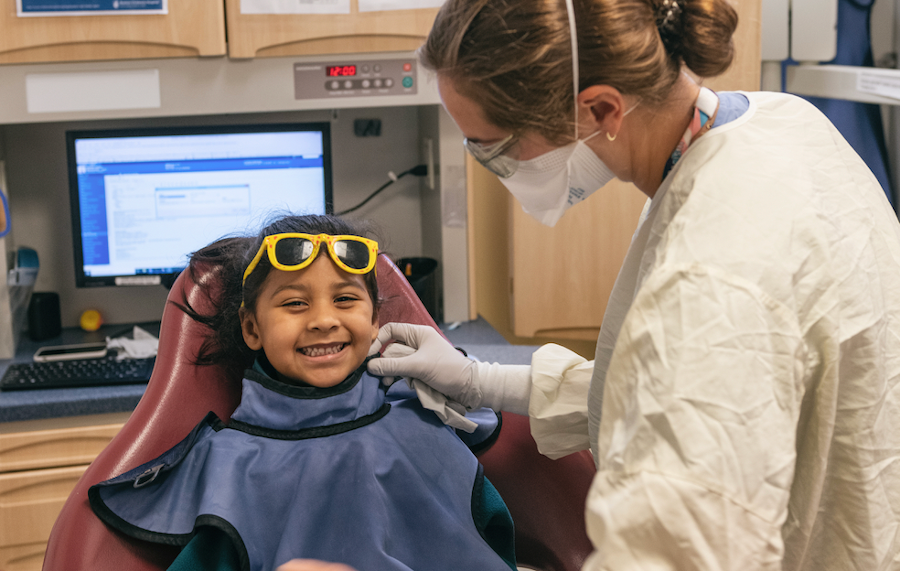 What to expect at your visit
Planning ahead and being prepared helps ease the way and decreases wait times.
What are orthodontic braces?
Braces, also called fixed orthodontic appliances, generally come in two varieties:
metal, that are bonded to teeth
tooth-colored ceramic, that are also bonded to teeth
Both types use wires to move the teeth to a desired position.
What are clear aligners?
Clear aligners, commonly known as Invisalign™, are also used in some cases that we treat. These are clear plastic trays that are changed every few weeks as they move teeth.