Innovation Hub at Boston Children's | Overview
The Wu Tsai Female Athlete Program is an innovation hub for the Wu Tsai Human Performance Alliance. Our center brings together national and international sports medicine clinicians and researchers with the aim of answering fundamental physiological and sports performance questions related to female athletes.
Together, we are pushing the frontiers of female sports medicine in order to improve the health, welfare, and performance of girls and women around the globe.
We take an interdisciplinary, collaborative, and systematic approach to answering the most salient sports performance questions for female athletes. With research and clinical care that informs the other, we are developing a new standard of care for female athletes across the lifespan while simultaneously offering novel performance metrics for our athletes. Through this work, we are actively preventing injuries while studying new treatment approaches and providing continuity of care for girls and women in sport. Through ongoing scientific translation, dissemination, and education, we ensure practitioners across the sports ecosystem have the knowledge they need to enhance participation and performance for girls and women.

Wu Tsai Female Athlete Program's Approach to Clinical Questions
The state of sports medicine research and female athletes
Our center addresses the historic absence of female athletes in sports science research and explores the needs of girls and women throughout their life phases: adolescence, reproductive years, during and after pregnancy, and into menopause. The physiology of female athletes and mechanisms of injury have been described as complex, difficult to understand, and too expensive to study properly. Instead, findings from male-based studies have frequently been applied to female athletes inappropriately.
Compared to male athletes, female athletes experience higher rates of various sports injuries (e.g., ACL tears) and can experience long-term negative consequences of those injuries, such as early onset osteoarthritis. Further, one in three girls drops out of sports by her late teens compared to just one in 10 teenage boys.
We aim to redress these gaps from clinical, medical, and psychosocial perspectives to ensure the many benefits of sports participation are equally available to all athletes, regardless of their gender. Given the significant positive physical, emotional, social, and professional impacts that can accrue through sports involvement, improving girls' and women's participation has broad population health implications.
Research on a global scale
The Wu Tsai Female Athlete Program serves thousands of athletes and collaborates with clinicians and researchers around the world. By treating and studying female athletes specializing in different sports disciplines, of varied backgrounds, and in disparate environments, we aim to collectively provide a model of understanding and supporting girls and women through a scientific lens.
Our current research falls under three main themes:
female injury and performance effects related to menstrual cycle elucidations (FIERCE)
female athlete resilience (FAR)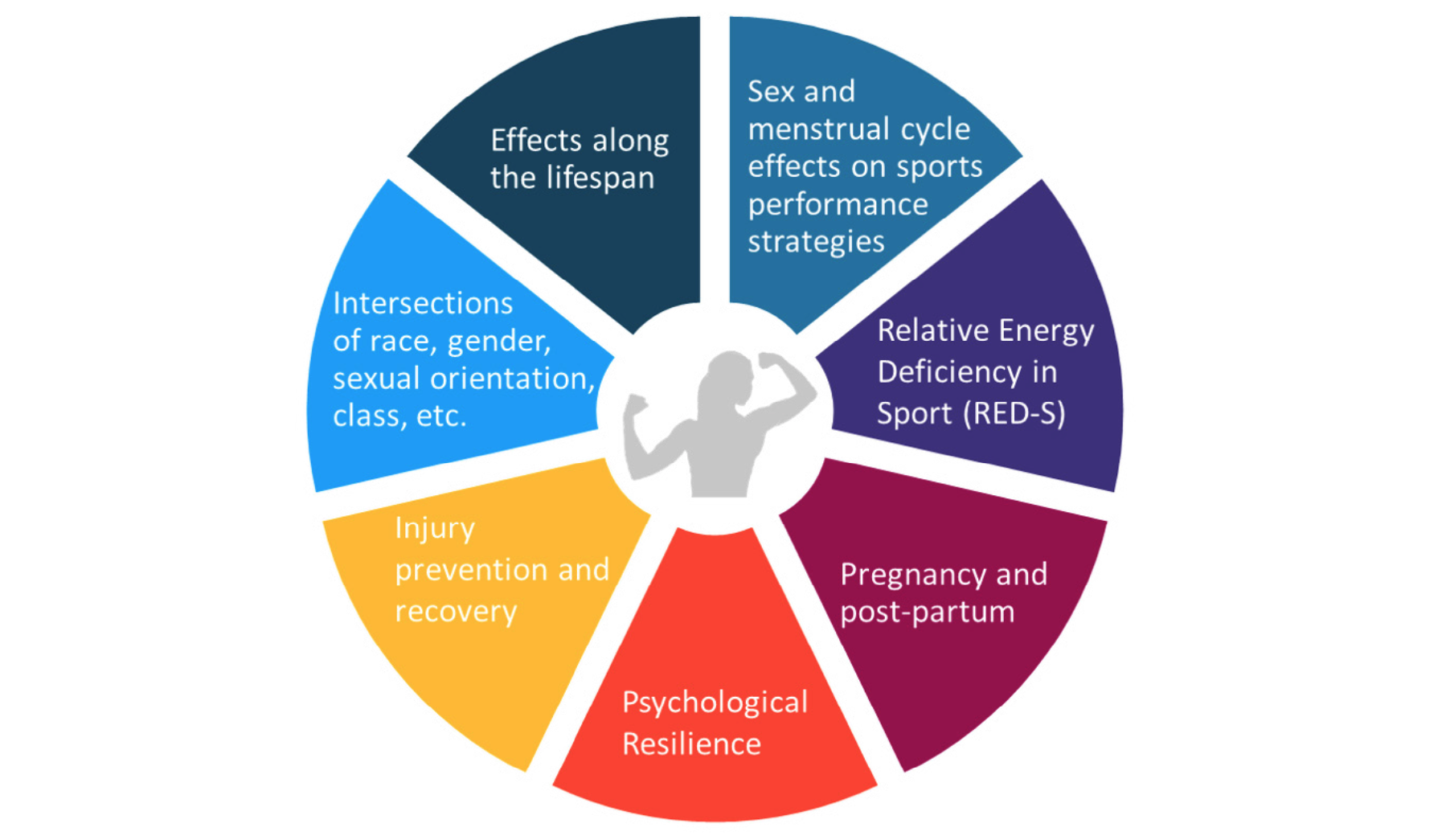 Wu Tsai Female Athlete Program areas of research, clinical care, education, and advocacy
Research highlights
assessment of female-specific research and performance-enhancing guidelines across the lifespan
determination of biomarkers correlated with adequate energy availability
validation of clinical screening tools (e.g., RED-S clinical assessment tool)
treatment for low bone-mineral density in female athletes with a history of multiple bone stress injuries, and development of improved return to running protocols after such injuries
Our biennial, international Female Athlete Conference currently serves as our main point of research and treatment protocol dissemination. The 2021 Female Athlete Conference reached over 1,000 participants from 32 different countries and spawned new partnerships among attendees and speakers.
Our team
Our team includes distinguished national and international collaborators and advisors dedicated to the health and well-being of female athletes.
Personnel
Collaborators
Boston Children's clinicians
Research and clinical associates
About the Wu Tsai Human Performance Alliance
The Wu Tsai Human Performance Alliance is a scientific collaboration that aims to transform human health on a global scale through the discovery and translation of the biological principles underlying athletic performance.
The alliance explores new ideas, pioneers new technologies, and leverages research to advance the science of human performance. In collaboration with scientists, clinicians, engineers, coaches, and athletes from around the globe, the ultimate success of the alliance is enhanced by diversity — of people, perspectives, talents, and partnerships.