Referrals
We welcome your referrals of any patients who have seizures or epilepsy. We generally recommend that any child who has failed first-line treatment be referred to a specialized epilepsy center, especially if they have failed two medications or have an abnormality on an MRI.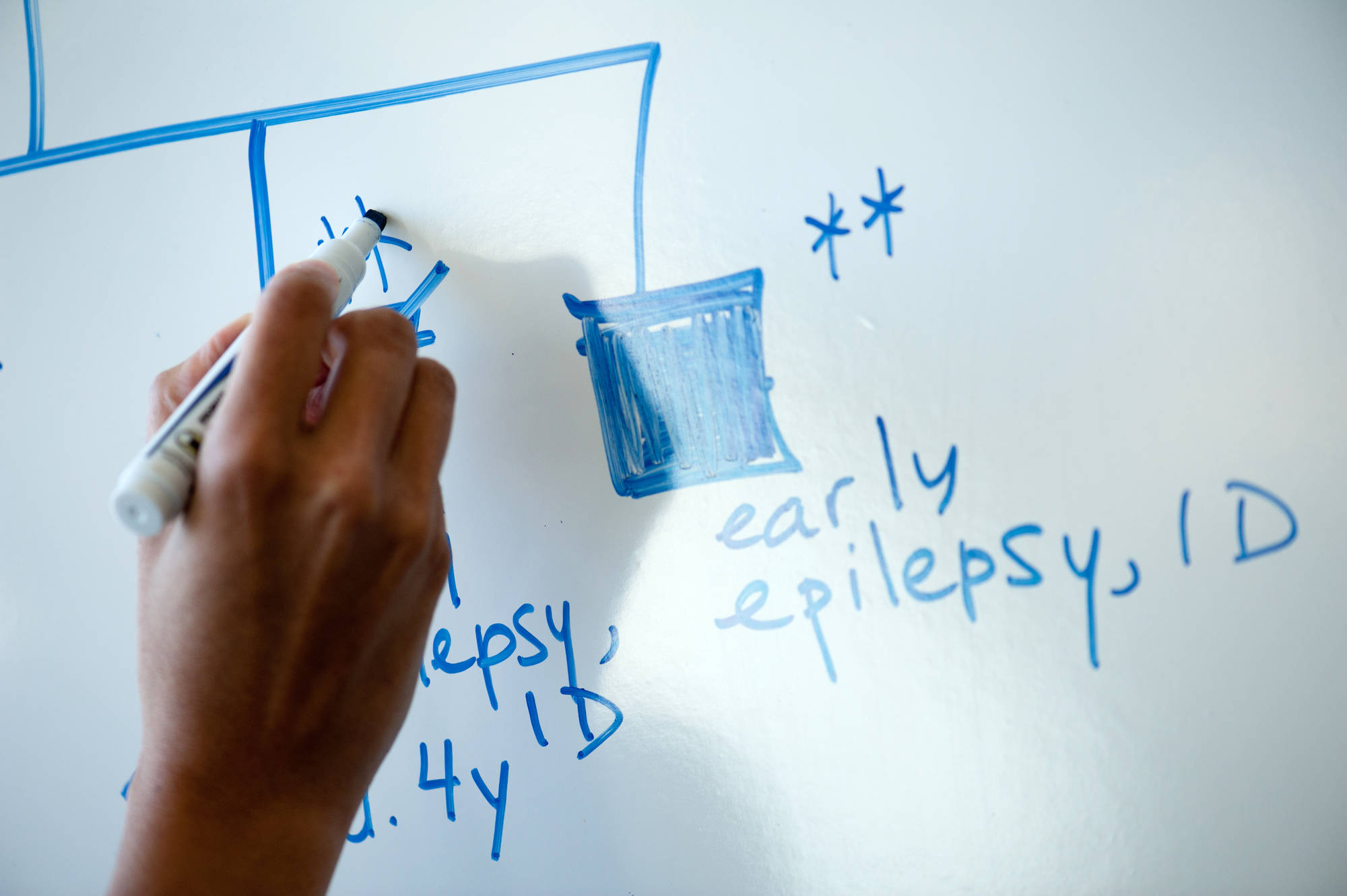 Ann Poduri, MD, of the Epilepsy Genetics Program charts the genetic underpinnings of certain epilepsy syndromes.
 
Clinical Neurophysiology/Epilepsy Fellowship Program
The Division of Epilepsy and Clinical Neurophysiology of the Department of Neurology at Boston Children's Hospital offers an ACGME-accredited fellowship program in clinical neurophysiology/epilepsy with an optional second year for research or other subspecialty training, depending on the availability of funding. The fellowship program trains academically oriented physicians to become comprehensively trained pediatric clinical neurophysiologists and epileptologists familiar with the field's state-of-the-art diagnostic and therapeutic methods.
Those who enter our fellowship have typically completed their training in child neurology. By the end of their year of training, fellows are eligible to take the clinical neurophysiology or epilepsy subspecialty boards of the American Board of Psychiatry and Neurology if they have previously completed an accredited residency program in neurology. Currently, four first-year positions are offered every year.
Content of the neurophysiology/epilepsy fellowship
The fellowship is divided into four rotations, covering each of the major services of the Division of Epilepsy and Clinical Neurophysiology.
Application information
Interested individuals should contact:
Coral M. Stredny, MD
Director, Epilepsy Fellowship Program
Division of Epilepsy & Clinical Neurophysiology
Boston Children's Hospital
300 Longwood Avenue
Boston, MA 02115
Email: coral.stredny@childrens.harvard.edu
Phone: 617-355-2413
Fax: 617-730-0463
Please visit the AES website for more information about the process and timeline.
Boston Children's Hospital is the primary pediatric teaching hospital of Harvard Medical School
END Technology Program
The Electroneurodiagnostic (END) Technology Program for medical personnel at Boston Children's Hospital is a 12-month instructional program in the art and science of clinical neurophysiologic technology. The program runs from June to June, Monday-Thursday.
Our program trains technologists in EEG, evoked potentials, epilepsy monitoring, sleep technology, and related fields.
We also provide an optional three months of sleep and Long-Term Monitoring (LTM) training.