What is Apert syndrome?
Apert syndrome, also known as acrocephalosyndactyly, is a genetic disorder that causes fusion of the skull, hands, and feet bones. It is characterized by deformities of the skull, face, teeth, and limbs. Apert syndrome occurs in one out of every 65,000 to 88,000 births.
Dr. Amir Taghinia, MD: plastic and reconstructive surgeon
Apert Syndrome |

Symptoms & Causes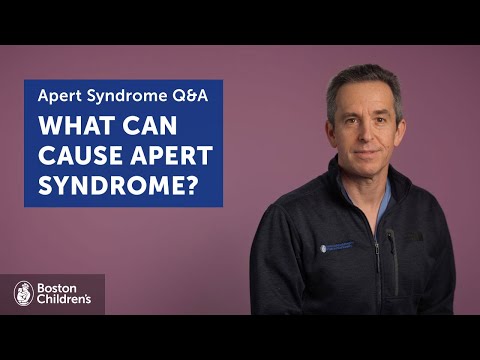 Questions?
Members of the Department of Plastic and Oral Surgery at Boston Children's Hospital answer frequently asked questions relative to Apert syndrome.
What are the symptoms of Apert syndrome?
Children with Apert syndrome typically experience syndactyly — a condition in which their fingers are webbed or conjoined. With Apert syndrome, the severity of syndactyly means your child's fingers might not bend completely even after being separated, and their thumbs may be short and unable to bend well.
There are three main types of syndactyly in Apert syndrome:
Image
Image
Image
Children with Apert syndrome also typically display:
tall skull and high prominent forehead
underdeveloped upper jaw
prominent eyes that appear to be bulging out and may be spaced widely apart
small nose
fused toes
slower mental development due to the abnormal growth of the skull
vision problems caused by an imbalance of the eye muscles
recurrent ear infections, which can lead to hearing loss
difficulty breathing due to a small nose and airway passages
increased perspiration (especially when asleep) due to hyperactive sweat glands
acne, especially during puberty
What causes Apert syndrome?
We don't know the exact cause of Apert syndrome, but many experts believe it may be the result of a mutation in a gene called "fibroblast growth factor receptor 2," or FGFR2. The mutation occurs early in a pregnancy.
Because FGFR2 plays an important role in bone growth, disruption of it may cause certain traits of Apert syndrome, including:
craniosynostosis: a birth defect in which one or more of the joints between the bones of your baby's skull close prematurely
syndactyly: webbed or conjoined fingers
The FGFR2 gene is also involved in similar craniofacial syndromes, including Crouzon syndrome, Pfeiffer syndrome, and Jackson-Weiss.
Apert syndrome can be inherited, or it may occur without a known family history. If one parent has Apert syndrome, there is a 50 percent chance that their child will be born with the disorder.
Luca's experience
Luca Paolacci was born with Apert syndrome.
At 24, he is living an active lifestyle (including drumming and playing rugby) and is pursuing his bachelor's degree in mechanical engineering.
Apert Syndrome |

Diagnosis & Treatments
How is Apert syndrome diagnosed?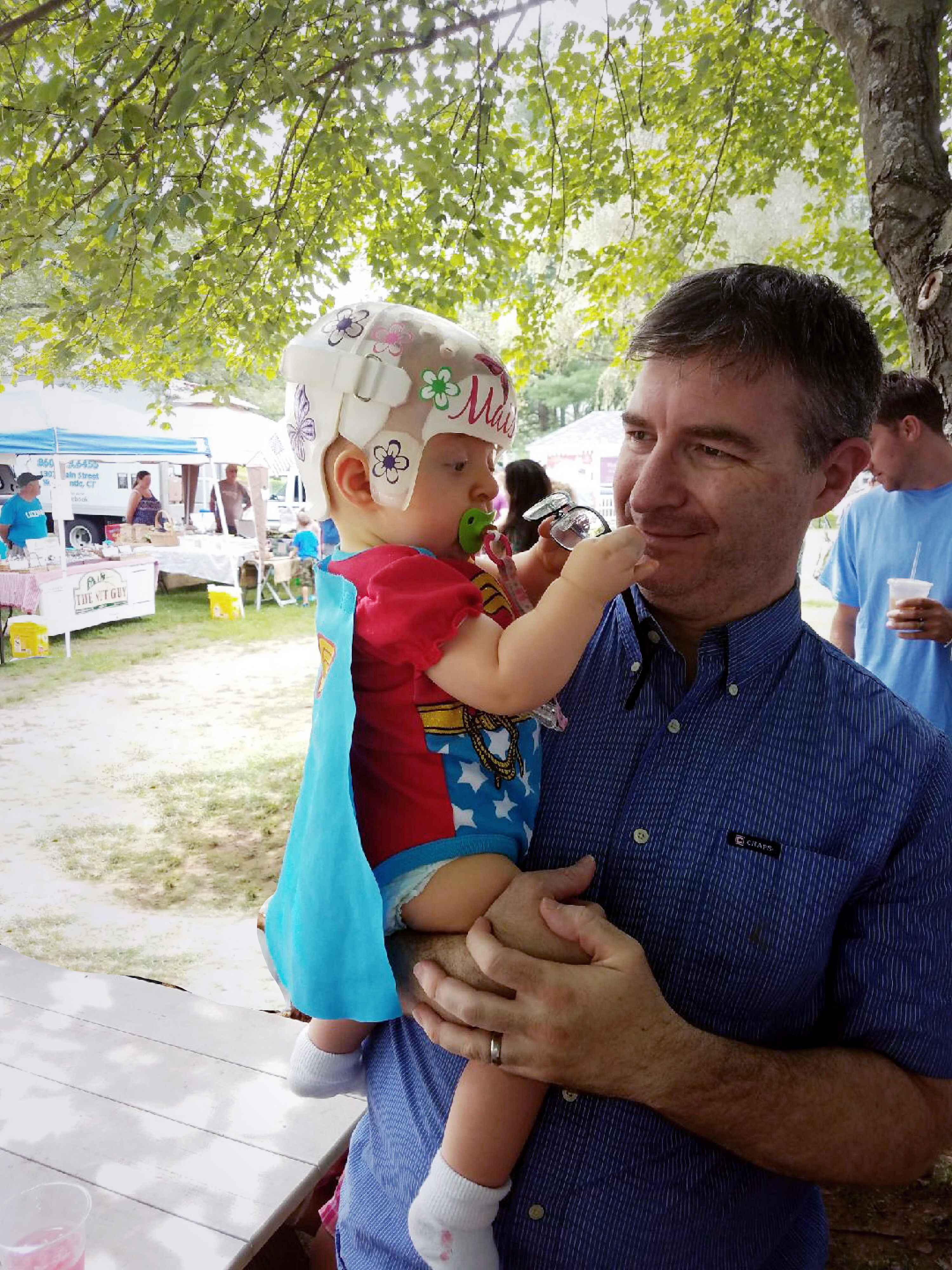 Apert syndrome is usually diagnosed at birth based on physical signs such as a high, prominent forehead, underdeveloped upper jaw, prominent eyes, and fused fingers and/or toes. Fused fingers and toes distinguish Apert syndrome from other craniofacial disorders.
If your doctor suspects Apert syndrome is during your pregnancy, they may request genetic testing to confirm the diagnosis.
At Boston Children's, babies diagnosed with Apert syndrome are seen by experts from a variety of specialties, including craniofacial surgery, genetics, neurosurgery, and hand and upper extremity surgery.
Our specialists may order several tests, including:
How is Apert syndrome treated?
Most often, children with Apert syndrome require multiple operations and procedures. At Boston Children's, our clinicians have unparalleled expertise in the areas of care your child may need, including:
Craniofacial treatments
Surgical expertise: Our surgeons are experienced in multiple surgical techniques, including the minimally invasive endoscopic strip craniectomy, allowing us to develop a specific treatment plan to best fit your child's individual needs.
Midfacial advancement (also known as Le Fort III distraction) to bring forward the middle part of your child's face, opening up the airway and protecting their eyes
Treating airway obstruction
Jaw surgery to help correct bite and jaw appearance and function.
Learn more about the Craniofacial Program at Boston Children's Hospital.
Hand (syndactyly) and foot treatments
Syndactyly in Apert syndrome is typically treated through a series of surgeries that begin when a child is about one. The surgeries separate the soft tissue and ligaments between the fingers and apply skin grafts to the separated fingers.
Additional procedures to straighten or lengthen the fingers can happen later, around age 10.
Apert syndrome can cause permanent weakness in grip strength, but most people who experience syndactyly in Apert syndrome experience good hand function.
Learn more about the Craniofacial Program at Boston Children's Hospital.
Our approach to Apert syndrome
Children diagnosed with Apert syndrome require a broad range of medical expertise, including: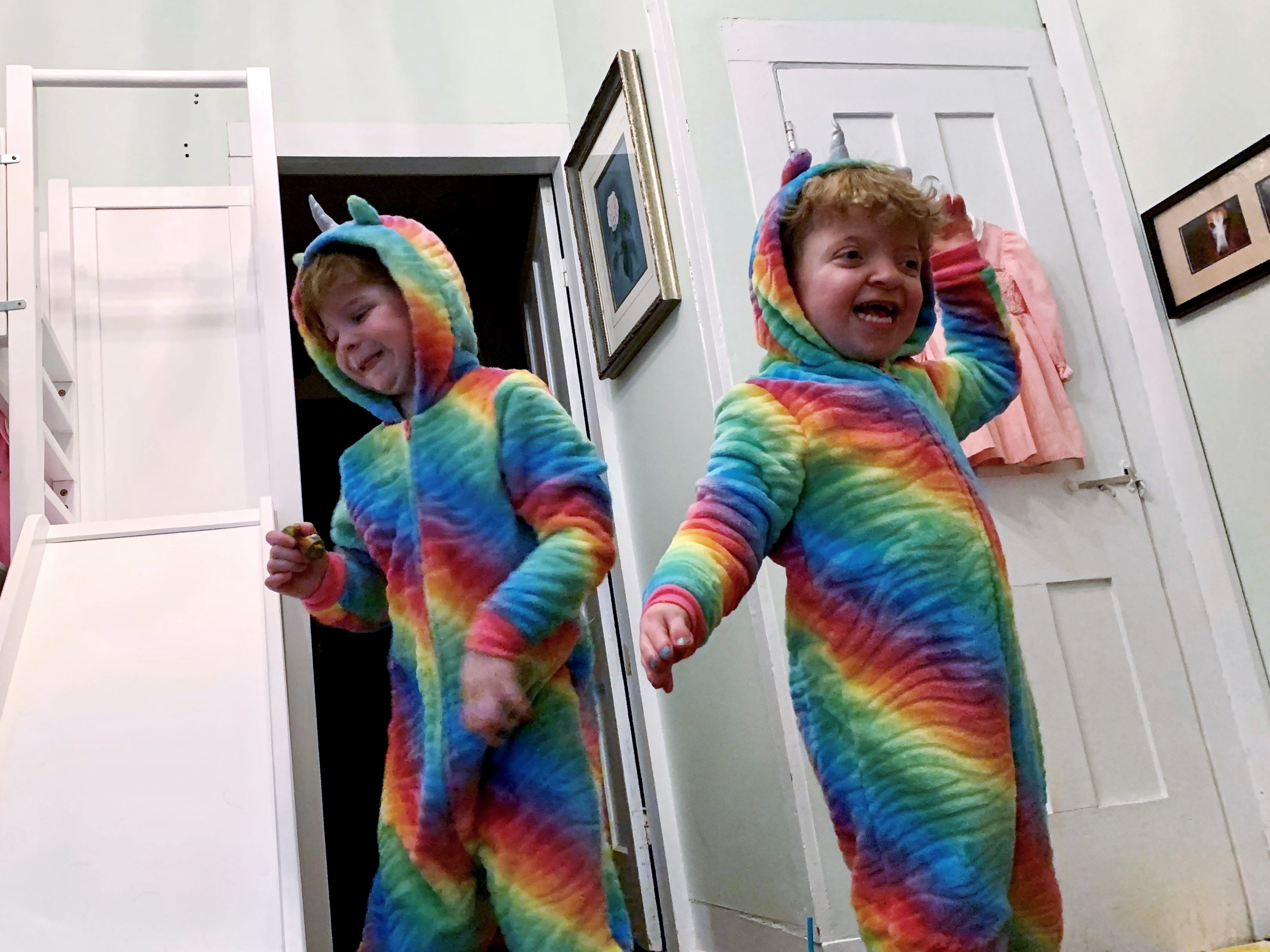 plastic surgeons
oral surgeons
neurosurgeons
otolaryngologists (ear, nose and throat)
dentists
complex care physicians
orthodontists
geneticists
speech pathologists
audiologists
The Craniofacial Program at Boston Children's incorporates all of these specialists to care for more than 500 patients every year who have a range of craniofacial diagnoses. We are one of the oldest programs in the world, and our experience and commitment to innovative and compassionate care has established us as an international leader in treating children with Apert syndrome.
Timeline of treatment
Birth
Evaluation by craniofacial opthalmologist
Evaluation by craniofacial surgeon,
geneticist, and hand surgeion
Endoscopic strip craniectomy
Possible evaluation by audiologist
12 months
Front Orbital Advancement and/or
Calverial Vault Remodeling (CVR)
Finger and toe syndactyly
release procedures
2 years
Evaluation by pediatric dentist
Release synostosis small and ring finger
Thumb strightening/elongation
LeFort III advancement using the technique of distraction osteogenesis. This procedure can be done earlier if necessary to treat obstructive sleep apnea
LeFort III advancement
10 years
Le Fort III advancement
Le Fort I advancement
Frontal cranioplasty
At Boston Children's, we use a collaborative and coordinated approach to care for children with Apert syndrome. This includes:
nationally recognized care: U.S. News & World Report ranks Boston Children's Hospital among the best children's hospitals.
surgical expertise: Our surgeons are experienced in multiple surgical techniques, including the minimally invasive endoscopic strip craniectomy, allowing us to develop a specific treatment plan to best fit your child's individual needs.
research and innovation: Our clinicians are involved in research that moves us closer to a better understanding and better treatment of head and face differences.
View our treatment guides:
Weathering the storm of Apert syndrome
"We want Apert syndrome to be a detail about João, not his whole story. He's so much more than that."
Apert Syndrome |

Programs & Services