Support Services | Overview
Supporting your child through transplant can be challenging. For that reason, we strongly believe in "support for the supporters" and we encourage you to take advantage of the services provided here at Boston Children's Hospital.
It's important for your child to maintain as full an academic and social life as possible throughout the transplant process. We offer a transplant-specific back-to-school program to help your child, his or her peers, and teachers make a smooth transition back to life in the classroom. The program addresses common concerns children and their families have about returning to the classroom. The Back-to-School team, consisting of a child life specialist and pediatric transplant nurse, develops a personalized visit with your child, family, and members of the school system. Programs are customized for your child's age and development level, the school population, and setting.
The Department of Spiritual Care at Boston Children's represent a variety of faiths, including Islam, Judaism, Protestantism, and Roman Catholicism. They're available 24 hours a day to offer spiritual and emotional support to your child and family. Sensitive consideration is given to your family's religious tradition and primary language.
Boston Children's Hospital believes that partnering with our patients and families to help shape the future of our organization is of great value. Our Family Partnerships program helps make this possible. It offers families many ways to work with Boston Children's leadership and clinical staff on projects that help to make hospital processes and the patient and family experience better.
As a leading destination for pediatric care, we've made it our mission to anticipate and satisfy the unique needs of patients and families from every corner of the globe. The team of experts in Global Services is dedicated exclusively to supporting your family and making your experience as smooth and worry-free as possible, both inside and outside the hospital. We don't just take care of your child; we take care of everything.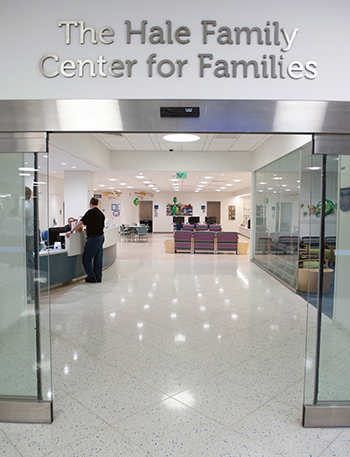 The Hale Family Center for Families is dedicated to supporting families throughout their experience at Boston Children's from the time you arrive at the hospital until after you go home. The center is dedicated to helping families find the information and resources you need to understand your child's medical condition and care. It is also a comfortable place for patients and families to learn more about hospital resources, use computers to email and search the Internet, and borrow from the lending library.
Our interpreters speak more than 60 languages and are available 24 hours a day, seven days a week (including holidays). The center also provides translation services over the phone and via videoconference software.
LearnWell and Boston Children's Hospital have teamed up to provide quality tutoring for all eligible patients. These services are free of charge to the family. LearnWell contracts with the local school systems.
For more information about any of these support services contact the Pediatric Transplant Center at 877-TX4-PEDS (877-894-7337) or transplant@childrens.harvard.edu.