Bowel Management | Overview
At the Colorectal and Pelvic Malformation Center, our goal is to improve the quality of life for all children with colorectal problems. We care for children with bowel management issues by using an individualized approach that combines medical therapy with surgery, if needed. You and your child are given one-on-one attention with our team of doctors and nurses.
What is bowel management?
Successful bowel management means that your child goes to the bathroom consistently and on a schedule, without bowel incontinence. Bowel management is not as simple as giving an enema, following a prescribed diet, or taking a medication. It is a combination of enemas, colonic irrigations, diet, and medication, depending on your child's individual needs. The success of any of these strategies depends upon collaboration among your family, your child, and the care team. We have found that children who have completed our Bowel Management Program and remain clean for 24 hours experience a new sense of confidence.
Our bowel management program helps kids with colorectal and pelvic malformations stay dry and prevent accidents. This animated video from Boston Children's Hospital helps make bowel management feel less scary, so both you and your child know what to expect.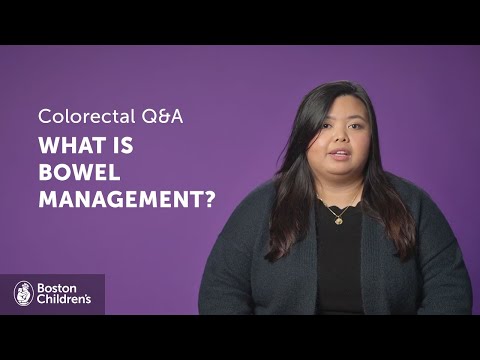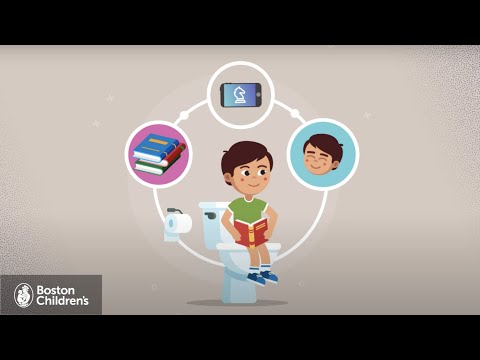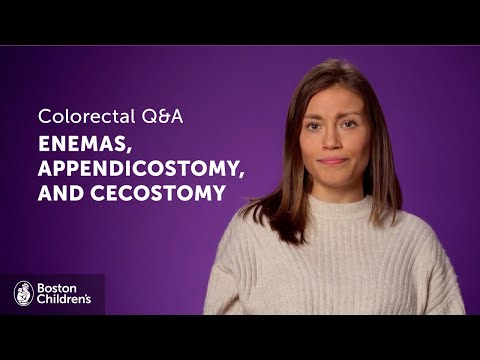 When should your child start bowel management?
The right time for bowel management is when your child needs to be clean and free of stool throughout the day, usually in time for preschool or school. Some children come to the program earlier if they have significant constipation or many urinary tract infections due to stool in the diaper. In these cases, the reason to start the program is not to prevent accidents. It is to have more control on the timing of bowel movements and to make sure they empty well. This will help in future potty training.
Prior to your first visit, the team will review any old records and contact you. Often, we will order testing before your visit, which may include contrast enemas, motility testing, MRIs, and urodynamics. We will tailor your visit to the needs of your child. After the first visit, we offer follow-up visits via telehealth technology.
Will your child need bowel management for life?
Although every child is different, our philosophy is that we "never say never." Every child deserves a chance to go to the bathroom without enemas, as long as they stay clean. However, many children with certain conditions may always need enemas. This will be a treatment plan determined together with you and your care team.
Many children who might be able to control their bowels do not potty train until they are older because they need to learn to understand their body's signals letting them to know they need to stool. This may include a stricter diet and routine. Younger children may not want to cooperate with this and can be kept clean with enemas until they are ready and able to understand their own signals better.
Where to learn more about bowel management
The clinicians in the Colorectal and Pelvic Malformation Center work with health care professionals throughout Boston Children's to teach your family how to regulate and control your child's bowels through our Bowel Management Program. For more information, please contact the center and download our free bowel management guide.
Virtual Bowel Management Program
We now offer our Bowel Management Program virtually to established patients in the Colorectal and Pelvic Malformation Center (CPMC). This telehealth program allows us to be flexible to your schedule, while working together for the week until reaching the goal of staying clean.
If your child is an established patient at CPMC, your initial appointment can be set up as a virtual visit with our team.
If child is a new patient to CPMC, your initial appointment will be in person and may include diagnostic testing. At the end of your first visit, you, your child, and our team will decide on a bowel regimen. This may include laxatives and/or enemas, which can be started at home.
This new virtual service is appropriate for children diagnosed with an anorectal malformation/imperforate anus, Hirschsprung's disease, fecal incontinence, idiopathic constipation, cloacal exstrophy, neurogenic bowel, or spina bifida.
For more details, or to find out if your child is eligible for this telehealth service, please email us at colorectalcenter@childrens.harvard.edu.
Watch our informative videos on enemas and anal irrigation.
Watch: Rectal enemas
How to give your child an enema
كیفیة القیام بحقنة شرجیة لطفلك
 
Cómo dar un enema a su niño
 
Watch: Rectal irrigations
How to give your child rectal irrigations
كیفیة القیام بإرواء شرجي لطفلك
 
Cómo dar irrigaciones rectales a su niño
Colorectal and Pelvic Malformation Center | Contact Us
Contact the Colorectal and Pelvic Malformation Center
617-355-8664