Patient Stories |

Overview
Jahi James, 8
(Excerpt from kidvocate, Winter 2007, published by Boston Children's Hospital Office of Child Advocacy)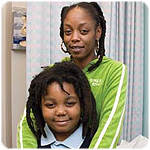 Jahi James, 8, and his mother Shaihiem
Shaihiem James of Roxbury and her 8-year-old son, Jahi, know first-hand how OSA can influence a child's eating habits. Jahi was referred to OSA by his pediatrician. He wasn't obese, but his growth chart was off for his age.
At his first appointment, Jahi was introduced to his team - a nurse practitioner, dietitian, physical activity specialist and social worker. "They didn't tell Jahi he was overweight," says Shaihiem. "Instead, they talked about making bodies healthier by looking at what you eat."
One way OSA helps children eat more healthfully is by identifying culturally appropriate food choices for families. Supermarket gift certificates provided by OSA allow families to shop for fresh foods that may otherwise be unaffordable.
Also, to encourage physical activity, patients in the program can receive stipends for things like a bicycle or dance classes. One popular choice has been a membership at Body by Brandy's Kidz Gym in Roxbury, which is filled with kid-size equipment. Jahi has been exercising there for a few months. "He really likes the gym and the staff," his mom says, "especially the Dance Dance Revolution dance pads."
OSA teaches the whole family how to have a more healthful lifestyle, helping them feel that good nutrition and exercise are achievable goals. "It's helped our whole family," says Shaihiem. "We have a better understanding of things we can do to stay healthy, and are excited about exercising and eating right."
---
Dimitri Athanasiadis, 15
(Excerpt from Dream Magazine, Winter 2004, published by Boston Children's Hospital)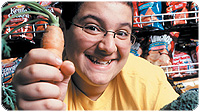 Dimitri Athanasiadis, 15, an OSA participant
Dimitri's story
Dimitri Athanasiadis is 15, an affable, outgoing kid whose parents own a pizzeria. Dimitri works there Friday nights and all day Sunday, but in the summer he worked full time, waiting on customers, working the register, answering the phone and helping prepare food.
"I would say the summer was a test of my willpower," he says. "You have everything here for you - fried chicken, steak and cheese, pizza, wraps. It's like a multiple choice test - which are you going to pick?"
Dimitri is in Boston Children's One Step Ahead program. Developed by the Boston Children's Hospital Primary Care Center, One Step Ahead directs children toward nutritional plans and physical activity opportunities both at home and in the community. It is designed to prevent overweight children from progressing to obesity.
Dimitri, about 200 pounds and almost 5 feet 6 inches tall, receives his primary care at Boston Children's. His pediatrician recommended him for One Step Ahead because he was gaining weight at each visit. Dimitri sees four people in the program: a doctor, a nutritionist, a social worker and an exercise/physical activity coach.
Portion control
"They devised a plan for me," Dimitri says. "You have to eat in portions. A good portion is the size of your fist. You can't just load up your plate and sit down. With pasta especially, I used to load up my plate. Sometimes I would even have seconds."
"Sometimes even more than you were supposed to eat the first time," adds Georgia, Dimitri's mother.
"Now I try to measure portions with my fist. If it's too much I'll put some back. If we have chicken parmesan, I'll try to find just the right size piece - not too large, but not too small. You want to eat enough to feel satisfied."
Avoiding specific drinks
Dimitri also avoids juices now, drinking mostly water to cut down on sugar. "You think juices are good, but they're not," he says. "I used to drink an amazing amount of Gatorade, and I've cut down on that too.
"They show you how much sugar is in a Coke - I was just dumbfounded," Dimitri adds. "It's like eating a can of sugar - that is absolutely gross. In the chicken sandwich at Burger King, the mayo alone has the same amount of calories as a medium order of fries. That makes you think twice before you eat it."
Walking off the calories
In addition to dietary counseling, Dimitri received a device that clips onto his belt and measures how many steps he's taken. The goal is for him to take at least 10,000 steps every day. "You think it's easy, but it's not at all," Dimitri says. "You cannot sit down, you've got to stay moving. You can't watch TV. I create ways to move around, because if you sit down, you're not getting up! You can't be lazy."
In the beginning, Dimitri had appointments every three months, "but I wanted monthly," he says. That way, there would always be a visit coming up pretty soon where he'd be weighed - and that's helped push him to stay with the program.
Like Nick's family, the Athanasiadis family has difficulty affording Dimitri's sessions. As small business owners, the family has no insurance. They receive some assistance from the hospital.
On the right path
After losing an initial 10 pounds, Dimitri's weight has stabilized, despite him growing in height. His caregivers would now like to see more weight loss. The possibility of weight-loss medication has been mentioned, but neither Dimitri nor his mother believe in pills. "I believe it's 100 percent better to do it naturally," Georgia says. "Because I know he can do it. I don't care if it takes longer, as long as he's taking that road."