Family Food Connections has served many families in the community.
More than 3,000 unique families visited in 2023.
The site has over 900 visits per week and more than 40,000 visits to date.
120,000 bags of food distributed since opening in January 2022.
More than 60 percent of families who visit have children under the age of 17.
Between 150 and 400 families visit the site on the days that it is open.
About 120,000 pounds of food per month is distributed. Almost 70,000 pounds are in fresh produce.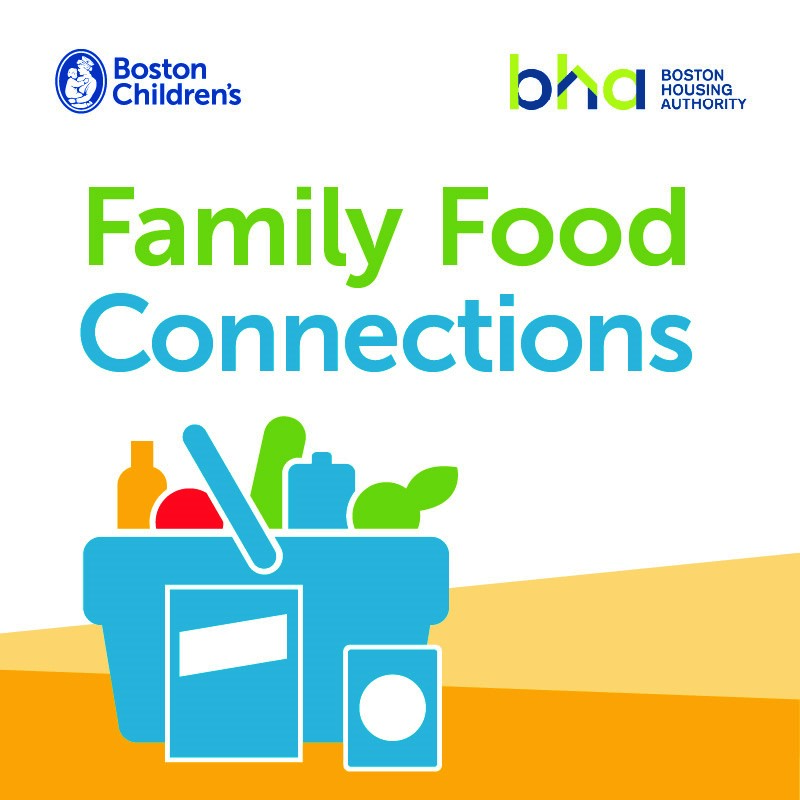 Boston Children's Hospital has launched a new community program, Family Food Connections — a food pantry in Jamaica Plain. It's located within the Mildred C. Hailey Apartments, a Boston Housing Authority development, and next to Boston Children's at Martha Eliot.
The name Family Food Connections is to recognize all of the positive connections that can be made through food. It is a unique collaborative partnership between Boston Children's and the Boston Housing Authority, a long-time partner.
Who can access Family Food Connections?
Family Food Connections is currently open to:
Hours of operation
Tuesday: noon to 6 p.m.
Wednesday, Thursday, Friday: 11 a.m. to 4 p.m.
Closed on Saturday, Sunday, and Monday
* — Patient families, residents of Mildred C. Hailey Apartments, and residents from zip codes 02130 and 02119 are welcome all days that the pantry is open. All others are welcome on Thursdays only.
Getting there
Public transportation: The Mildred C. Hailey Apartments are located near the Jackson Square Orange Line MBTA station. The Orange Line serves Back Bay, Downtown, and Forest Hills. The 14, 22, 29, 41, and 44 buses also provide service to Jackson.
Parking: Free parking is available in front of Boston Children's at Martha Eliot.
FREE Virtual Cooking and Nutrition Classes
Family Food Connections will offer monthly cooking classes for families. The cooking classes are free to participate in and will feature recipes using ingredients found in the food packages that families pick up from the site. Until further notice, the classes are being held via Zoom. Please use the link below to register. Anyone who registers will receive a link to the recording after the class.
To register to attend these free classes, please visit https://bostonchildrens.zoom.us/meeting/register/tJIocOqsqT4vH9XHdKyhEJNkscIir6SwGKXP.
Additional food resources
State-wide resources
Greater Boston resources
Resources in Western Massachusetts
Boston Children's community mission is to improve the health and well-being of children and families in our local community. Addressing food insecurity within the community is a key part of this work. Learn more about the hospital's community mission here.