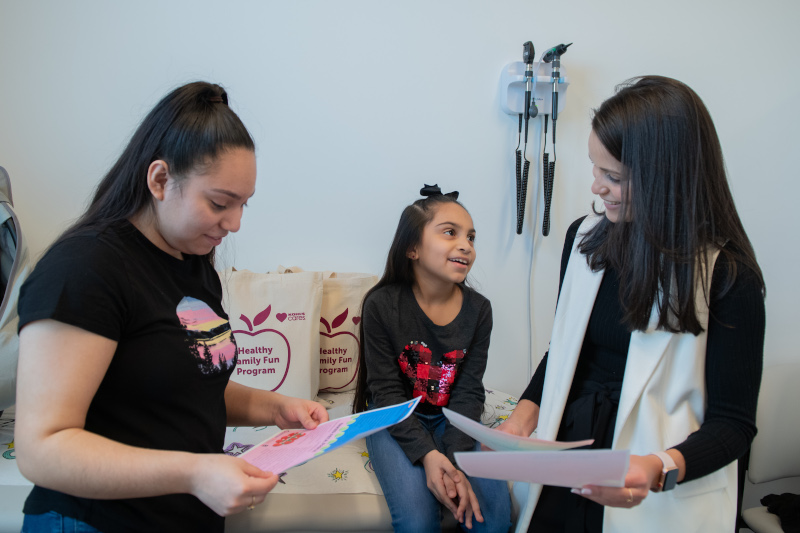 Paloma I. Suárez, MPH, CLC, Director of Pediatric Wellness and Care Navigation at Boston Pediatrics, one of the Healthy in the City sites, works with a patient family to share resources and information about healthy food.
Health care providers are trained to identify, prevent, and treat diseases and chronic conditions. They also play an important role in supporting patients to manage social concerns that can impact their health — such as food insecurity.
According to the Greater Boston Food Bank, one out of 10 children experienced food insecurity pre-COVID. This rate surged to one in five during the pandemic. State-wide, food insecurity has affected one in six white households with children, versus one in three Black and one in four Latino households.
The U.S. Department of Agriculture (USDA) defines food insecurity as a lack of consistent access to enough food for an active, healthy life. It is different than hunger, which means having a personal, physical sensation of discomfort. Food insecurity refers to a lack of available financial resources for food at the household level. Learn more at Feeding America.
Boston Children's has focused on helping patients and families in our community to become more food secure for several years. Strategies are in place to meet the short-term needs of families as well as find longer-term solutions that reduce the conditions leading to food insecurity.
Here, we talk with two leaders at Boston Children's, Shari Nethersole, MD, a pediatrician in our Primary Care Center and Vice President, Community Health and Engagement, and Snehal Shah, MD, also a pediatrician in Primary Care and the Associate Medical Director of Community Integration in the Department of Accountable Care and Clinical Integration. They share why it's important to address food insecurity and Boston's Children's approach.
Food insecurity has been an ongoing issue but we know many more families have been affected since COVID. Can you update us on patients and families in our community?
Nethersole: Food insecurity is consistently raised by our community partners as a concern, and it's something we hear first-hand from families. We know it can cause stress, anxiety, and depression for parents and caregivers — leading to distress at home and affecting the whole family.
Shah: Food insecurity is a health issue. It can impact a child's physical health, and their mental, behavioral, developmental, and school performance as well. Unfortunately, we've seen that COVID has made access to food and having enough food at home, more challenging for many families.
In primary care, we hear how people are struggling if they have lost a job, or perhaps they were already economically vulnerable before COVID. With limited personal funds and income, families are forced to make difficult decisions and decide between buying food or paying rent.
Why is this an important issue for Boston Children's to address?
Nethersole: Boston Children's community mission is to improve the health and well-being of children and families in our community. We can't do that without considering the social determinants of health, which are conditions that can impact a person's health such as food insecurity, poverty, exposure to violence, or unstable housing. As a hospital, we must look at these issues if we want to have positive child health outcomes and promote health equity.
Shah: Health care providers and systems are increasingly screening for and responding to social needs. As Dr. Nethersole mentions, this is also an opportunity to promote health equity. The societal conditions that can lead to food insecurity are rooted in structural and social determinants that create economic insecurity. Our strategies are intended to help families overcome these barriers and create paths to achieve stability, which reduces the chances of food insecurity.
Tell us briefly about the specific strategies.
Nethersole: Our approach has been to help with urgent needs, providing families with grocery store gift cards or bags of food, and connecting them to community resources. Another key strategy has been to support community-based organizations and health centers in their efforts to assist families around food access.
For example, Boston Children's Healthy in the City program is a partnership with 11 health centers in Boston. The program is screening patients around social needs, providing them with food or grocery store gift cards, and also makes referrals to community food resources. Through our Collaboration for Community Health, we're offering funding and technical assistance to several community-based groups who are not only providing direct services to families, but leading the way for improved systems and policies.
To improve access, we're opening Family Food Connections in December in collaboration with the Boston Housing Authority. The site is located next to Boston Children's at Martha Eliot Health Center and within the Mildred C. Hailey Apartments in Jamaica Plain. Patient families and community residents will be able to choose their own foods and staples to take home. We'll provide nutrition education, recipes, and tips for cooking and shopping on a budget. Visitors will get referrals to community and economic stability programs as well.
Shah: For our patients, Boston Children's has been working to identify those in primary care who are experiencing food insecurity. We get them connected to food and food resources, kitchen supplies, and community partners. But we also find ways to stabilize families by providing education and information about programs such as SNAP and WIC, which aim to reduce the risk for food insecurity.
I also want to mention that the Office of Government Relations works with the Office of Community Health and has been actively engaged in advocating at the state level for SNAP and advancing the Earned Income Tax Credit legislation, which we're hopeful will provide some relief to families.
What resources can you recommend?
Shah: I would always suggest that people talk with their primary care provider to develop a plan. But here are a few other resources to consider:
For state-wide resources:
Greater Boston resources:
Resources in Western Massachusetts: