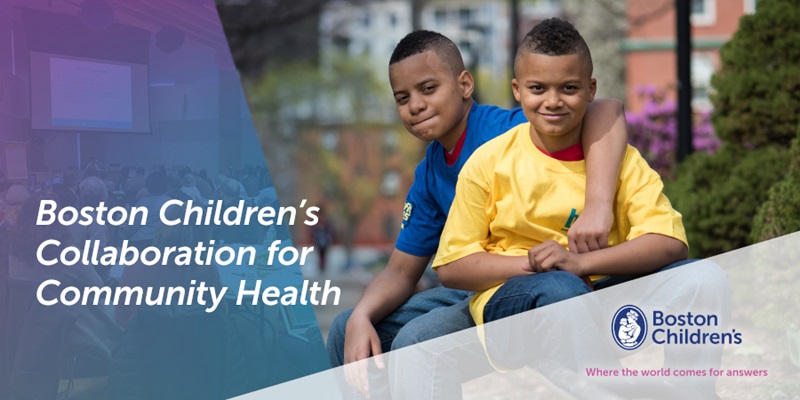 Shari Nethersole, MD, is Vice President, Community Health and Engagement. She's also a pediatrician in our Primary Care Center. Here she talks about how the hospital is partnering with community organizations to improve child and community health.
Why is partnering with community organizations important to Boston Children's?
Part of Boston Children's mission is to improve the health and well-being of children and families in our community. As a pediatric hospital, we want to ensure every child has the resources and support in their community to have a healthy life as well as access to health care.
We've long recognized that one of the best ways for Boston Children's to make a difference is through partnerships. It's our partners who often have established trust and relationships to meet the needs of children and families and reach them where they live and learn.
Can you explain the strategy the hospital is taking?
While we've had some partnerships for 20 years, in 2018, we had an opportunity to deepen our commitment to partners and addressing the social determinants of health.
We were able to make new investments in community organizations through what we call the Collaboration for Community Health. This support was in addition to the hospital's ongoing community health programs and partnerships with community health centers, schools, and organizations.
The Office of Community Health oversees the Collaboration. It provides technical assistance to community partners in developing their projects, and convening them to create linkages and share lessons learned. To date, we have distributed nearly $18 million through the Collaboration in several strategic areas, identified by the community as most critical and where our funds could make an impact.
Three-year grants were awarded to 56 projects working on family housing stability and economic mobility, early childhood development, food access and physical activity opportunities, mental health care and youth supports, and community trauma response.
More than 20,100 individuals have been reached through the Collaboration for Community Health.
The majority served are Black or Latino and live in Dorchester, Roxbury, and Mattapan, which are the neighborhoods in Boston with the highest childhood poverty rates.
An additional $15.2 million is anticipated to be distributed to community organizations by early 2022 in the same strategic categories.
We also made contributions to some projects to meet timely needs. Last summer, more than 130 child care providers in Boston received funds to help them stabilize and remain open during the COVID crisis. Earlier in the year, small grants went to community groups aiding children in remote learning. This summer, we supported projects to get children outside and active.
How does this make a difference for community organizations and benefit the community?
First, the Collaboration is helping community organizations — who we refer to as funded partners — to become more efficient in working together to provide care and services to children and families. One of our goals is for funded partners to build their networks and strengthen connections with each other and across different sectors as well.
There also is an emphasis on supporting advocacy efforts. Many funded partners are strong advocates in and for their communities. We want to harness this energy and provide them with additional tools and training. We believe this is necessary to identify and influence what needs to change within programs and systems.
Our evaluation partner, Mathematica, is assessing impact across the Collaboration. This team is also assisting funded partners to look at data collection methods, goals, and progress made. It's vital to track and demonstrate outcomes to inform other community efforts and understand impact. We know these are complex issues so we don't expect to see immediate results. We focus on taking the time for partners to establish systems and report back. Flexibility and patience are needed as we learn along the way and make adjustments.
Finally, the Collaboration supports organizations as they lay the groundwork needed to grow and continue serving children and families into the future. This has helped new projects begin and build, and it allows others to strengthen their infrastructure and establish practices necessary for long-term sustainability.
What have been some of the results?
One of our partners is Higher Ground. This organization collaborates with residents, other community organizations, and schools to promote positive outcomes in education and the health of children and families in Boston. Our funding supports their efforts to help youth who are homeless and attend Boston Public Schools. Higher Ground reports that they assisted 197 families secure housing. This means that 283 students from seven schools now have a home. Higher Ground's work has been life-changing for these families. As homeless rates have increased due to COVID and high housing costs, they are now working with an additional 73 students who are experiencing homelessness.
Another strategy supported in Early Education (Birth to Five) has been to expand early education and care training programs to boost the field. 460 child care providers were trained within a year on how to adopt and integrate social and emotional development best practices into their own sites. Many funded partners also have expanded their services to better engage parents as their children's first teachers. More than 530 parents participated in workshops on child development or access to community resources.
Finally, we created a unique opportunity with the Children's Health Equity Initiative (CHEq) to initiate projects that will promote child health equity and neighborhood cohesion. Four geographically focused coalitions each received $1 million over three years to implement projects in youth workforce development, family economic mobility, parent and family engagement, and educational pathways for students. This is truly innovative and collaborative work with residents, community groups, advocates, and others leading the charge for change.
How can we learn more about these efforts?
Visit BostonChildrens.org/funding for more details and announcements. For regular updates, send an email to TalkToUs@childrens.harvard.edu and ask to be added to our email list.