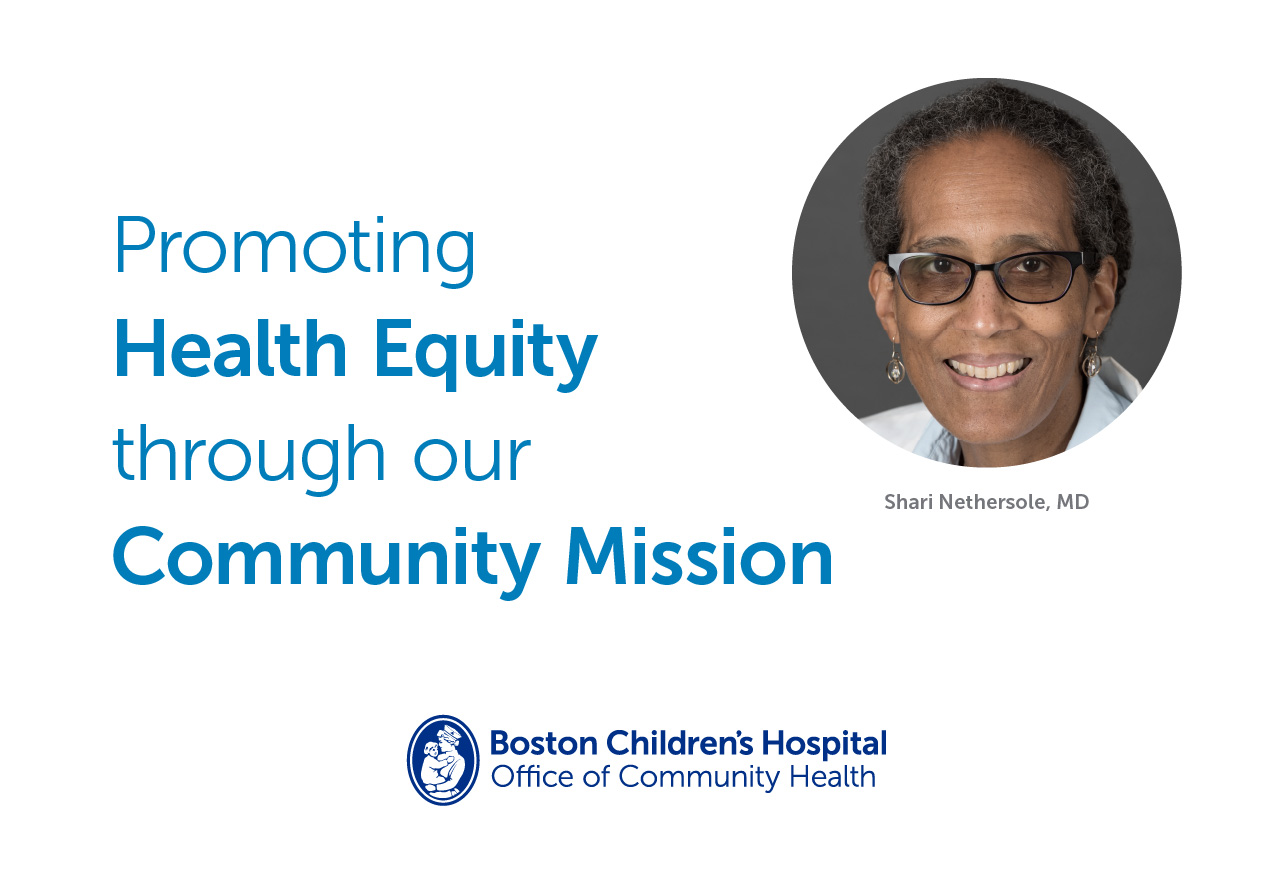 Shari Nethersole, MD, Boston Children's Vice President, Community Health and Engagement, and a pediatrician, talks about what the hospital is doing in the community to promote health equity.
How is Boston Children's making an impact?
We are committed to improving the health and well-being of children and families in our community. Community health is actually part of the Boston Children's mission, along with clinical care, teaching, and research.
Social determinants of health are conditions or circumstances that can impact a person's health and quality of life. Having access to basic resources, healthy and fresh foods, a safe and stable place to live, quality education, and economic security are a few of the conditions needed to promote optimal health.
We have long recognized that it's important to look at health outcomes, address the social determinants of health, and help to eliminate disparities — all necessary to promote health equity.
Our approach has been to use our pediatric health expertise to support and partner with others on community health strategies to improve child health.
What is our role in the community?
I describe our role as being an advocate, a convener, and a partner.
We also must do our part to make sure all children have access to the highest quality health care plus the support and resources to have the best possible health outcomes, regardless of life circumstances.
The COVID pandemic has led to more awareness about the social determinants, and how racism and discrimination within policies and systems have created some inequities, including within health care. Inequities can lead to poorer health outcomes among racial and ethnic groups, as well as disadvantaged socioeconomic populations.
We have opportunities to align with other health providers, funders, and policy makers so we can better support and invest in efforts to change and improve systems over the long-term.
What can we do to make a difference?
As a hospital, we can help address root causes and eliminate disparities. This is vital to health equity.
Here are a few things that we are doing now through the community mission:
Understanding and responding to the health and social issues that the community feels are most important;
Supporting community organizations who are reaching children and providing programs or services in settings comfortable for families;
Identifying what works and what is not working and helping to make changes within programs, policies, and systems; and
Measuring outcomes and the effectiveness of these efforts to demonstrate results
What health issues are important to address?
A few — which only got worse during the COVID crisis — are obesity, food insecurity, and behavioral and mental health concerns in children and youth.
We're continually looking at these issues and public health data so that we can best direct our resources and support approaches in the community. We're always learning from our partners, community leaders, and families so we can figure out if we are off track or need to focus in different areas or address emerging trends.
Can you provide specific programmatic examples?
Here are three that I want to highlight, but there are many more.
Boston Children's has partnerships with 11 community health centers in Boston and we support their pediatric practices to implement Fitness in the City(now called Healthy in the City). We give funding and technical assistance so they can provide their patients with nutrition education and help to access healthier foods and engage in physical activity. The majority of children participating in the program are Black or Latino and the results show they have decreased their Body Mass Index, which is one positive health outcome. This model also has proven effective to help children make the behavioral changes needed to maintain healthier weight.
The Boston Children's Hospital Neighborhood Partnerships (BCHNP) Program is a school-based behavioral health program in the Department of Psychiatry and Behavioral Sciences. BCHNP is committed to working with school communities most impacted by systemic inequities. The program's purpose is to promote the social, emotional, and behavioral health and well-being of students, caregivers, and staff in partnership with Boston Public Schools. In addition, BCHNP provides free, online training for educators across the nation. BCHNP collaborates with community members and organizations to provide clinical care, consultation, professional development, research and advocacy.
Last summer, we launched the Boston Childcare Support Initiative to support childcare providers dealing with the impacts of COVID-19. By providing them with small grants, many were able to hire extra staff, adopt new guidelines, or purchase additional materials. We also offered support and training on topics of interest such as infection control, family engagement, and mental health. The majority of providers receiving grants through this initiative were women of color, in the neighborhoods of Boston most impacted by the pandemic, who were providing an essential service to children and families in their communities.
How can we learn more about these efforts?
Visit us at BostonChildrens.org/community, or send an email to TalkToUs@childrens.harvard.edu and ask to be added to our email list.