Roxbury Presbyterian Church Social Impact Center
In 2013, violence in parts of Roxbury had reached a chaotic level. One day, gunfire broke out in front of Roxbury Presbyterian Church as children gathered for a field trip. Six weeks later, two men were killed in the middle of the day just steps from the church.
In the aftermath, Reverend Liz Walker called upon the Roxbury Presbyterian Church's Social Impact Center to offer a direct response to the impact of violence on youth, women and men in the neighborhood. "She asked, 'Who are we as a church if we're not addressing this?'" says Colleen Sharka, LMHC.
Boston Children's Hospital's Board Committee named and established the $50,000 award after William L. Boyan who was a trustee for 27 years. The award recognizes a community organization, community health center, advocacy group or Boston school that demonstrates excellence in improving the health and well-being of children and families.
The theme of Boyan award changes annually. This year, it recognized a program for expertise in health education — implementing educational strategies and resources around prevention, social and emotional needs, health management, and opportunities for families in the community.
The Social Impact Center was established before the violence increased in 2013 and 2014 but it was that difficult time that prompted Reverend Walker to seek an additional trauma clinician who would understand all facets of the issue. The search led her to Colleen Sharka, who had previously run grief groups at Roxbury Presbyterian.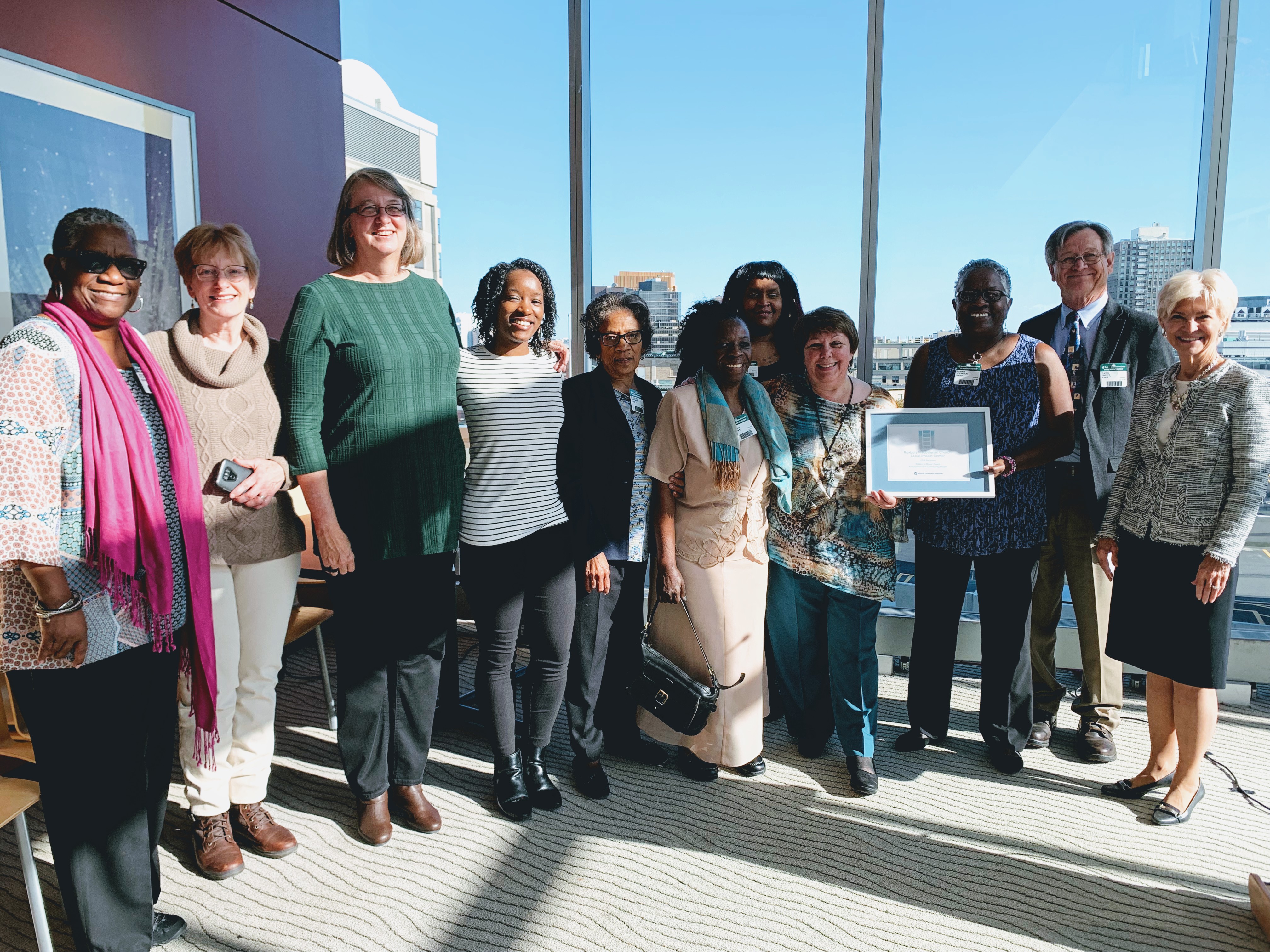 Challenging mission, dedicated team
The Social Impact Center's mission is to create and implement educational and economic development programs to strengthen the Roxbury community. It applies community-based trauma-informed approaches through three interconnecting programs, engaging those who've survived violence and trauma.
The Common Unity Summer Intensive Program (CUSP) is a six-week youth development program serving 15 to 20 teens who have lost peers to violence. Teens receive stipends and are supported in securing school-year jobs. The next phase will be a year-round program for youths aged 14 to 18 to provide a safe space in which they can share their stories as well as have fun.
Youth are offered part-time internships focused on job skills development, mentoring, and tutoring others on in Learning Out Loud (LOL). This 11-week academic support group provides one-on-one support to 45 students on Saturday mornings. Children of participants in the Cory Johnson Program often attend LOL. Recognizing the trauma the children have experienced has led to the next phase of this program to be focused on providing care to the children and parents who attend the trauma support programs, including one-on-one education and support.
The Cory Johnson Program fosters connection and empowers individuals to take an active role in helping themselves and others heal. Over three Thursday evenings each month, adults learn about trauma and healing, creatively express their healing process, and have a chance to share their story in community.
The Social Impact Center is notable for both its sense of responsibility to the community and its focus on continuous improvement. For example, CUSP was launched at the request of a local school that had lost three teens to violence. And in 2017, the center hired an independent expert to craft an anonymous survey whose responses were used to fine-tune its offerings.
The Boyan funding will be used for additional services. It will allow the center to develop its own trauma-recovery curriculum. The center also will expand by increasing opportunities for more children and families to receive tailored support to enhance their healing process.
Finally, it will be able to train Community Trauma Healing Specialists — peer leaders available to trauma victims outside business hours. "They can [accompany people] to medical appointments and to court, for example," says Sharka. "This will let us provide support in between service components, and that's one thing that makes us unique in a profound way."