Boston Children's Hospital has always been committed to children, families, and pediatric care. The 11-story Hale Family Building strengthens our commitment by enabling enhanced, more efficient care for the benefit of patients, families, and the teams who deliver and support that care.
Benefits for patients and families
The Hale Family Building:
enhances patient care
meets the growing need for care
improves access to the Boston Children's experience for all children
better supports collaboration between clinical teams as they care for patients
Features of the Hale Family Building
state-of-the-art NICU at Mayo Family Newborn Medicine Center with 30 beds that replace open bays with private rooms, including a space for a family member to sleep at the bedside
comprehensive and integrated Benderson Family Heart Center on five floors with 96 private inpatient rooms, a cardiac clinic with 21 exam rooms and nine pre-op exam rooms, and all cardiac diagnostic and treatments on one floor
150 single inpatient rooms that provide privacy, quality, safety, and comfort for patients and families
more green and open space offering peace, tranquility, and respite both indoors and outdoors
comprehensive art program with more than 700 individual pieces of artwork
info-sharing hubs to streamline clinical collaboration by spurring discussions, reviewing observations, and fostering innovation
expanded high-tech environments that improve integration within the surgical floors, such as an enhanced interventional radiology suite and hybrid operating rooms; 15 high-tech operating rooms that enable innovative technologies to support surgeons as they tackle the most complex cases and solve tomorrow's challenges
state-of-the-art clinical lab featuring an open-floor concept and the first automation line of its size for a pediatric hospital
larger and more efficient space for pharmacy, central processing, and pathology
Operating rooms and services
The main OR and Perioperative Services provides operative care to patients on the main campus at Boston Children's. The operating rooms in the Hale Building will be used by multiple programs.
Artwork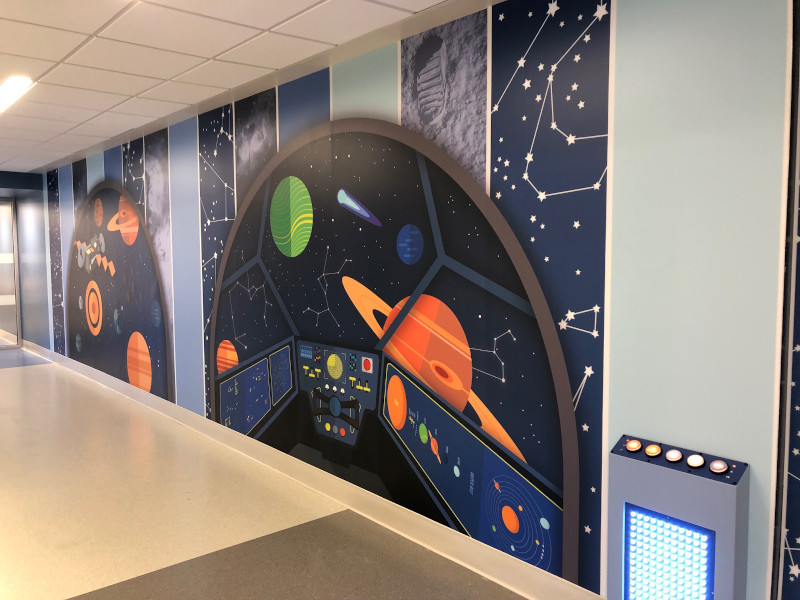 Visitors to the Hale Family Building will encounter extensive artwork in the hallways, reception areas, waiting rooms, patient rooms, patient family spaces, staff lounges, and gardens. On each public floor, the artwork has a theme: Garden, Underwater, Harbor, City, Forest, Lake, Mountain, Space and Treetop. Many of the artworks featured throughout the Hale Family Building were created by local artists. Kids of all ages will find something to enjoy.
Gardens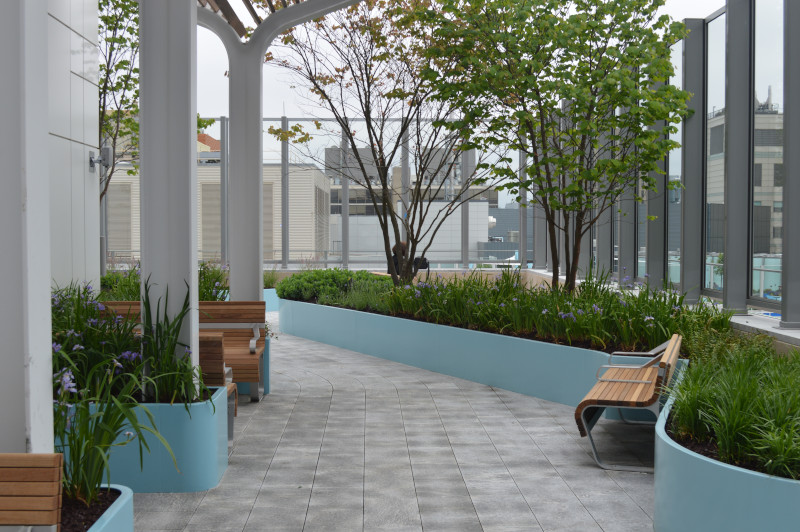 Patients and families can visit indoor gardens on the eighth and 10th floors on their way to our outdoor roof garden and the future Wishingstone Garden. Each garden has been designed with patients and their Boston Children's experience in mind.
Amenities
Whether it's for a single night or an extended period, families of patients admitted to Boston Children's will find bright and spacious family lounges, kitchen areas with seating, refrigerators, microwaves, and dishwashers, as well as a laundry room area.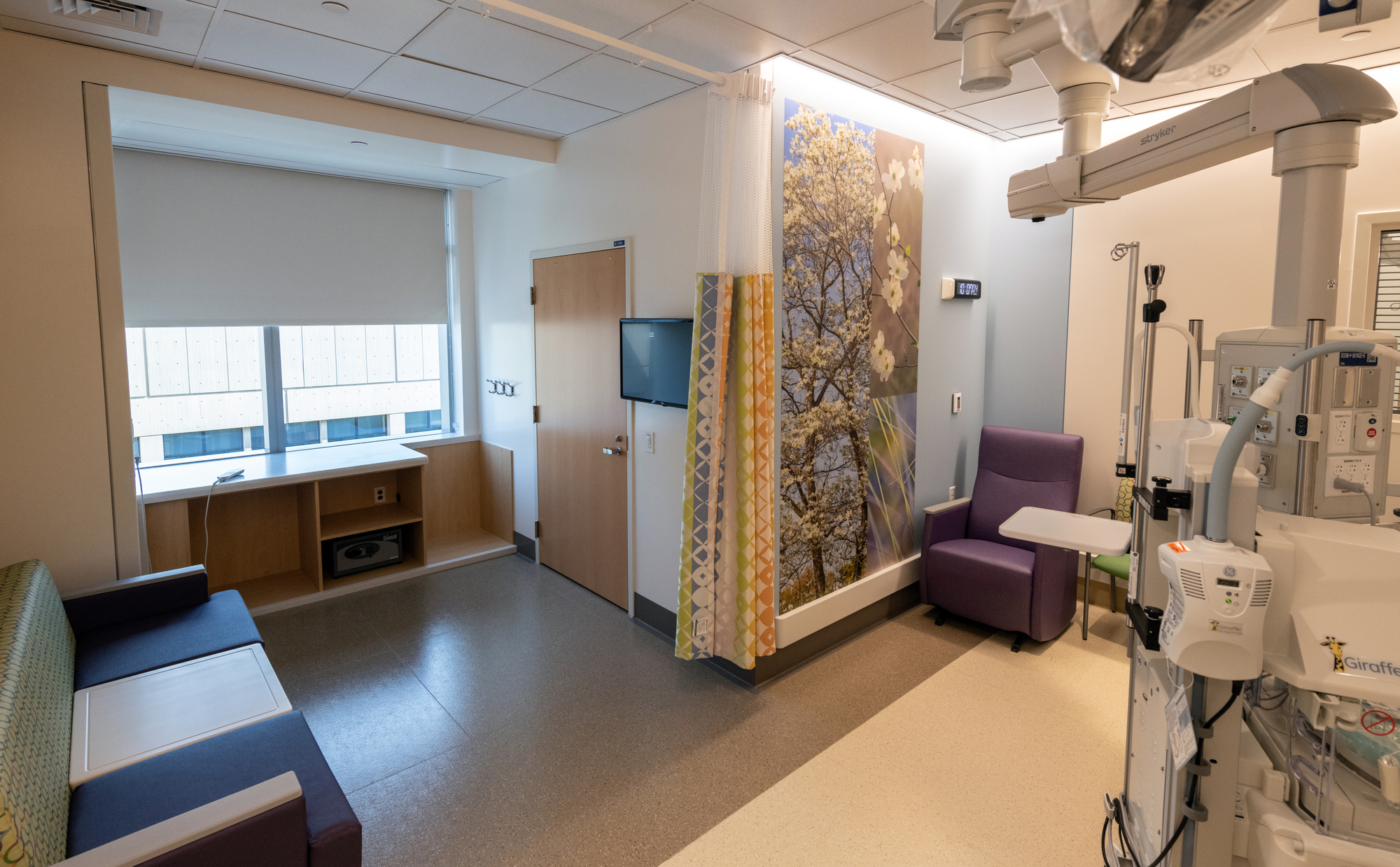 Inpatient rooms include a family area with furniture that can easily change from a table and seating to a single pullout bed. Each patient room also includes storage, a separate television, and a private bathroom.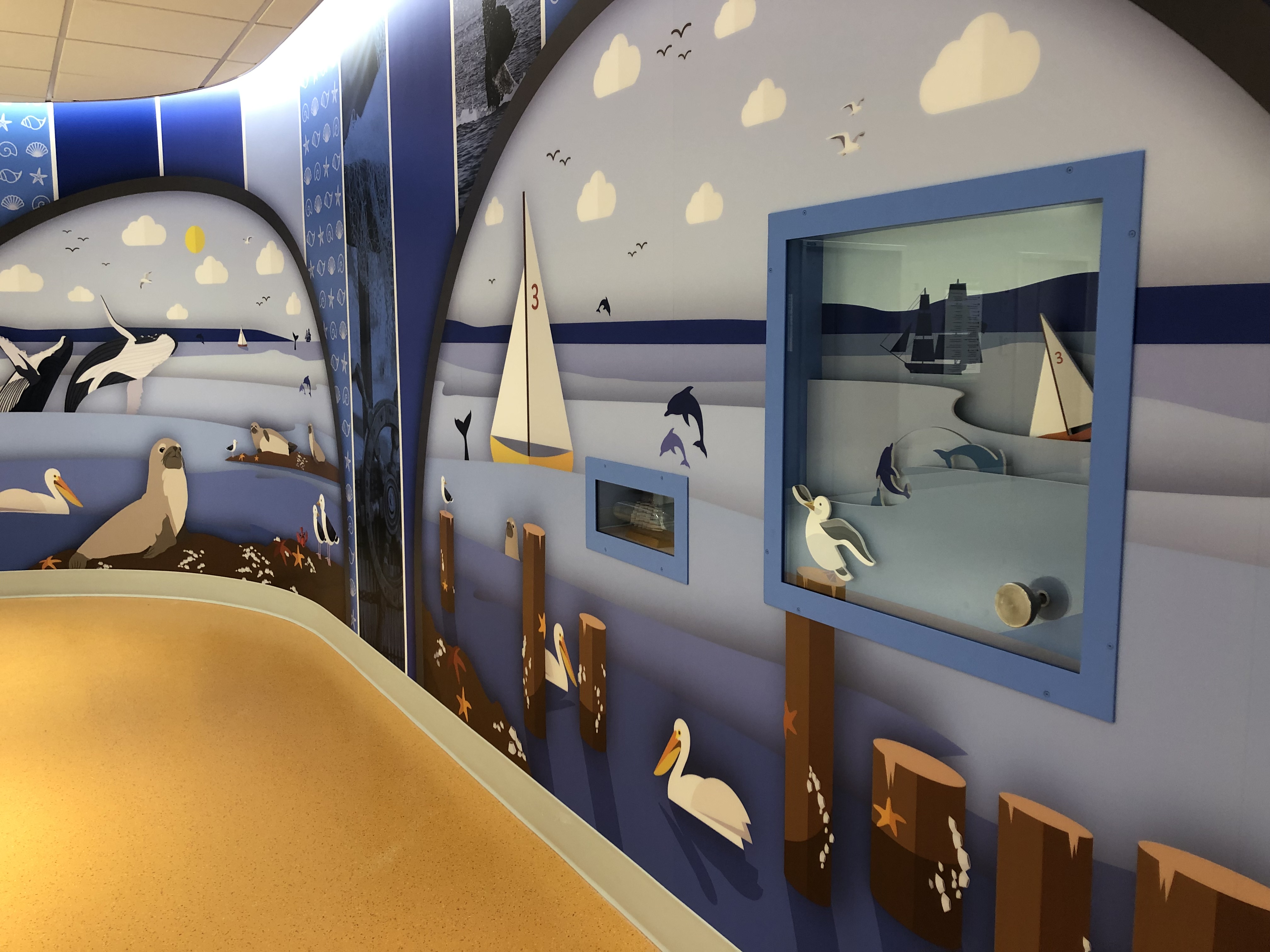 Waiting areas offer a welcoming, well-lit environment for patient families, including several semi-private areas.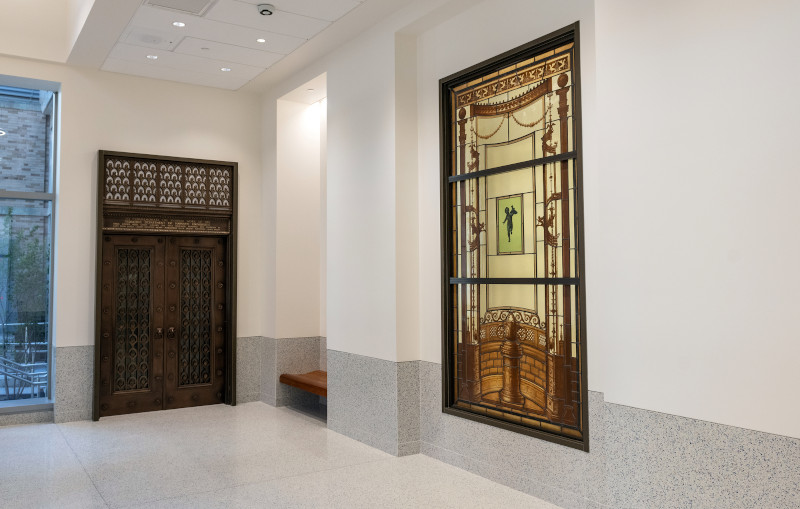 Refurbished doors and stained glass from the Wolbach Building decorate a lobby on level 1 of the Hale Family Building.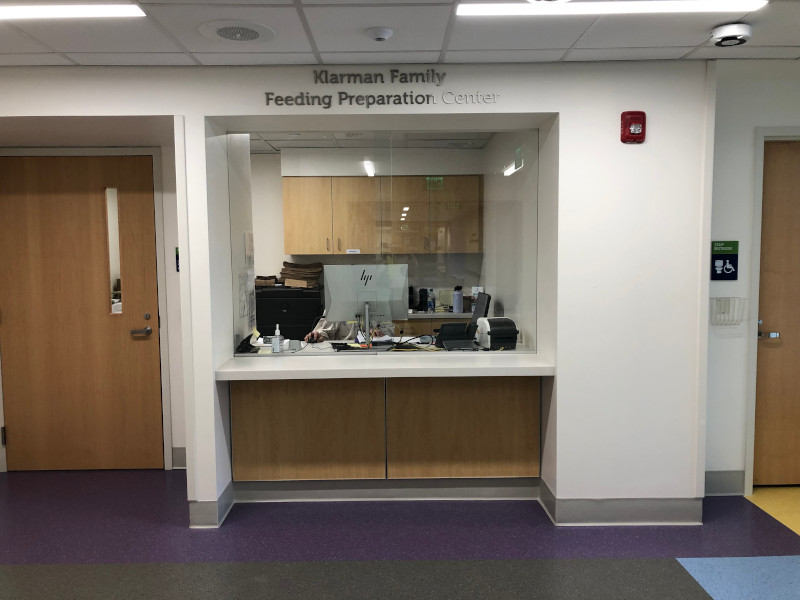 The Klarman Family Feeding Prep Center provides a safe and reliable environment for the preparation of infant nutrition.