Acerca de Boston
Boston es una de las ciudades con más historia de los Estados Unidos, y es el centro global de los hospitales e instituciones educativas líderes del mundo, como la Universidad Harvard y el Instituto Tecnológico de Massachusetts (MIT).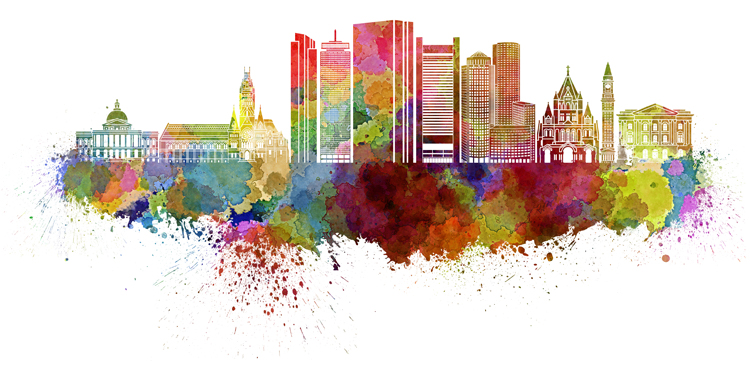 Sin importar la cantidad de tiempo que usted y sus seres queridos pasen en Boston, queremos que su visita sea lo más agradable y cómoda posible. Debajo encontrará recursos que lo ayudarán a prepararse para Boston:
Antes de llegar/Qué traer
Historial médico (en inglés)
Todos los medicamentos de su hijo
Equipos médicos
Carta con la cita
Pasaportes/visas (revise los requisitos para visa)
Documento I-94
Comprar boletos aéreos
Conseguir alojamiento
Atuendo adecuado para las condiciones climáticas actuales
Clima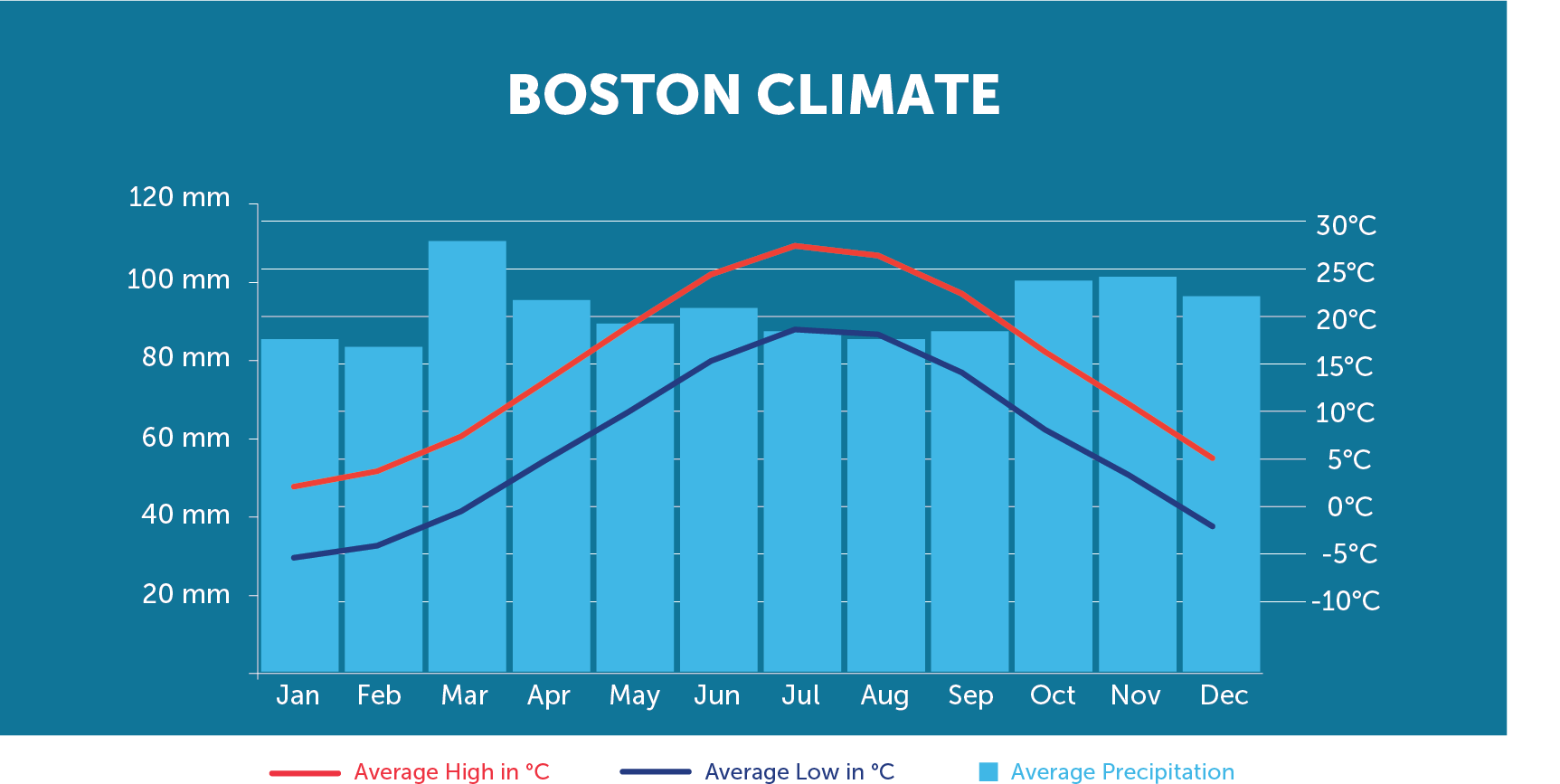 El clima en Boston varía mucho según el momento del año. Los meses más cálidos van, generalmente, desde finales de mayo hasta inicios de septiembre, y los más fríos, de noviembre a marzo. Le recomendamos que durante su visita a Boston se vista con capas de ropa, ya que la temperatura puede variar a lo largo del día.
Alojamiento
Hoteles y alquileres temporarios
Muchos hoteles y pensiones locales ofrecen descuentos para las familias de los pacientes de Boston Children's Hospital
Si se quedará por más de una semana, le recomendamos un alquiler temporario en un apartamento local
Homewood Suites by Hilton
111 Boylston St, Brookline, MA 02445 +1-617-232-1487
Hampton Inn & Suites
811 Massachusetts Ave, Boston, MA 02118 +1-617-445-6400
The Baldwin at Longwood Medical Centre
49 Worthington St, Roxbury Crossing, MA 02120 +1-617-879-1634
The Inn at Longwood Medical
342 Longwood Ave, Boston, MA 02115 +1-617-731-4700
Holiday Inn Boston-Brookline
1200 Beacon St, Brookline, MA 02446 +1-617-277-1200
The Verb Hotel
1271 Boylston St, Boston, MA 02215 +1-617-566-4500
Beacon Inn
1087 Beacon St, Brookline, MA 02446 +1-617-566-0088
Sheraton Boston Hotel
39 Dalton St, Boston, MA 02199 +1-617-236-2000
Alojamientos asequibles
Viviendas familiares: hasta 35 familias pueden calificar para un espacio de vivienda compartida por un costo de 30 USD por noche, que incluye salas de estar, una cocina comunitaria, baños compartidos y privados, acceso gratuito a Internet, instalaciones de lavandería sin cargo, accesibilidad para sillas de ruedas y personal las 24 horas.
Hospitality Homes: ofrece alojamiento temporario en casas de voluntarios y otros espacios donados para familias y amigos de pacientes que buscan atención en los centros médicos del área de Boston.
The Ronald McDonald House: ofrece alojamiento de bajo costo para familias y pacientes que reciben tratamiento oncológico en Boston Children's Hospital y el Centro de Oncología y Enfermedades de la Sangre Dana-Farber/Boston Children's.

Los pacientes deben tener menos de 21 años, estar recibiendo tratamiento contra el cáncer u otra enfermedad hematológica potencialmente mortal, y vivir a más de 30 kilómetros de Boston. Las tarifas son de USD 10 por noche o USD 200 por mes.
Para obtener más información sobre alojamientos asequibles, comuníquese con el Programa de Alojamiento para Familiares de Pacientes al 1-617-919-3450 o al correo electrónico familyhousing@childrens.harvard.edu.
Transporte
Moverse en Boston
Compañías de alquiler de autos en el aeropuerto Logan
Enterprise 15 Transportation Way, East Boston, MA 02128
Dollar Rent a Car 100 Tomahawk Dr, East Boston, MA 02128
Hertz 156 Tomahawk Dr building 42 a, Boston, MA 02128
Avis Car Rental 15 Transportation Way Boston Logan Intl Airport, Boston, MA 02128
Alamo Rent A Car 15 Transportation Way, East Boston, MA 02128
Budget Car Rental 15 Transportation Way, East Boston, MA 02128
E-Z Rent-A-Car 100 Tomahawk Dr, Boston, MA 02128
Thrifty Car Rental 100 Tomahawk Dr, Boston, MA 02128
Vehículos de alquiler con conductor
Boston Logan Airport Car Service 6 Tomahawk Dr, Boston, MA 02128 +1-617-663-8283
Boston Taxi Service & Taxi Co 28 Academy Ct, Boston, MA 02119 +1-617-331-9583
Boston Royal Limo & Cab 850 Summer St #203, Boston, MA 02127 +1-857-342-0170
Transporte público
El sistema de transporte público de Boston es MBTA, y es la manera más económica y rápida de moverse por la ciudad. El cartel con una "T" indica los trenes subterráneos que recorren Boston. Puede usar boletos o la tarjeta Charlie en todos los autobuses y trenes subterráneos de Boston.
MBTA también opera el Commuter Rail (Tren de cercanías). Este sistema de trenes se usa para hacer distancias más largas y permite transportar pasajeros dentro y fuera de la ciudad.
Blue Bikes (Bicicletas azules) es el sistema público de bicicletas que cuenta con estaciones en toda la ciudad. Estas bicicletas ampliamente disponibles son una opción asequible para experimentar la ciudad como un local.
Recursos y atracciones
Comida

International Halal Market (Middle Eastern Food) 1433 Tremont St Boston, MA 02120
Tropical Foods (Latin American) 450 Melnea Cass Boulevard Roxbury, MA 02119
Star Market (General) 33 Kilmarnock St Boston, MA 02215
Whole Foods Market (Organic) 1028 Beacon St Brookline, MA 02446
Trader Joe's (Organic) 1317 Beacon St Brookline, MA 02446
Bazaar on Beacon (European) 1432 Beacon St Brookline, MA 02446
The Butcherie (Kosher) 428 Harvard St Brookline, MA 02446
Hong Kong Supermarket (Asian) 1 Brighton Avenue Boston, MA 02215
Kaba African Market 29 Roxbury St Boston, MA 02119
Compras
Prudential Center Boston 800 Boylston St Boston, MA 02199
Copley Place 100 Huntington Avenue Boston, MA 02116
Faneuil Hall Marketplace 4 S Market Street Boston, MA 02109
Cambridge Side 100 Cambridgeside Pl Cambridge, MA 02141
Target 1341 Boylston St, Boston, MA 02215
Marshall's 126 Brookline Ave, Boston, MA 02215
Atracciones turísticas
Museo Isabella Stewart Gardner 25 Evans Way, Boston, MA 02115
Museo Boston Children's 308 Congress St, Boston, MA 02210
Museo de Bellas Artes 465 Huntington Ave, Boston, MA 02115
Barco Museo de la Fiesta del Té 306 Congress St, Boston, MA 02210
Acuario de Nueva Inglaterra 1 Central Wharf, Boston, MA 02110
Jardín Público de Boston 4 Charles St, Boston, MA 02116
La Casa Paul Revere 19 N Square, Boston, MA 02113
Museo de Ciencia 1 Science Park, Boston, MA 02114
USS Constitution Museum Building 22, Charlestown Navy Yard, Charlestown, MA 02129
Apoyo religioso y espiritual
En Boston Children's
Ofrecemos compañía espiritual para personas de todas las religiones o sin religión. Los capellanes se encuentran en el hospital de 8:00 a 17:00 todos los días, y se los puede llamar en caso de emergencia durante la noche. Usted y su familia pueden usar este pacífico espacio para rezar o meditar.
En los alrededores
Algunos lugares adicionales de oración en Boston incluyen los siguientes:
Islamic Society of Boston Cultural Center
100 Malcolm X Blvd, Roxbury, MA 02120
Spanish Church of God
738 Parker St, Roxbury Crossing, MA 02120
St Paul's Episcopal Church
15 St Paul St, Brookline, MA 02446
Temple Israel (Jewish Synagogue)
477 Longwood Ave, Boston, MA 02215
ISKCON Boston (Hindu Temple)
72 Commonwealth Avenue, Boston, MA 02116
Greek Orthodox Cathedral
514 Parker St, Roxbury Crossing, MA 02120