If your child has a small right or left ventricle, and both ventricles are being treated as a single ventricle heart defect, they might be a candidate for new forms of treatment that aim to avoid the complications associated with older procedures.
The goal of the Complex Biventricular Repair Program at Boston Children's Benderson Family Heart Center is to assess your child and see if they are an ideal candidate for surgery that creates two ventricles to improve circulation.
A single ventricle heart defect means one of the heart's two major pumping chambers (ventricles) isn't large enough or strong enough to work correctly. Although single ventricle palliation (Fontan) surgery is often used to repair the defect, the procedure is linked to complications that prompts us to seek alternatives and use new procedures and innovative technology on qualifying patients.
These options include biventricular repair — the creation of two functioning ventricles — or, on a smaller scale, one-and-a-half ventricle repair, achieved through a series of surgical procedures.
Not all patients with single ventricle heart disease are candidates for these surgeries, so a detailed evaluation of your child is required. The approach will depend on the type of underlying heart defect.
Conditions treated by biventricular repair
The following are heart conditions we treat, but please keep in mind your child might not be a candidate for biventricular or one-and-a-half ventricle repair.
borderline small left and right heart 
pulmonary atresia with intact ventricular septum
hypoplastic left heart syndrome (HLHS) with mitral and aortic stenosis
Shones complex
unbalanced atrioventricular (AV) canal
upstairs-downstairs ventricles
double inlet right or left ventricle
straddling or crisscross mitral or tricuspid valves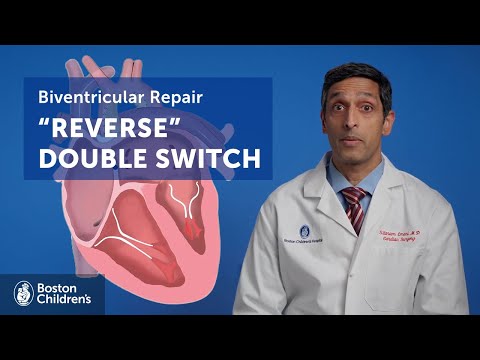 Learn about the procedures offered through the Complex Biventricular Repair Program: HLHS staged recruitment, the "reverse" double-switch, DILV treatment, and more.
Our expertise in complex biventricular repair
Each year, we evaluate and treat hundreds of children and dozens of adults from all over the world for possible biventricular or one-and-a-half ventricle repair, helping those with complex congenital heart disease start a journey to improved heart function.
If your child is a candidate for such treatment, we will offer a customized second opinion evaluation and care plan. Our highly specialized team of pediatric cardiologists, cardiac surgeons, cardiac anesthesiologists, cardiac critical care specialists, and nurse practitioners uses innovative methods — including advanced imaging and three-dimensional (3-D) modeling — to evaluate, diagnose, and treat your child.
Care for your child extends beyond procedures and hospitalization. After you return home, we stay in close contact with you and your local care team to monitor your child and determine next steps in the pathway of care. Our team is available to ensure long-term follow-up care.
The advances behind complex biventricular repair
Over the years, we have developed many ways to study the heart through imagery and, in turn, better plan surgery. We have also developed several new surgical techniques and strategies to gradually "grow" small heart structures. Better ways to assess and manage the heart's electrical system have reduced complication rates, and protocols for post-operative management have improved the chances of surgical success.
Several years ago, we discovered that small heart structures can be stimulated to grow by promoting blood flow into the small side of the heart using surgical techniques — a process called staged ventricular recruitment. This must be done gradually and carefully, however, to avoid stressing the heart too quickly. The type of staged ventricular recruitment surgery needed to promote growth of the small heart depends on the type of congenital heart defect. If the heart grows as anticipated, then we can convert from single ventricle to biventricular or one-and-a-half ventricle circulation (biventricular conversion). If the heart does not respond adequately, then single ventricle management is still an option.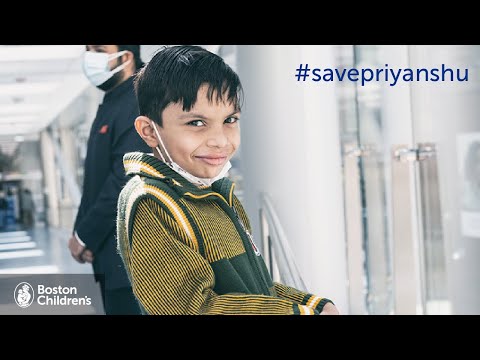 A father's reach across the world to save his son
Soon after he was born, Priyanshu was diagnosed with double outlet right ventricle (DORV) with hypoplastic (small) ventricle. Learn about his family's journey from India to Boston Children's for a biventricular repair.
Patient reported outcomes (BiV-PRO Survey)
We collect health information about patients who received biventricular repair treatment at Boston Children's so we can assess how they are doing in the long run. This helps us better understand the effectiveness of our approach to patient care, and it lets us provide the most accurate information about treatment to families who ask us for second opinions.
If your child has biventricular surgical repair at Boston Children's, you may be asked to participate in the outcomes survey BIV-PRO. The survey takes about 10 minutes to complete, and asks questions about your child's quality of life and health status. You will be asked every six months to repeat the survey. If you would like to participate, please contact Michael (Seni) Bamgbose at michael.bamgbose@cardio.chboston.org.
Outstanding surgical volumes in biventricular repair
Surgical case volume
Data for surgery performed: 2015 - 2022
Explanation of abbreviations
Hypoplastic LV = Hypoplastic left heart variant
HLHS = Hypoplastic left heart syndrome
R dominant AVC = Right dominant atrioventricular canal defect
Hypoplastic RV = Hypoplastic right heart variant
L dominant AVC = Left dominant atrioventricular canal defect
PA/IVS = Pulmonary atresia with intact ventricular septum
DIRV = Double inlet right ventricle
DILV = Double inlet left ventricle
CCTGA = Congenitally corrected transposition of the great arteries (L-TGA)
D-TGA = D-Transposition of the great arteries (D-TGA)
DORV = Double outlet right ventricle
Multiple VSDs = Multiple ventricular septal defects