AuD externship
The fourth-year externship program at Boston Children's Hospital provides AuD students an opportunity to experience audiology practice in a thriving pediatric medical institution. Students spend approximately 11 months working alongside practicing audiologists as they assess and treat children at risk for or identified with hearing loss, many of whom are medically complicated. Students become adept at visual reinforcement, conditioned play, and traditional methods of audiometry, auditory evoked brainstem response testing, and additional components of pediatric audiology assessment and treatment.
The externship program is affiliated with the Leadership Education in Neurodevelopmental and Related Disabilities (LEND) Program in Boston. The LEND program offers interdisciplinary training for students from many fields. Externs attend the program on Fridays from September to May. Course work focuses on interdisciplinary evaluations, Life Course perspective and public health, cultural competence, family centered care, and the medical home. The LEND experience culminates in a trip to the Disability Policy Seminar in Washington, D.C. It is also through our affiliation with LEND that we are able to offer to our externs a $12,000 stipend and travel funding to the Early Hearing Detection and Intervention conference.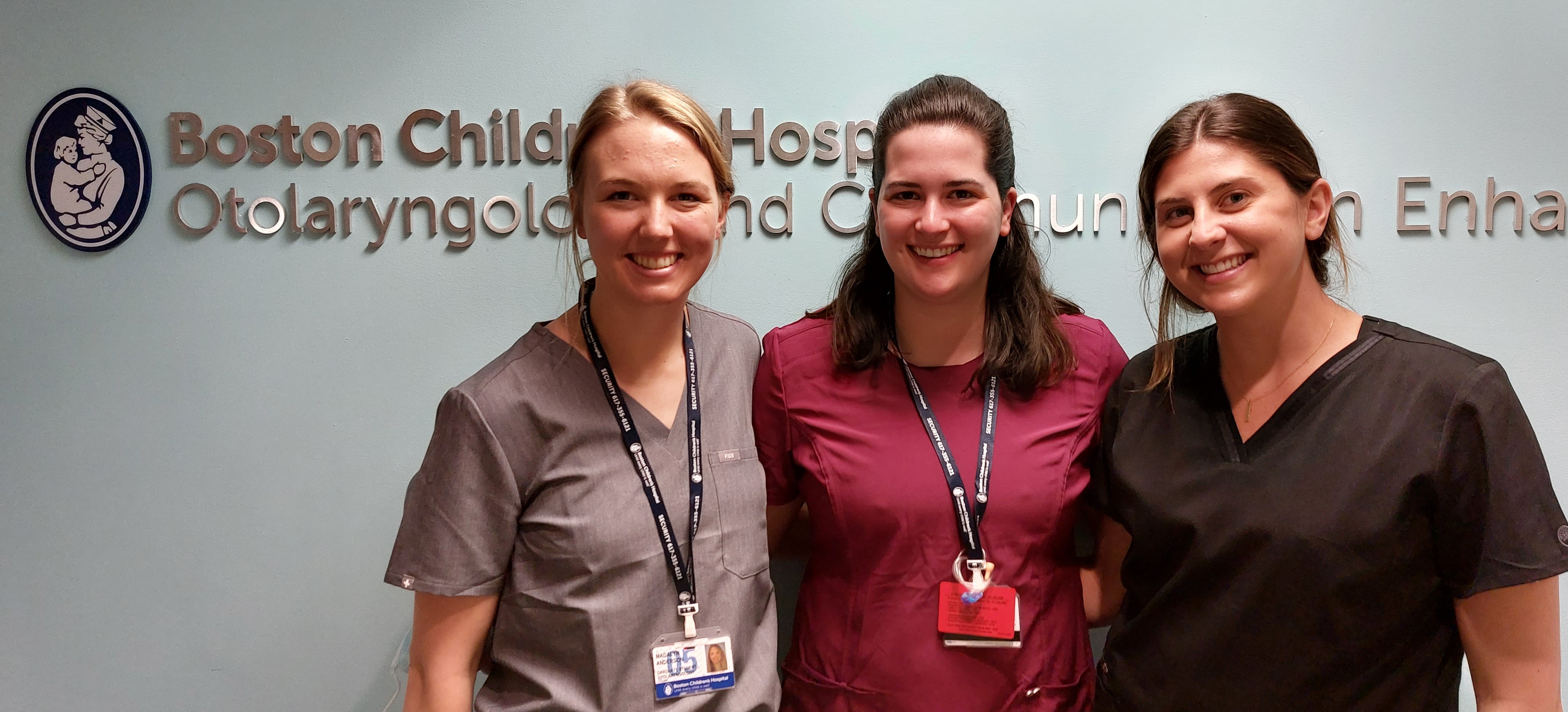 2022-23 extern class
The experience
Boston Children's Hospital is a world-renowned pediatric tertiary care medical center and is a Harvard Medical School teaching hospital.
The Audiology Program at Boston Children's Hospital has mentored externs and fellows continuously since the early 1990s. Past externs are now working at other pediatric hospitals around the country, working for manufacturers, and obtained their PhD in Audiology/Hearing Science.
Audiology externs at Boston Children's Hospital are also enrolled in the LEND Fellowship (Leadership Education in Neurodevelopmental Disabilities) at the Institute for Community Inclusion. This leadership training is typically one day per week (Fridays) from September to May and involves social policy and public health.
Our patients come from all walks of life, local as well as international, typically-developing children to very medically complex neonates.
Externs are provided with supervision by a range of experienced pediatric audiologists. All staff have either ASHA CCC-A or ABA Board Certification in audiology in addition to the state license in audiology. Many staff have the ABA Pediatric Audiology Specialty Certificate, Cochlear Implant Specialty Certificate, or both. Supervision from an audiologist with the ASHA CCC-A is available but not guaranteed. All preceptors have completed the Certificate Holder-Audiology Preceptor (CH-AP) training from the American Board of Audiology.
Externs will be exposed to all aspects of pediatric audiological evaluation and case management during their externship experience. This will include all behavioral audiometry techniques and electrophysiology (including frequency-specific threshold estimation by ABR). Externs will participate in hearing aid fittings, FM system selection, and participation in determining educational accommodations for children with hearing loss. Externs will participate in cochlear implant mapping and determining specific education accommodations in the Sound Outreach to Schools educational audiology service. Upon completion of training, the extern is expected to be competent in providing detailed assessment and audiologic case management of complex pediatric patients.
Requirements
Applicants must meet requirements set forth by the Massachusetts state licensing law for qualifying for a supervised professional practice. Upon selection, the extern must submit a supervised professional practice plan with the state.
Universities must have a training contract on file with Boston Children's Hospital. Upon being offered an externship, students should put the Specialty Audiologist for Clinical Education in touch with an academic advisor to assure a training contract is either active or negotiated in advance of a June start.
Extern selection and application process
Announcement
The position announcement is posted on the internal website and at AAA HearCareers by July 1.
Application packet
Applicants must submit a complete packet to be considered for the externship. The packet must include the following:
cover letter
curriculum vitae
graduate and undergraduate transcripts should be submitted (official or unofficial; can be sent with the packet or separate)
three Boston Children's standard letters of recommendation

(our required recommendation form will be sent automatically once the contact information is entered into the application website)

one-page, single-spaced essay describing a clinical situation that had a lasting professional impact on the applicant
clinical hours completed (e.g., Typhon, Calipso, or Excel; pediatric hours should be separate from adult hours)
The application packet should be submitted electronically to the following website:
https://app.smartsheet.com/b/form/10a0eabe69b04895ab609a5be4077869
It is recommended that at least one of the letters of recommendation be from an audiologist who supervised a pediatric placement and can speak to your relative strengths in this area.
Application timeline
We have agreed to follow the application timeline proposed by the Audiology Clinical Education Network.
application deadline: Friday, September 23, 2022
video interviews begin Monday, September 26, 2022
final half-day morning video interview: Friday, October 14, 2022
offers will be extended at 11 a.m Eastern time on Monday, October 24, 2021
At this time, the Audiology Program cannot provide travel support to applicants.