The Department of Plastic and Oral Surgery provides consultations and surgical services at the Boston Children's Hospital main campus. We also offer select services at other locations listed below:
Location     
Address
 Contact
Boston

Boston Children's Hospital
300 Longwood Ave.
Hunnewell Building, 1st Floor
Boston, MA 02115

Boston Children's Hospital Department of Plastic and Oral Surgery
319 Longwood Ave., 5th Floor
Boston, MA 02115

  617-355-7252
 
Lexington

Boston Children's at Lexington
482 Bedford St.
Lexington, MA 02420

  781-216-2999
 
Peabody

Boston Children's Peabody
10 Centennial Drive
Peabody, MA 01960

  781-216-3400
 
Waltham

Boston Children's Waltham
9 Hope Ave.
Waltham, MA 02453

 

Waltham Medical Office Building
20 Hope Ave. (Offices 207 and 208)
Waltham, MA 02453

  781-216-2100
 
Weymouth

Boston Children's Weymouth
The Stetson Building
541 Main St.
Weymouth, MA 02190

  781-216-3800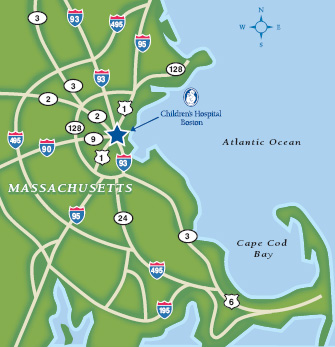 We strive to make you and your child's experience coming here, and staying here, as pleasant and stress-free as possible.
Here are some helpful links:
Please plan to arrive at least 15 minutes prior to your appointment. Traffic and parking in the Longwood Medical Area can be difficult and take more time than anticipated. Please take this into account when you leave for your visit.
Parking is available in the Boston Children's Parking Garage at a discounted rate with a validated ticket.
For international patients
For patients and families residing outside of the United States, please contact Boston Children's Global Services. The center facilitates the medical review of patient records and appointment scheduling and provides assistance with customs and immigration, transportation, and hotel and housing accommodations.
Telephone: 01-617-355-5209
Fax: 01-617-730-0627
Email: international.center@childrens.harvard.edu
The Fazzalari Sky Bridge is open
Enjoy safer, quicker, and more direct access to the hospital. The pedestrian bridge is located on the 4th floor of the Patient and Family Garage and connects to the 1st floor of the hospital's main building. In addition, the renovated garage has 70 additional spaces, expanded disability parking on all levels, and two new elevators are being installed to decrease wait times. These enhancements will further improve the overall experience for patients and families. Learn more.