Attention Deficit and Hyperactivity Disorder (ADHD) Research and Clinical Trials
Much of today's research on attention-deficit/hyperactivity disorder (ADHD) focuses on genetics. Here at Boston Children's Hospital, our researchers are also looking closely at the structural and functional differences between the brains of children and adults with ADHD and the brains of people not affected by the disorder.
In addition, Boston Children's physicians and scientists are engaged in several innovative studies designed to increase understanding of how ADHD affects children, and how best to diagnose and treat it.
---
Staying on top of ADHD
Proper treatment of ADHD requires consistent monitoring of a child's symptoms, medications, behaviors and side effects. Paper-based questionnaires given to parents have often been used for this purpose.
However, since the pen-and-paper process does not always (or entirely) capture the information necessary for monitoring children with ADHD, Boston Children's has helped design a web-based data entry tool for parents—one that regularly updates doctors about a child's ADHD.
This online program guides parents through each step of reporting the relevant information, with a built-in mechanism to ensure that questions aren't skipped over. Eugenia Chan, MD, MPH, an ADHD specialist in Boston Children's Developmental Medicine Center, helped develop the tool. She hopes that teachers will also use it to provide input on a child's behavior at school.
---
Studying the outcomes of kids with ADHD
In collaboration with doctors and researchers at the Mayo Clinic,
William Barbaresi, MD
, associate chief of the
Division of Developmental Medicine
at Boston Children's, is finalizing the largest-ever population-based study of the natural history and outcomes of ADHD.
Over the course of this 15-year study, Barbaresi and his colleagues have followed approximately 700 children—more than 200 of whom were diagnosed with and treated for ADHD as kids—from early childhood through adulthood.
In an attempt to understand how ADHD affects different facets of life, the researchers have compared the lives of people who had ADHD as children to the lives of those who did not. These comparisons cover a number of areas, including:
median annual income
educational attainment (e.g., reading scores, math scores and highest level of education completed)
career paths, including the number of job changes over time
marital status
history of and treatment for substance abuse
criminal activity
other psychiatric conditions
Barbaresi and his colleagues are now analyzing the data from this landmark study.
---
Using neuroimaging to improve the diagnosis of ADHD in younger children
How does knowledge about typical variation in executive functions, and the impact of environment on the developing brain, inform clinical practice in terms of diagnosis and treatment of ADHD?
To address this question,
Margaret Sheridan, PhD
, researcher in Developmental Medicine at Boston Children's, and members of her Sheridan Laboratory are conducting a longitudinal study of very young children with ADHD to identify ways that neuroimaging can contribute to better diagnostic techniques between the ages of 3-5 years.
Learn more about research projects at Boston Children's.
Is it really ADHD? Brain activity may provide an objective measure
Last month, the American Academy of Pediatrics released new guidelines on attention-deficit hyperactivity disorder (ADHD), lowering the minimum age at which physicians should consider drug treatment from 6 years to 4 years.
But here's the problem. "Current behavioral criteria for ADHD are most effective only after age 8 or 9," says Margaret Sheridan of the Laboratories of Cognitive Neuroscience at Boston Children's Hospital. "If you use them at age 3 to 6, then you're wrong about half the time, and the child will stop meeting the criteria by age 8."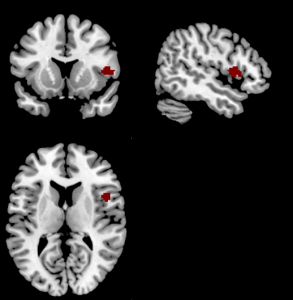 Sheridan wants to avoid these problems by finding an objective, measurable pattern of brain activity that reliably predicts ADHD in children as young as 3. Does that difference persist over time? Does it correlate with behavioral measures? Does treatment change the brain activity?
To date, she's enrolled about 40 children in a study that is measuring both EEG activity and metabolic activity on functional MRI (fMRI) scans in children 3 to 7 –both typical children and children meeting research criteria for ADHD. (The fMRI studies start at age 5, when most children can hold still in the scanner). The study will ultimately enroll 200 children (for information, and to enroll a child, call Kelly Khem at 857-218-5220 or email adhd.at.chb@gmail.com).
Clinical trials
Boston Children's is known worldwide for pioneering some of the most effective diagnostic tools, therapies and preventive approaches in pediatric medicine. A significant part of our success comes from our commitment to research—and to advancing the frontiers of health care by conducting clinical trials.
Boston Children's coordinates hundreds of clinical trials at any given time. Clinical trials are studies that may involve:
evaluating the effectiveness of a new drug therapy
testing a new diagnostic procedure or device
examining a new treatment method for a particular condition
taking a closer look at the causes and progression of specific diseases
Boston Children's is involved in several multi-site clinical trials and studies focusing on pediatric neurology, psychiatry and developmental medicine. While children must meet strict criteria in order to be eligible for a clinical trial, your child may be a candidate for participation in a study. Before considering this option, you should be sure to:
consult with your child's treating physician and treatment team
gather as much information as possible about the specific course of action outlined in the trial
do your own research about the latest breakthroughs relating to your child's condition
Taking part in a clinical trial at Boston Children's is entirely voluntary. Our team will be sure to fully address any questions you may have, and you may remove your child from any medical study at any time.
Search current and upcoming clinical trials at Boston Children's.
Search the National Institute of Health's list of clinical trials taking place around the world.