What is positron emission tomography?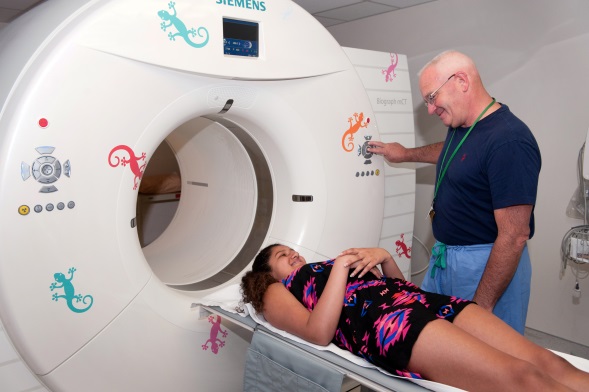 Positron emission tomography — also called a PET/CT scan — is a safe, effective and non-invasive diagnostic imaging technique that provides highly detailed images of the body.
A PET scan shows metabolic changes and physiologic uptake that may not be seen on MRI or CT scans alone.
How Boston Children's Hospital approaches a PET scan
Our Nuclear Medicine and Molecular Imaging staff are committed to providing a safe, comfortable, and child-friendly atmosphere with:
a new, state-of-the-art, hybrid PET/CT scanner which allows for shorter imaging times, and anatomic information from a low-dose CT done in conjunction with the PET scan.
specialized nuclear medicine physicians with expertise in interpreting PET/CT scans in children of all ages
certified nuclear medicine technologists with years of experience imaging children and teens
Child Life specialists to help families prior to and during exams
protocols that keep radiation exposure as low as reasonably achievable while assuring high image quality
Frequently asked questions
Positron Emission Tomography |

Programs & Services