Researcher |

Research Overview

Lab Web Site: Digital Wellness Lab

Dr. Rich aims to use interdisciplinary science to promote healthy child development by guiding their mindful use of media. He provides the latest scientific evidence, resources and tools to educate and guide child health practitioners and parents so they understand the positive and negative effects of the media children use and how they use them. He educates worldwide on how the use of media can affect a child's development, health, and behavior. In 2002, he founded the Center on Media and Child Health (CMCH), an interdisciplinary center of excellence in research, clinical interventions, and education on the effects of media on the physical, mental, and social health of children, adolescents, and young adults. It was relaunched as the Digital Wellness Lab in 2021. It's dedicated to rigorously studying the effects of media on children's development, implementing the findings to reduce risk and optimize health, and synergizing with young people's technology engagement to promote present and future well-being. For more information, see the website.

Having come to medicine after a 12-year career as a filmmaker in Hollywood and Japan, Dr. Rich employs media as a tool for understanding and actively promoting child health. With support from Hasbro Children's Hospital, Dr. Rich wrote and co-produced Relieve the Squeeze, a short film starring Danny DeVito and Nia Long, which educates adults and empowers children with asthma to take control of their disease. In 1998, the Society for Adolescent Medicine honored Dr. Rich with their New Investigator Award for the creation of Video Intervention/Prevention Assessment (VIA), a research method where adolescent and young adult patients create video narratives to describe their illness experience to their clinicians. Following the 20-year run of VIA, Dr. Rich developed and implemented the next iteration of VIA, Children's at Home, a closed, secure, clinically moderated social network that allows patients who share a condition to build community by sharing their video narratives. Funded by Hasbro, Dr. Rich is currently working on a longitudinal study looking at how children's traditional play and digital play may influence developmental outcomes using a smartphone-based methodology called Measuring Childhood Play Experiences.
Researcher |

Research Background

Dr. Rich received his MD from Harvard Medical School and his MPH degree from Harvard School of Public Health. He completed an internship, residency, and fellowship at Children's Hospital Boston. Dr. Rich is a Fellow of the American Academy of Pediatrics and the Society for Adolescent Medicine and is board certified in Pediatrics and Adolescent Medicine
Researcher |

Media

BCH Podcast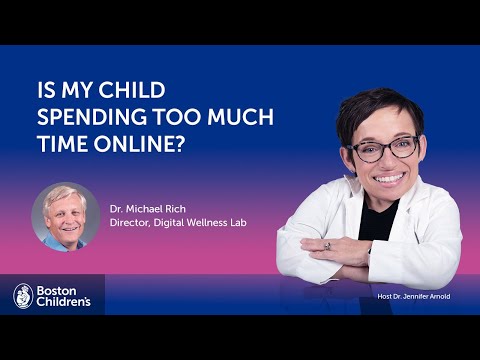 Dr. Michael Rich is featured on Episode 2: Is my child spending too much time online?
Researcher |

Publications