Our Critical Care Transport Program coordinates and provides transport services for your critically ill or injured child to Boston Children's Hospital. The transport team is responsible for the resuscitation, stabilization, and inter-hospital transfer of patients ranging from preterm infants to young adults. Our team operates 24 hours a day and serves all critical care areas in the institution, including the Neonatal ICU, Cardiac ICU, Medical/Surgical ICU, Medicine ICU, and the Department of Emergency Medicine.
Critical Care Transport Program expertise
The Critical Care Transport Team is comprised of two registered nurses and a paramedic or EMT.
We are trained in skills such as airway management, obtaining arterial and venous access, chest tube insertion, and pleural decompression.
We are one of the few Critical Care Transport Teams in New England who initiate and transport patients requiring Nitric Oxide (NO).
We are one of six programs in the northeast that is accredited by the Commission of Medical Transport Services (CAMTS).
Boston Children's welcomes crew members from our vendor air provider, Boston MedFlight, to our facility to achieve and maintain their pediatric airway skills in addition to providing frequent ride-a-longs with our team in order to gain pediatric and neonatal transport experience.
Goals and regional leadership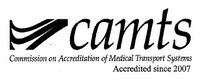 The primary goal of the Boston Children's Transport Program is to improve outcomes for critically ill neonatal and pediatric patients who require transport to our facility. We strive for the continuous professional advancement of our team through advanced staff education, peer review, quality improvement, and safety. We play a leadership role in improving the quality of acute neonatal and pediatric care in the region through outreach education and support of community programs.
red circle: regular ground service
green square: ground and air service area
Did you know? Critical transport goes above and beyond!
30+ employees are part of the Critical Care Transport Team
940 patients are transported to Boston Children's each year by the Transport Team
100 calls a day come into the Emergency Communications Center for emergency referrals to Boston Children's
36 percent of patients transported are under two weeks old
$350,000 is the average cost of a pediatric-neonatal ambulance similar to Boston Children's