Cardiovascular Genetics Program |

Overview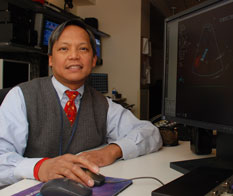 The Cardiovascular Genetics Clinic at the Boston Children's Hospital Benderson Family Heart Center, part of the #1-ranked children's hospital, was one of the first of its kind. Created in 1991 by Ronald Lacro, MD, a pediatric cardiologist and clinical geneticist, the clinic has expanded to its current core staff of eight professionals, including pediatric and adult cardiologists, clinical geneticists, a genetic counselor, a nurse practitioner, and a nurse.
This is a multidisciplinary clinic that provides carefully coordinated multi-specialty care, serving the multiple needs of individuals and families with a variety of cardiac and genetic conditions. In addition to a full staff of cardiologists and geneticists, we partner with a network of other subspecialists, including but not limited to general surgeons, ophthalmologists, orthopedic surgeons, behavioral pediatricians, educational specialists, and mental health providers.
The Cardiovascular Genetics Program provides innovative clinical care, education, and research. Patients and families have access to the latest diagnostic modalities and innovative therapies in cardiology, genetics, and related subspecialties. Educational opportunities are available for medical trainees as well as patients and families.
The clinic provides family focused care, addressing the full range of cardiac and genetic services, from the prenatal period to adulthood.