Steven J. Fishman |

Medical Services
Programs & Services
Steven J. Fishman |

Education

Medical School

Northwestern University Medical School

1986, Chicago, IL

Internship

Hospital of University of Pennsylvania

1987, Philadelphia, PA

Residency

Hospital of University of Pennsylvania

1992, Philadelphia, PA

Fellowship

Surgery

University of Pennsylvania School of Medicine

1990, Philadelphia, PA

Fellowship

Pediatric Surgery

Boston Children's Hospital

1994, Boston, MA
Steven J. Fishman |

Certifications
American Board of Surgery (General)
American Board of Surgery (Pediatric Surgery)
Steven J. Fishman |

Professional History

Steven J. Fishman, M.D. is Professor of Surgery at Harvard Medical School and the Stuart and Jane Weitzman Family Chair in Surgery at Boston Children's Hospital. He obtained his B.S. and M.D. degrees at Northwestern University and completed his training in General Surgery at the University of Pennsylvania and in Pediatric Surgery at Boston Children's Hospital. He is active in the practice and teaching of the broad spectrum of Pediatric Surgery, with particular clinical and research focus in the area of Vascular Anomalies. He is Co-Director of the Vascular Anomalies Center at Boston Children's Hospital. This multidisciplinary group evaluates approximately 1700 patients annually with hemangiomas, rare vascular tumors and vascular malformations of all types. He is President of the International Society for the Study of Vascular Anomalies. Dr. Fishman created and hosts an international registry of hepatic hemangiomas. He has authored over 175 scientific publication and chapters and two books, including a recent comprehensive reference work on Vascular Anomalies with Drs. John Mulliken and Patricia Burrows. He is an Editorial Consultant for the Journal of Pediatric Surgery and on the Editorial Board of the Journal of Pediatric Surgery Case Reports. He has chaired the Publications Committee of the Surgical Section of the AAP. Dr. Fishman frequently serves as visiting professor and speaker nationally and internationally. In addition, he advises several patient/family-oriented support groups and frequently participates in their gatherings and clinics. At Boston Children's, Dr. Fishman serves in many leadership roles including as President of the Physician's Organization, a member of the Board of Trustees and the Hospital Executive Committee and as Vice-Chair of Surgery for Clinical Operations.

Dr. Fishman has a particular focus on developing an understanding and approach to visceral vascular anomalies. Though these anomalies are extremely rare, an international referral practice has facilitated the recognition of patterns in clinical presentation and opportunities for treatment. He has focused on developing evaluation and intervention techniques including innovative operative procedures for the treatment of visceral vascular anomalies. The utility of a modified endorectal pull-through technique for the treatment of colorectal venous malformations has been demonstrated. A surgical technique to eradicate gastrointestinal bleeding in the Blue Rubber Bleb Nevus Syndrome has been developed and proven successful. Dr. Fishman has extensive experience with resecting, debulking and reconstructing vascular malformations and associated overgrown tissues of the torso, genitalia, neck and extremities. In addition, the role of dynamic contrast lymphangiography of the thoracic duct has allowed for novel treatments and reconstruction of thoracic duct anomalies. Recognizing the limitations of surgical techniques, he is also focusing on understanding the biologic mechanisms involved in the development and progression of these lesions.
Steven J. Fishman |

Media

Caregiver Profile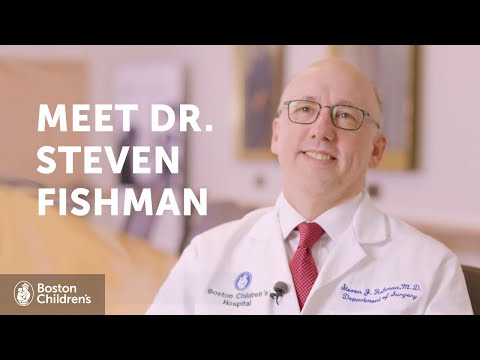 Meet Dr. Steven J. Fishman
Steven J. Fishman |

Publications