Allison O'Neill |

Medical Services
Specialties
Programs & Services
Allison O'Neill |

Education

Medical School

Albert Einstein College of Medicine

2005, Bronx, NY, US

Internship

Boston Children's Hospital/Boston Medical Center

2006, Boston, MA, US

Residency

Pediatrics

Boston Children's Hospital/Boston Medical Center

Boston, MA, US

Fellowship

Pediatric Hematology-Oncology

Dana-Farber Cancer Institute

2011, Boston, MA, US
Allison O'Neill |

Certifications
American Board of Pediatrics (General)
American Board of Pediatrics (Hematology-Oncology)
Allison O'Neill |

Professional History

I am a Pediatric Oncology physician-scientist with an interest in translational research and a growing expertise in the care of pediatric solid tumor patients. I have followed a unique path, focused initially on the use of imaging to enhance diagnostics and therapeutics in pediatric solid tumor patients, now with an increasing interest in the Ewing sarcoma cell surfaceome and immune environment. My prior work generating a targeted imaging probe to more sensitively and specifically diagnose Ewing sarcoma micro-metastases inspired a growing interest in targeted immunotherapeutics. My subsequent training in cancer immunology, including but not limited to antibody humanization, characterization, and engineering, has generated the skills necessary to pursue novel immunotherapeutics for pediatric patients. In concert with my preclinical training, I have focused on developing clinical solid tumor expertise, recognizing my career goals of becoming a leader in the care of solid tumor patients with a focus on translational research and innovation.

I lead the Dana-Farber/Boston Children's pediatric Liver Tumor Center, working closely with surgeons, interventional radiologists, and preclinical researchers to bring innovative care to patients with all types of primary liver tumors. I serve as Chair of the Children's Oncology Group Liver Tumor Committee and work closely with international colleagues affiliated with the Paediatric Hepatic International Tumour Trial (PHITT) and SIOP Liver Tumor Working Group. My unique split between patient care and research has allowed an opportunity to develop and refine skills in teaching medical students, residents and fellows; training laboratory technicians and post-doctoral fellows; and counseling trainees regarding the intricacies relevant to a career in translational research. With continued support from a multidisciplinary team, I hope to bring the power of cancer imaging and immunotherapy to bear on the diagnosis and treatment of pediatric solid tumor patients.
Allison O'Neill |

Media

Caregiver Profile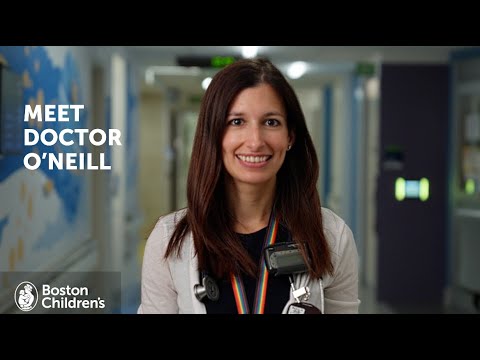 Meet Dr. Allison O'Neill
Allison O'Neill |

Publications