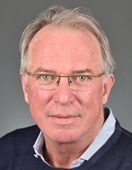 Hidde Ploegh (born in the Netherlands) is an immunologist at Boston Children's Hospital. He is well-known for his contributions in understanding antigen processing and the evasion of the immune system by viruses.
Ploegh received a Bachelor of Science degree in 1975, and a Master of Science degree in biology and chemistry in 1977, from the University of Groningen. Having worked for six months in Jack Strominger's lab at that time, he was able to continue his PhD studies under Strominger and received a doctorate from the University of Leiden. Ploegh then proceeded with several positions at a number of institutions such as the University of Cologne, the Netherlands Cancer Institute, Utrecht University (2012-15), Harvard Medical School, and the Whitehead Institute. In 1986 Ploegh became a member of EMBO. In 1997, Hidde Ploegh became a correspondent of the Royal Netherlands Academy of Arts and Sciences and was elected to the National Academy of Sciences in 2016.
Much of the research in the Ploegh lab is in the fields of biochemistry and immunology, which started with a specific focus on the unraveling the mechanisms by which MHC molecules interact with antigens inside a cell. Later, while at the Whitehead Institute, the Ploegh lab began using a technique called 'sortagging' to look at the pathways through which viruses are able to avoid detection by the immune system. Ploegh has been involved in further developing therapeutic roles for sortagging. Additionally, the Ploegh lab now focuses on utilizing 'nanobodies,' derived from the antibodies of alpacas. Much of the research currently done in the lab uses these nanobodies for fundamental research and therapeutic applications.