Research Projects | Overview
Role of Wnt2b in intestinal development
We have characterized human Wnt2b deficiency, which features severe neonatal onset diarrheal disease and dysregulation of the intestinal and colonic epithelium. This project seeks to determine why Wnt2b is important for human intestinal health, using both mouse models and human intestinal organoids.
Understanding intestinal maturation
The intestine undergoes several prominent changes (development of Paneth cells, appearance of crypts, and prominence of Lgr5+ conventional intestinal stem cells) during postnatal week one in mice and around prenatal week 30 in humans. We are very interested in better characterizing the normal sequence of events that occur in these times periods in mice and humans. Human premature infants born around 30 weeks are susceptible to the intestinal disease necrotizing enterocolitis (NEC), and we think improving our understanding of the normal developmental transitions may give insight into why NEC happens. Secondly, some groups have shown that certain intestinal helminthic infections in mature mice can cause a reversion of the intestine to more fetal like stem cells than can then help in injury recovery and repair. We are interested in the normal transitions from fetal to mature stem cells and how this process might have potential importance in intestinal therapeutic approaches for many diseases.
Mouse enteroids
ORP5 deficiency
We have identified a human premature patient who had evidence of T cell dysfunction and developed severe NEC and have shown that a lipid transport protein called ORP5 was absent. ORP5 is important for CD4 T cell proliferation and we also found it is highly expressed in the intestinal epithelium. We seek to understand the role of ORP5 in both immune function and intestinal health.
Creating a model system for studying development of the intestinal immune system
The lab is interested in creating an iPS-derived organoid model to understand how tissue resident immune cells arise in the intestine. The system would have many applications for studying intestinal diseases and genetic disorders.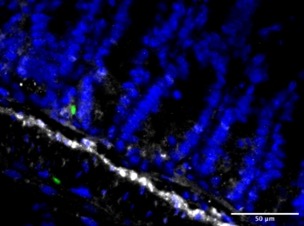 Stromal cell staining

Intestinal stromal cells