Former Lab Members |

Overview
Lingyan Jia, Ph.D., Post-doctoral Research Fellow, 2007-2011
Lingyun (Ling) did her undergraduate studies at Wuhan University, China, majoring in developmental biology.
After obtaining her M.S. with honors from Shanghai Institute of Physiology in 1999, she earned her Ph.D. from the Department of Molecular Genetics, Albert Einstein College of Medicine, New York. Her thesis concerned the behaviors and the development of sensory neuron axons using the nematode model system.
In 2007, Ling joined the Engle group to investigate the role of the developmentally regulated kinesin, Kif21a, in neuronal maturation and axon guidance, with the goal of contributing to basic neuroscience as well as to the understanding the perturbations of cranial nerve outgrowth that occur in individuals with CFEOM1 caused by KIF21A mutations. An expert microscopist and neuroembryologist, Ling uses a variety of explant culture systems as well as age-specific whole mount assays of a Kif21a hypomorphic mouse model to evaluate axonal outgrowth. She recently added ultrastructural analysis to her repertoire of skills.
Publications from prior labs:
Kleemann G, Jia L, Emmons SW. Regulation of Caenorhabditis elegans male mate searching behavior by the nuclear receptor DAF-12. Genetics. 2008; 180(4):2111-22.

Jia L, Emmons SW. Genes that control ray sensory neuron axon development in the Caenorhabditis elegans male. Genetics. 2006;173(3):1241-58.

Lints R, Jia L, Kim K, Li C, Emmons SW Axial patterning of C. elegan male sensilla identities by selector genes. Dev Biol. 2004; 204(1): 137-151.

Jia L, Xie HF, Ji YH Characterization of four distinct monoclonal antibodies specific to BmK AS-1, a novel scorpion bioactive polypeptide. Toxicon, 2000; 38(5): 605—17.

Jia L, Ji YH Subtypes and functions of voltage-gated sodium channels. The processes in physiological science. 1999; 30(2): 107—112.

Jia LY, Zhang JW, Ji YH Biosensor binding of BmK AS-1, a novel Na+ channel-blocking scorpion ligand on rat brain synaptosomes. Neuroreport. 1999; 10(16): 3359-62
Carrie Pierce, B.A., Research Study Assistant. 2009-2011
Carrie joined the Engle lab in August 2009. She earned her B.A. from New York University in 2006. As a Research Study Assistant, she contacted and enrolled English- and Spanish-speaking study participants, updated the study database as needed and aided in the management of blood and saliva samples.

Chong (Carrie) Wu, B.A., Research Assistant, 2009-2011
Carrie was a Research Assistant who joined the Engle Lab in June 2009, the same year she received a B.A. in Psychology from Wellesley College. Throughout her undergraduate summers, she has worked in the Pathology Department at Harvard Medical School on elucidating the functions of Brd4.
Currently, in the Engle Lab, Carrie is responsible for the genotyping of embryos, and working with Michelle Delisle in care of the mice colony. In addition, she is worked with Dr. Long Cheng on the KIF21A project.
Publications: 
You J, Li Q, Wu C, Kim J, Ottinger M, Howley PM. Regulation of aurora B xpression by the bromodomain protein Brd4. Mol Cell Biol. 2009 ; 29(18):5094-103. PMCID: PMC2738288.

Sarah Wichland, B.S., Research Study Assistant, 2009-2010
Sarah obtained her B.S. in Health Science from Northeastern University in Boston in 2009 and joined the Engle Lab that August as a Research Study Assistant. She provides both clinical and laboratory assistance, enrolling and consenting study participants and their families, entering data into the research database, and processing blood and saliva sample specimens.

Nisha Mukherjee, B.A., HHMI Research Training Fellow, 2009-2010
Nisha is a medical student at Duke University who joined the Engle lab in August 2009 to do translational neuroscience research for a year.
Nisha graduated summa cum laude from the University of Pennsylvania in 2007, majoring in Biology. She gained extensive and varied research experience while an undergraduate, working every summer in a different lab.
With Dr. Engle as her mentor, Nisha was awarded an HHMI Research Training Fellowship for Medical Students to work toward identification of the yet unknown congenital ptosis disease gene, and to analyze congenital ptosis pedigrees and sporadic individuals for disease-causing mutations. The lab has a large and increasing collection of such DNA from such pedigrees and has mapped one isolated congenital ptosis locus to chromosome 1. Nisha's computer and medical science knowledge made her a valuable member of the clinical genetics program in the Engle lab. She worked closely with a neonatology fellow from Children's Hospital, Dr. Tyler Hartman. Nisha has returned to Duke to finish her last year as a medical student.
Publications:
Linguraru MG, Orandi BJ, Van Uitert RL, Mukherjee N, Summers RM, Gladwin MT, Machado RF, Wood BJ. CT and image processing non-invasive indicators of sickle cell secondary pulmonary hypertension. Conf Proc IEEE Eng Med Biol Soc. 2008;2008:859-62.

Martin LM, Halpin LS, Barnett SD, Speir AM, Hunt SL, Mukherjee N, Ad N. The association between early outcome, health-related quality of life, and survival following elective open-heart surgery. J Cardiovasc Nurs. 2008;23(5):432-42.  

Tyler Hartman, M.D., Neonatology Fellow, 2009-2010
Tyler Hartman received his B.S. from Furman University in South Carolina and earned his M.D. in 2004 from Kigezi School of Medicine, in Uganda. While a resident in pediatrics at the Mayo School of Graduate Medicine, he did research on hypoxic ischemic encephalopathy and on inflammatory markers for rapid diagnosis of sepsis, funded by two Young Investigator Awards.
He was a Newborn Medicine Fellow in the neonatal intensive care unit at Boston Children's Hospital and other Boston hospitals from 2007-2010. In the summer of 2009, he joined the Engle lab to aid in the identification of the genetic causes of congenital ptosis. He joined the staff of Tufts Medical School in 2010.
Publications:
Johnson J, Hartman T, Colby C. Developmental and genetic outcomes in children conceived through assisted reproductive technologies. Neoreviews. 2006; 12:645-626.

Hartman T, Johnson J, Fischer P. Commercial air travel by prematurely born infants. Trav Med Ad. 2006; 16 68-70.

Hartman T, Wegenack T, Poduslo J, Van Deursen J. Mutant mice with small amounts of BubR1 display accelerated age-related gliosis Neuobiol Aging. 2007; 28(6):921-927.

Lang T, Hartman T, Colby C, Hintz S. Hypothermia for the treatment of neonatal ischemic encephalopathy: is the genie out of the bottle? Am J Perinatol. 2007; 24(1):27-31.

Johnson J, Hartman T, Krych E, Seferian E, Ouellette, Y. Tracheomalacia in siblings with otopalatodigital syndrome. Am J Med Genet A. 2008; 146A(10):1347-1349.

Johnson J, Hartman T, Pianosi P, Driscoll D. Cardiorespiratory function after operation for pectus excavatum. J Pediatr. 2008: 153(3):359-364.

Johnson J, Hartman T, Barbaresi W, Raffel C, Colby C. Developmental outcome for neonatal dural arteriovenous fistula. J Neuro Pediatr. 2009; 3(2):105-109.

Keifer A, Wickremasinghe A, Johnson J, Hartman T, Hintz S, Carey W, Colby C. Medical management of extremely low-birth-weight infants in the first week of life: a survey of practices in the United States. AM J Perinatol. 2009; 26(6):407-418.
Maureen Price, Ph.D., 2009-2010
Maureen was a member of the Engle lab for about a year. She assisted in preparing 2 NIH grant applications, progress reports and other grant-related materials. She performed a morphometric analysis of WT/WT versus kif21a KO/KO cultured motor neurons which gave insight into the role of kif21a in axon extension and branching. She has extensive research experience in neuroscience and in the cytoskeleton using a broad range of techniques.
She received her Ph.D. in Cell and Developmental Biology from University of Pennsylvania in 1980, where she was one of the first to demonstrate an intermediate filament cytoskeleton in striated muscle, using biochemical and electron microscopic methods. At UCLA and Rice University, she discovered a novel transcript for myomesin and characterized some of its properties.
While an Instructor at Baylor College of Medicine, she discovered the mouse and human genes for a striated muscle myosin chaperone, and characterized the protein's properties by cell and molecular biological methods. She aided in demonstrating that gamma subunits of voltage-gated calcium channels have adhesive properties similar to those of their protein relatives, the claudins, implying a potential structural role at the synapse. She spearheaded the production and characterization of a mouse model for an X-linked infantile spasms syndrome, a triplet repeat expansion in the ARX transcription factor gene, that successfully recapitulates much of the phenotype of the pediatric disorder.
Selected Publications
Price MG, Landsverk ML, Barral JM, Epstein HF. Two mammalian UNC-45 isoforms are related to distinct cytoskeletal and muscle-specific functions. J Cell Sci 2002; 115:4013-4023.

Price MG, Davis CF, Deng F, Burgess DL. The α-amino-3-hydroxyl-5-methyl-4-isoxazolepropionate receptor trafficking regulator stargazin is related to the claudin family of proteins by its ability to mediate cell-cell adhesion. J Biol Chem 2005; 280:19711-19720.

Deng F, Price MG, Davis CF, Mori M, Burgess DL. Stargazin and other transmembrane AMPA-receptor regulating proteins (TARPs) interact with the synaptic scaffolding protein MAGI-2 in brain. J Neurosci 2006; 26:7875-7884.

Reddy KB, Fox JEB, Price MG, Kulkarni S, Gupta S, Das B, Smith DM. Nuclear localization of myomesin-1: possible functions. J Muscle Res and Cell Motility 2008; 29:1-8.

Price MG, Yoo JW, Burgess DL, Deng F, Hrachovy RA, Frost JD, Jr, Noebels JL. A triplet repeat expansion genetic mouse model of infantile spasms syndrome, Arx (GCG)10+7, with interneuronopathy, spasms in infancy, persistent seizures, and adult cognitive and behavioral impairment. J Neurosci 2009; 29: 8752-8763.
Max Tischfield, Ph.D., 2004-2009
Max Tischfield joined the Engle lab in March of 2004 as a graduate student in the department of neuroscience at Harvard Medical School. Max had earned his B.A. in Cell Biology and Neuroscience from Rutgers University, where he was a Henry Rutgers Scholar doing 3 years of honors research on the development of the dorsal CNS and cerebellum under the guidance of Dr. James Millonig.
In the Engle lab, Max investigated the genotype/phenotype correlations of HOXA1 mutations and then did a broad-based, thorough study of TUBB3 mutations that cause a spectrum of CFEOM 3 disorders of axon guidance and maintenance. He became a post-doctoral research fellow in the lab of Dr. Jeremy Nathans at Johns Hopkins University School of Medicine in January 2010, in order to further study neuronal development.
Publications-Original reports:
Tischfield MA, Bosley TM, Salih MA, Alorainy IA, Sener EC, Nester MJ, Oystreck DT, Chan WM, Andrews C, Erickson RP, Engle EC. Homozygous HOXA1 mutations disrupt human brainstem, inner ear, cardiovascular and cognitive development. Nat Genet. 2005; 37(10):1035-1037.

Tischfield MA, Chan W-M, Grunert J-F, Andrews C, Engle EC. HOXA1 mutations are not a common cause of Duane Anomaly. American Journal of Medical Genetics A. 2006 140(8):900-902. PMCID: PMC2553396

Bosley TM, Salih MA, Alorainy IA, Oystreck DT, Nester M, Abu-Amero KK, Tischfield M, Engle EC. Clinical characterization of the HOXA1 syndrome BSAS variant. Neurology, 2007;69(12):1245-53.

Bosley TM, Alorainy IA, Salih MA, Aldhalaan HM, Abu-Amero KK, Oystreck DT, Tischfield MA, Engle EC, Erickson RP. The clinical spectrum of homozygous HOXA1 mutations. American Journal of Medical Genetics A 2008; 146(10):1235-40.

Tischfield MA, Baris HN, Wu C, Rudolph G, Van Maldergem L, He W, Chan W-M, Andrews C, Demer JL, Robertson RL, Mackey DA, Ruddle JB, Bird TD, Gottlob I, Pieh C, Traboulsi EI, Pomeroy SL, Hunter DG, Soul JS, Newlin A, Sabol LJ, Doherty EJ, de Uzcategui CE, De Uzcategui N, Collins ML, Sener EC, Wabbels, B, Hellebrand H, Meitinger T, de Berandinis T, Magli A, Schiavi, C, Pastore-Trossello M, Koc F, Wong AM, Levin AV, Geraghty MT, Descartes M, Flaherty MP, Jamieson RV, Moller HU, Meuthen I, Callen DF, Kerwin J, Lindsay S, Meindl A, Gupta ML Jr, Pellman D, Engle EC. Human TUBB3 mutations perturb microtubule dynamics, kinesin interactions, and axon guidance. Cell. 2010; 140: 74-87.

Demer JL, Clark R, Tischfield MA, Engle EC. Magnetic resonance imaging evidence of an asymmetrical endophenotype in Congenital Fibrosis of Extraocular Muscles Type 3 resulting from TUBB3 mutations. Invest Ophthalmol Vis Sci. 2010 Apr 14.
Chapters, Reviews:
Tischfield MA, Engle EC. HOXA1 and the Bosley-Salih-Alorhainy and Athabascan Brainstem Dysgenesis Syndromes. Book Chapter to appear in "Inborns Errors of Development, 2nd edition", C J Epstein, R P Erickson, A Wynshaw-Boris, Eds., Oxford University Press, 2008.

Tischfield MA, Engle EC. Distinct alpha- and beta-tubulin isotypes are required for the positioning, differentiation and survival of neurons: newsupport for the 'multi-tubulin' hypothesis. Biosci Rep. 2010 Apr 15; 30(5):319-330.
Contact Information:
Dr. Max Tischfield
Department of Molecular Biology and Genetics Johns Hopkins University School of Medicine 725 North Wolfe St. Baltimore, MD 21205

Jigar Desai, Ph.D. (2005-2010)
Jigar Desai joined the Engle Lab as a postdoctoral fellow to work on the Kif21a project, as part of a larger team that aims to understand the molecular and cellular etiology of CFEOM1, a human congenital ocular dysmotility disorder that results from certain cranial nerves that should innervate eye muscles. He received his Ph.D. in 2005 from Rutgers University, where he identified and studied a previously uncharacterized orphan G protein coupled receptor.
Subsequent to this work, he also characterized phenotypes associated with mutations in this receptor in the developing eye and spinal cord. Additionally, in collaboration with Bev Paigen's group at The Jackson Laboratory, Jigar and colleagues mapped 5 QTL that modify neural tubes and lens defects. In 2010, he joined the specialty pharmaceutical company Allergan.
Teaching Experience:
Adjunct Professor of Biology, Kean University, Elizabeth, NJ
Publications-Original Reports:
*Co-first authors
Matteson PG*, Desai J*, Korstanje R, Lazar G, Borsuk TE, Rollins J, Kadambi S, Joseph J, Rahman T, Wink J, Benayed R, Paigen B, Millonig JH. The orphan G protein-coupled receptor, Gpr161, encodes the vacuolated lens locus and controls neurulation and lens development. Proc Natl Acad Sci U S A. 2008 Feb 12;105(6):2088-93.

Korstanje R*, Desai J*, Lazar G, King B, Rollins J, Spurr M, Joseph J, Kadambi S, Li Y, Cherry A, Matteson PG, Paigen B, Millonig JH. Quantitative trait loci affecting phenotypic variation in the vacuolated lens mouse mutant, a multigenic mouse model of neural tube defects. Physiol Genomics. 2008 Nov 12;35(3):296-304.
Clinical Reports:
Andrews C, Engle E, Desai J, Hunter D (updated September 2006) Congenital Fibrosis of the Extraocular Muscles in: GeneReviews at GeneTests: Medical Genetics Information Resource [database online]. Copyright, University of Washington, Seattle. 1997-2006. Available at http://www.genetests.org.  
Wei He, B.A. (2005-2009)
Wei came to our lab in 2005 as a part-time lab assistant when she was a Harvard University sophomore, becoming an expert at PCR and genotyping. She did her undergraduate honors thesis student in the lab, then worked as a technician for a year, doing a variety of studies on the neuronal microtubule cytoskeleton as it pertains to human axon guidance disorders. She is a co-author on a CHN1 and a TUBB3 publication. She is currently a medical student at Mt. Sinai Medical School in New York (2009-). 
Noriko Miyake, M.D., Ph.D. (2005-2008)
Noriko joined the Engle lab as a postdoctoral research fellow in 2005. She obtained her M.D. from The Nagasaki University School of Medicine in 1999. Following 3 years of clinical work, specializing in pediatrics, Noriko was a graduate student at the Nagasaki University Graduate School of Biomedical Sciences from April 2002-March 2005, working under the supervision of Profs. Noriko Niikawa and Hiroyuki Moriuchi. Her research examined the genetic basis of congenital abnormalities that include Kabuki make-up syndrome, Sotos syndrome and mental retardation.
In the Engle lab, Noriko used linkage and mutational analysis to discover that mutations in CHN1 cause a subset of Duane's retraction syndrome, and are not a cause of sporadic Duane's retraction syndrome. She also narrowed down the locus associated with congenital ptosis. Returning to Japan in 2008 as an Assistant Professor in the Department of Human Genetics, Yokohama City University Graduate School of Medicine, she maintains a collaboration with the Engle lab.

Hagit Baris, M.D. (2004-2006)
Hagit Baris, M.D. joined the Engle lab as a Clinical Genetics Fellow in September 2004. She received her M.D. from Tel Aviv University in 1998, did a year's internship and then was a resident in pediatrics at Sapir Medical Center for 4 years, a year of which time she was also a Fellow and Researcher in Genetics at the medical center. Hagit was a Clinical Fellow in Medicine at Brigham and Women's Hospital Boston from 2003–2004.
As a member of the Engle lab, she was awarded a Kirschstein−NRSA Individual Fellowship Grant to work on cloning the gene responsible for CFEOM3 3. In addition, she did research toward identifying the location of the Duane Syndrome DURS1 gene that maps to the q arm of chromosome 8. Back in Israel, she is a Medical Geneticist at The Raphael Recanati Genetic Institute, Rabin Medical Center, Beilinson Hospital, Petach-Tikva. She continues to collaborate with the Engle lab.
Man Hung (Emily) Lee (2004-2006)
Emily joined us in the Summer of 2004 as a Research Assistant. She worked part time in the Engle lab, assisting Caroline and Jo with organization of our DNA stocks and database entry.
Maria Pia Rogines Velo-Sardi, M.D, Ph.D. (2004-2006)
Pia joined the Engle lab as a postdoctoral research fellow. She attended University of Buenos Aires School of Medicine, obtaining her M.D. in 1999, and her Ph.D. in Pharmacology in 2004. Her thesis research, "Characterization of the serotonergic receptors in human umbilical vein" was supervised by Prof. R.P. Rothlin.
While in the Engle lab, she was awarded a Pediatric Ophthalmology Research Grant from the Knights Templar Eye Foundation to study the human expression of the CFEOM1 and CFEOM2 disease genes, KIF21A and PHOX2A. She is currently a psychiatry resident. Publications are pending.
Jann-Frederik Grunert, M.D. (2005)
Jann joined the lab from August-September 2005 as a fifth year medical student from the Witten/Herdecke University (Germany) and Maastricht University (The Netherlands). He performed mutation screening on a candidate gene in the DURS1 region using dHPLC and sequence analysis. He was also involved in the verification of nucleotide changes in the PHOX2A gene.
After returning to Germany, he finished his medical studies and worked as a doctoral fellow at the Department of Human Genetics at the University of Duisburg-Essen (Germany).
Carlos Miranda, Ph.D. (2002-2005)
Carlos obtained a Masters degree in Human Molecular Genetics (Porto University, Portugal) and then in 1998 went to Montreal, Canada, to undertake a Ph.D. program. As a postdoctoral research fellow in the Engle lab, Carlos was responsible for developing molecular biology tools to study CFEOM1. Carlos and his family moved to Columbus, Ohio in August 2005 where he undertook a second post-doctoral fellowship.
Koki Yamada, M.D., Ph.D. (2001-2004)
Koki Yamada joined the Engle lab as a postdoctoral research fellow in July 2001. Whilst in the Engle lab, Koki identified the gene KIF21A as being causative in CFEOM1 and began work on a yeast two-hybrid assay to examine proteins that interact with the KIF21A protein. He returned to Japan in 2004 to take up the position of Assistant Professor at Nagasaki University.

Krystal Law (2001-2004)
Krystal Law joined the Engle lab in the summer of 2001 during her undergraduate studies at Harvard. She conducted a genome-wide screen to map the genetic location of a new congenital fibrosis syndrome in her first two summers.
In 2003 and 2004 Krystal chose to undertake her final year undergraduate thesis work in the Engle Lab and screened several candidate genes by sequencing within the DURS2 locus on Chromosome 2, where one of the disease genes associated with Duane syndrome is positioned.
Cynthia St. Hilaire (2001-2003)
Cynthia St. Hilaire came to the Engle lab as a Research Technician in June 2001, just after graduating from the University of Vermont with a degree in Molecular Genetics. Cindy spent two years in the Engle lab and assisted in identification of the first Duane syndrome gene, SALL4 (mutated in Duane syndrome with radial ray anomalies). Following identification of this gene, Cindy took over Derek's work identifying the congenital ptosis (PTOS1) gene. Cindy entered a Ph.D. program at Boston University.
Derek Southwell (2001-2002)
Derek spent a year in the lab working as a Research Technician following completion of his undergraduate studies at MIT. He spent his time in the lab screening candidate genes within the PTOS1 region on chromosome 1 in an attempt to identify this congenital ptosis disease gene. Derek went on to undertake a combined M.D.-Ph.D. program.
Jennifer Fain (2000-2001)
Jennifer spent a year in the laboratory as a research technician. She performed linkage analysis studies of new families and sequence analysis of candidate CFEOM1 genes. Jennifer then became a medical student at Yale University.
Raidah Al-Baradie, M.D (2000-2001)
Following the completion of her training in Child Neurology at Children's, Raidah spent a year in the lab as a postdoctoral research fellow. She conducted a genome-wide screen to identify the genetic locus for a variant of Duane syndrome and following on from this work, SALL4 was identified as disease causing Okihiro syndrome (Duane syndrome with radial ray anomalies). She has now returned to Saudi Arabia and works at the King Fahad Hospital as an Assistant Professor in Pediatric Neurology and Epilepsy.
Motoi Nakano, M.D., Ph. D. (1998-2001)
Motoi is a geneticist and plastic surgeon, and spent three years in the lab as a Postdoctoral Fellow. Motoi constructed the BAC map of the CFEOM2 disease gene region on chromosome 11 and then went on to identify the CFEOM2 disease gene, ARIX. His work represents the first monogenic strabismus gene to be identified, as well as the first of the congenital fibrosis genes identified. Motoi is now working at the Oita Nakamura Hospital in Japan.
Nathalie McIntosh (1999-2001)
Nathalie spent two years as the lab's genetic counselor. She coordinated all of our family studies and correspondence with study participants and collaborators. Nathalie is now co-director of the Brandeis University Genetic Counseling Program. 

Bjorn A. Lee, A.B. (1998-2000)
Bjorn spent two years as a technician in the lab following his graduation from Bowdoin College. He did the lab's linkage analysis as well as physical mapping and developing new markers within the CFEOM1 locus. Bjorn then went to the University of Pennsylvania to study veterinary science and is now working as a small animal Veterinarian in Camden, Maine.
Carrie Decato (1998)
Carrie was an undergraduate volunteer in the Engle lab during the summer between her junior and senior years at Middlebury College in Middlebury, Vermont. She is now a student at the College of Osteopathic Medicine, University of Health Sciences, Kansas City, MO.
Sarah Ferrari (1997)
Sarah volunteered in the Engle lab during the summer between her junior and senior years at Syracuse University in Syracuse, New York.
Margaret Macy (1996-1998)
Meg spent time as both a volunteer and as a technician in the Engle lab. She volunteered during the summer between her junior and senior years at Middlebury College. She then returned after graduation to work for a year as a technician. She worked primarily on the genetic refinement of the congenital ptosis locus. She then studied medicine at Case Western Reserve in Cleveland, Ohio. 
Susan M. Wang (1996-1998)
Susan spent two years as a technician in the lab following her graduation from Connecticut College in New London, Connecticut. She worked primarily on CFEOM2, and mapped this disorder to the FEOM2 locus on chromosome 11. She is now an osteopathic medical student at NYCOM on Long Island, New York.
Adrian Castro (1995-1996)
Adrian mapped the congenital ptosis gene to the PTOS1 locus on chromosome 1 as an undergraduate research project in the lab during his senior year at Harvard University.
Following graduation, he worked as a Biology and Advanced Placement biology high school teacher at John Muir High School in Pasadena, California.
He worked for 2 years doing adoptive T-cell immunotherapy research with Dr. Laurence Cooper at City of Hope in Duarte. He has just (2004) begun his first year at USC Keck School of Medicine and hopes to specialize in pediatrics.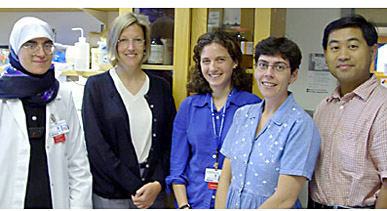 2000-2001 group picture of the Engle lab, with (left to right) Raidah, Elizabeth, Jennifer, Nathalie, and Motoi.