Rosamund Stone Zander Translational Neuroscience Center (RSZ TNC) Research |

Overview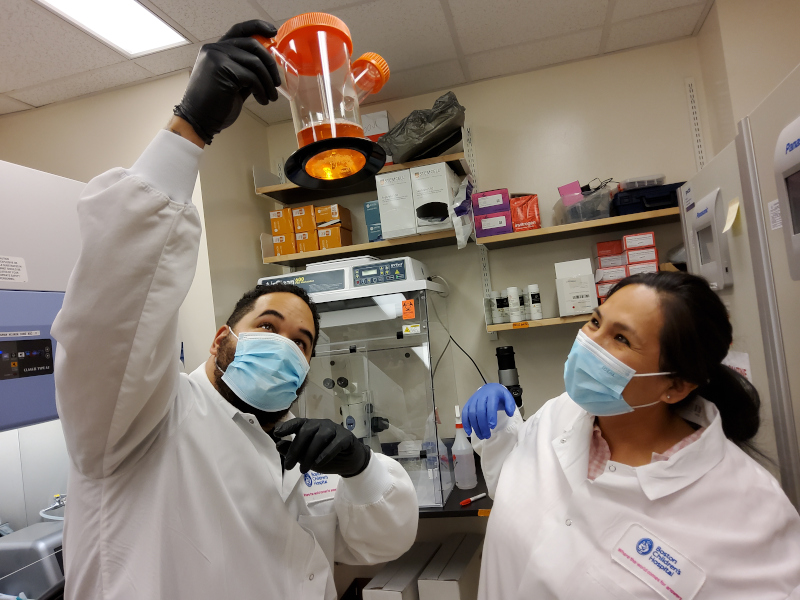 The Rosamund Stone Zander Translational Neuroscience Center (RSZ TNC) was launched by Boston Children's pioneering physicians and biomedical scientists in Developmental Medicine, Genetics and Genomics, Neurobiology, Neurology, Neurosurgery, Neuroradiology, and Psychiatry and Behavioral Sciences. The RSZ TNC has established ties between laboratory researchers and clinicians who care for children at the hospital; developed shared resources for efficient translation of discoveries from bench to bedside; and promoted cross-fertilization of ideas to maximize research value.
Boston Children's physicians and scientists who participate in RSZ TNC programs are innovators in the study and treatment of neurodevelopmental and neuropsychiatric disorders. The RSZ TNC is led by a Executive Team that includes Mustafa Sahin, MD, PhD, Director; Kira A. Dies, ScM, Executive Director; Lisa Prock, MD, MPH, Clinical Director; Stephanie Jo Brewster, MS, Director, Clinical Research Operations; Elizabeth Buttermore, PhD, Human Neuron Core Associate Director; and Maya Chopra, MD, Director of Translational Genomic Medicine. They work in conjunction with the distinguished Scientific Advisory Committee, consisting of key department and division chairs from across Boston Children's, and an Strategic Advisory Committee to set goals and priorities for the RSZ TNC.
The Rosamund Stone Zander Translational Neuroscience Center strives to improve the lives of children and adolescents with disorders of brain development through:
innovative clinical programs
outstanding basic science
efficient translation of novel ideas into practical tools for diagnosis, treatment, and prevention of childhood diseases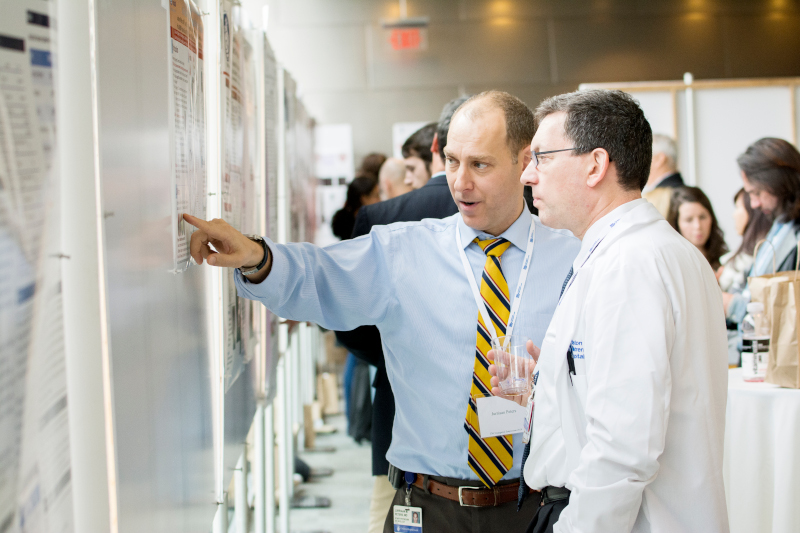 Our approach
The goal of the RSZ TNC is to improve the lives of children with brain disorders via timely and efficient translation of scientific research through collaboration among Boston Children's Hospital's exceptional investigators and in partnership with the external research community.
Advances in our understanding of the nervous system have created unprecedented opportunities to tackle pediatric diseases that once seemed completely resistant to therapy. Clinical trials for genetic diseases associated with autism spectrum disorders, for muscular dystrophy, and for childhood brain tumors are pushing the boundaries of pediatric medicine.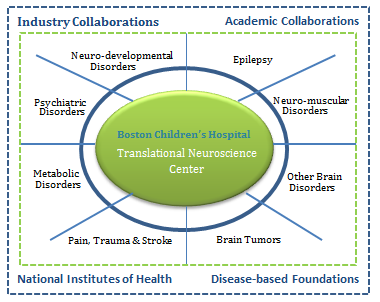 Strengthening the hospital's existing relationships with academic, government, and corporate collaborators, as well as disease-based foundations, are the RSZ TNC's initiatives. By clarifying and enriching Boston Children's resources available to pursue translational research in the faculty's core areas of expertise, which include autism spectrum disorders, musculoskeletal disorders, pain/regeneration, and neuro-oncology, the RSZ TNC can facilitate the development of new interdisciplinary collaborations to improve early diagnosis, accelerate drug discovery, and generate additional novel strategies for reducing the burden of pediatric nervous system disorders for patients and families in Boston, as well as across the U.S. and the globe.
Our mission
accelerate the translation of research discoveries into cures for pediatric nervous system disorders
develop effective strategies for disease prevention and treatment through collaborations among world-renowned basic scientists at Boston Children's, in partnership with the external drug discovery community
train future leaders about critical components of pediatric translational neuroscience
share new models of interdisciplinary translational medicine in pediatric neuroscience with local, national, and international collaborators
RSZ TNC researchers engage in numerous collaborations with other academic researchers, the National Institutes of Health, disease-based foundations, and patient advocacy groups worldwide. The RSZ TNC also collaborates extensively with biotechnology, pharmaceutical, and medical device companies at every stage of research and development.
Training
The RSZ TNC facilitates the training of a new generation of investigators and leaders capable of collaborating as part of a team spanning preclinical to clinical work with novel and targeted treatments for individuals with a range of neurodevelopmental disorders. Training opportunities focus on core competencies in translational neuroscience such as critical aspects of transitioning from lab or animal studies to human clinical trials, understanding the drug discovery cycle, and appreciating the critical role of biomarkers and outcome measures in clinical trials.