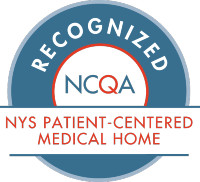 Riverdale parents have been choosing Pediatric Associates of North Riverdale for their children's health care for more than 30 years. Our physicians have cared for generations of families — many of our original patients now bring their own children to our practice.
We provide high-quality primary pediatric care to infants, children and adolescents from birth to age 21. Our board-certified pediatricians and all of our staff work as a team to deliver the best, most up-to-date, comprehensive medical services to area families.
We strive to serve as your family's total resource for raising healthy, happy children. Our physicians are affiliated with Maria Fareri Children's Hospital at Westchester Medical Center in Valhalla, NY.
What is a Patient-Centered Medical Home?
A Patient-Centered Medical Home is not a building, place or hospital. Rather, it is an approach to providing comprehensive healthcare. As your PCMH, we want to be the first place you think of for all of your child's medical needs. We believe that the partnership between the patient, the patient's family, and his/her primary care provider and care team is important. The care team, led by your primary care provider, is committed to providing the best healthcare services possible. Your child's care team will work with you and any outside providers or facilities to coordinate care across all settings, including behavioral health. The team will offer appropriate medical advice, information, and self-management support based on current recommendations and evidence-based guidelines.
Your Care Team
Knows the health history of your child
Listens to your questions, concerns and feelings, as well as those of your child
Learns about you, your family, your life situation, your health goals and preferences
Coordinates your child's care with other healthcare providers
Creates a trusting, collaborative relationship with you and your child
Treats your child with compassion and an understanding of his/her strengths
Develops a care plan with you and your child when needed
Respects and honors your culture and traditions
Keeps your child up to date with all vaccines and preventative screenings
Takes care of short term illnesses, long term chronic diseases, and your child's overall well being
Provides behavioral health services when appropriate
Will notify you about test results in a timely manner
Gives you information on community resources and other services to support your child's health
Helps you make the best decisions for your child's care
You and Your Child
Are comfortable sharing concerns and questions with your pediatric team and other health care providers
Provide a complete and accurate medical and family history to your pediatric team to ensure that the practice has all of the most important and relevant medical information to effectively care for your child
Routinely communicate your child's needs and family priorities to your pediatric team
Remember to tell your pediatric team about any care received between visits (including emergency room visits, urgent care clinics) so we can help coordinate your child's care
Ask questions if you do not understand something
Keep scheduled appointments or call to reschedule as soon as possible
Bring your insurance card to each appointment
Pay copays and past-due balances at the time of service
We see you, the parent, as an important member of your child's health care team. As your child matures, we hope he or she will become an increasingly active team member. Preparing your child to take the lead in caring for his or her own health is, ultimately, our team's most important task.
Services
Services
We provide a full range of health care services for your children, including:
prenatal consultations
newborn examinations
facilitate lactation consultants
well visits
timely scheduling of sick visits, usually the same day
on-site services include blood drawing, rapid strep and influenza testing, urinalysis, and vision and hearing screenings
Patient Resources
Insurance Information
We accept most public and private insurance plans. We also offer special pricing for self-pay patients. Please verify with our staff that we accept your insurance.
Patient Resources
Poison Control
Call 1-800-222-1222 (or 1-800-POISONS) right away if your child swallows any toxic substance. Keep this number posted on your refrigerator so it's handy in case of an accident.
Healthy Children
Created by the American Academy of Pediatrics, healthychildren.org covers a wide array of topics including developmental stages, nutrition and bathing safety.
American Academy of Pediatrics (AAP)
The AAP, the Fellowship Board for Pediatricians, has a very useful website, with a wide range of resources for parents and an extensive selection of books on childcare and children's health for infancy, childhood and adolescence.
Traveling Abroad?
Learn about travel safely resources from the Centers for Disease Control (CDC). This website covers recommended vaccines and medications for travel — simply plug in your destination to see what you and your child may need.
Pediatric Immunization Schedule